Max Yoder saw an internship opening at design firm Kristian Andersen + Associates in 2009. He had no qualifications but thought, "What the heck."
The long-shot application has him today, at age 25, running Lesson.ly, a company started by Andersen and two business partners.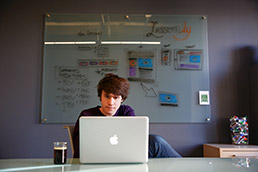 Max Yoder manages training-software startup Lesson.ly. Partners at Gravity Ventures recruited him soon after he graduated from Indiana University. (IBJ photo/Aaron P. Bernstein)
"We typically get a lot of resumes, and Max was the only resume we received for the design position who wasn't a designer, which in and of itself was interesting," Andersen said. "We try to meet with everyone if they're not a complete knucklehead on paper. It was crystal clear he knew nothing of our business, nothing about design. And we absolutely had to hire him."
Andersen saw Yoder was driven and intelligent, with enough technological know-how and charisma to sell anything.
Yoder got the internship, did a fellowship, and ran an online-polling company before he took over Lesson.ly, which develops software that companies use to train their employees and clients.
Lesson.ly, which began in 2012 and did a full launch in March, is trying to cut into a $42 billion market dominated by titans such as IBM and Oracle.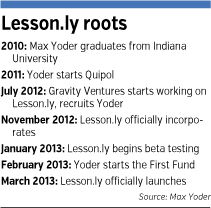 The company tries to separate itself by offering simplified, low-cost software tailored for small and midsize businesses, versus the large corporations that usually pay thousands of dollars to use such a service. Lesson.ly subscriptions start at $100 per month and increase as the number of trainees goes up.
Yoder earned the trust of three prominent technology-sector figures who run Gravity Ventures, which specializes in seed-stage investments. Along with Andersen, Gravity's partners include Mike Fitzgerald, executive vice president of corporate development at ExactTarget Inc., and Eric Tobias, who founded iGoDigital before it was acquired by ExactTarget, where he now works as a vice president.
The trio started Lesson.ly after Fitzgerald took his family on a European vacation. He wanted his kids to learn about some of the sites they would see, but he couldn't find a decent program to create his own lessons.
"We saw a number of tools in learning and teaching that were, frankly, too complicated," Fitzgerald said.
Lesson.ly threw out some of the complexities and lowered the cost, which opened the company to a largely untapped market, except for a handful of startups in other cities.
"I think when you marry Max into that, that's really where the magic happens," Fitzgerald said.
Funerals, fellowships and polls
Yoder credits much of his wish to run a company to his experiences at his father's and grandfather's funeral home in Goshen.
"It shaped me, big time, in how I look at the world," he said. "There's no harder job than working with people who've just lost the most important thing in the world to them."
The family business sparked his interest in entrepreneurship, but directing funerals was not for him.
He attended Indiana University in Bloomington, where he developed his own major, brand management and advertising. After he graduated, the Orr Entrepreneurial Fellowship placed him at blogging software developer Compendium.
Soon after, he started his own company, Quipol, a polling service targeted at bloggers and other publishers.
Andersen
His logic: "Let's see if I could build a company before I was 25."
He did. Yoder found, though, that marketers were more interested in the service than bloggers. If he wanted to go after marketers, he would need to change his business model and raise private investment to do so.
"That direction was not one I was passionate about," he said. "It was really an escalation-of-commitment question."
He turned to Andersen for guidance, who, along with Fitzgerald and Tobias, was putting together the idea for Lesson.ly.
High growth, high turnover
Lesson.ly is still tiny, with six employees, including Yoder. Principals won't disclose how much has been invested in the business. They also keep a tight lid on its financials, acknowledging only that revenue is growing at a fast clip as it picks up more clients.
The firm keeps itself in close quarters with its investors, operating next to Andersen's KA+A on the sixth floor of the Lacy Building, 54 Monument Circle.
The company stakes out two types of clients: those growing quickly and those with high turnover, especially when they have scattered work forces.
Customers rarely have more than 500 employees, Yoder said.
Retailers, which are constantly hiring and firing, make up about one-third of Lesson.ly's business.
Rapidly growing tech companies, with their constant need to train new employees, account for another third, with the remainder being covered by all other types of customers.
About half of Lesson.ly's business today comes from the coasts, Yoder said.
The firm's sales manager is stationed in North Carolina's Research Triangle, the booming tech area that encompasses Raleigh, Durham and Chapel Hill.
One of its coastal clients is social media analyst DataSift, headquartered in San Francisco, which secured a $42 million investment in early December.
The company of a few dozen employees needed a way to quickly train its growing sales force, scattered in San Francisco, New York and the United Kingdom, on new products, said Katie Van Domelen, product marketing manager for DataSift.

Tobias
"I didn't want to introduce anything that was heavy to lift," she said about some of the more complex software that takes longer to learn. "We're moving so fast we didn't have time for that."
Philanthropic side project
Yoder admits he burned out on his last business. Polling didn't interest him enough.
His attitude is different today because Lesson.ly is a tool for education, a field that interests him.
He also started a not-for-profit for elementary school students—the First Fund, which sets up teacher-nominated first-graders from low-income families with college investment accounts. The fund puts $1,000 into each account and then works with families to manage it.
Yoder said the not-for-profit is an outlet from running a company that keeps him engrossed in the same field.
"Learning is the thread that combines all of my initiatives," he said. "It is what fires me up."
Eight students have received contributions since the fund began in February.
Yoder came up with the program while dating an elementary school teacher in West Lafayette.
"I met a lot of neat kids with a ton of hope," he said. "They had a lot of ambition and talent but in less-than-ideal states."•
Please enable JavaScript to view this content.