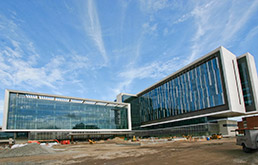 Cut line goes here. (IBJ file photo)
After suffering for years with decrepit heating and ventilating systems, Wishard, the busiest hospital in the state, finally got a new home. And a new name.
Sidney & Lois Eskenazi Hospital opened Dec. 7, as the Indiana National Guard, U.S. Navy Reserves and a squadron of ambulances helped move 149 patients to the new hospital.
The $754 million facility is a marvel of contemporary architecture. It is the first hospital in the nation to seek (and is likely to get) certification for environmentally friendly and energy-efficient design.
The hospital boasts 316 beds, up slightly from the old facility. But the new hospital will be able to treat 20 percent more patients. That's important, because Wishard treats more than 15,000 inpatients and responds to nearly 110,000 emergency or urgent care visits a year.
Yet the new hospital will cost 12 percent less to operate. Natural light shines into a central spine that connects all departments and spills into every patient room and even, to a limited extent, 17 operating rooms.
The hospital features a rooftop garden that will grow vegetables served to patients. The heating, ventilation and air-conditioning systems, rather than being buried in closets and crawl spaces, are housed on separate floors, tall enough for workers to walk through with no risk of bumping their heads.
On top of that, the new hospital will try to use beauty to assist in its mission of healing. The same nationally known architects who transformed New York's Bryant Park from a hangout for drug dealers and addicts into a hangout for hipsters, is designing the front garden and fountains.
Inside the hospital, sculptures, paintings and photographic art deck the main corridor, elevator lobbies and patient waiting areas.