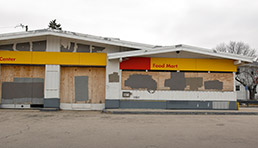 Cutline goes here. (IBJ file photo)
A local developer's plan to build a $25 million mixed-use project in Broad Ripple anchored by a Whole Foods grocery met fierce resistance from neighborhood residents opposed to its size.
Browning Investments Inc. introduced its plan in April and received approval from the city's Metropolitan Development Commission in October. Approval from the City-County Council is still needed for the plans to move forward. Browning also is expected to seek a subsidy from the city.
The project would be built at the northeast corner of College Avenue and the Central Canal.
Browning's plans call for a 35,000-square-foot grocery and 104 apartments. The site includes a long-vacant Shell station facing College Avenue and several low-rise apartment buildings.
The rezoning allows retail. The commission also approved a variance of development standards for outdoor seating, some architectural elements and adding fewer parking spaces than required for a project that size. The firm's plan calls for a four-story garage with 340 spaces.
Opponents objected to its large scale relative to the rest of Broad Ripple Village, potential traffic snarls, and that Whole Foods is a national chain.
Rudy Nehrling, owner of the nearby Good Earth Natural Food store, said the commission's approval was just "one hurdle" in the process and vowed not to give up.
The proposed project has polarized the north-side neighborhood for months.
Supporters include Will Gooden, the councilor who represents the area; the Broad Ripple Village Association; and Midtown Indy, a not-for-profit that promotes neighborhoods north of Fall Creek.