Pacers win new fans, sponsors
The Indiana Pacers became the NBA's hottest team during the first third of the 2013-14 NBA season. And Pacers forward Paul George gained recognition as one of the best players in the league.
On the heels of a run to the Eastern Conference finals at the conclusion of the 2012-13 season, the Pacers rattled off 22 victories in their first 27 games.
The on-court momentum translated into increases in ticket and sponsorship revenue. Pacers executives said season ticket sales saw a double-digit percentage increase from the 2011-12 to 2012-13 season, and were up about another 30 percent for the 2013-14 season.
In October, Pacers officials said they added nine new sponsors for the 2013-14 season and sponsor revenue was up 10 percent over the previous season. The Pacers' biggest coup was becoming one of three NBA teams to sell a high-profile courtside floor advertisement.
Keystone buys Illinois Building
The new owner of the Illinois Building is considering offers to convert the downtown landmark into a boutique hotel that could be the city's first five-star lodge.
A subsidiary of Keystone Realty Group closed on the sale in November with an affiliate of locally based HDG Mansur, which had owned the 10-story building at Illinois and Market streets since the 1980s.
Indianapolis lacks a five-star hotel, and adding a glitzy brand could bolster the city's convention traffic or even its bid to land the 2018 Super Bowl.
Built in 1926, the Illinois Building last housed a food court and a gym, both of which closed in 2003.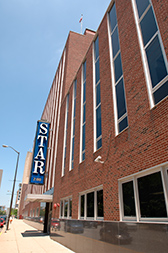 The Indianapolis Star is leaving its headquarters for space in Circle Centre. (IBJ file photo)
Star moving to Circle Centre
The Indianapolis Star announced in July that it had agreed to take a portion of the space in Circle Centre mall vacated by Nordstrom more than two years ago.
The Star had been searching for new digs since its parent, Virginia-based Gannett Co., put the newspaper's 190,000-square-foot headquarters building at 307 N. Pennsylvania St. on the market in July 2012.
Gannett received more than a half-dozen offers on the building and adjacent 500-space parking garage before agreeing to terms with local apartment developer TWG Development LLC.
TWG's plans call for up to 500 apartments in three buildings with retail space.
The Star could move into the mall by the end of summer.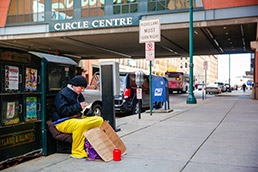 City officials took another stab at alleviating panhandling, but the effort came up short.(IBJ file photo)
Panhandling proposal hits snag
Another effort by the City-County Council to rein in panhandling downtown stalled in late 2013. The culprit: Worries that a proposed ordinance would silence street performers.
The measure would have banned panhandling or passive solicitation that includes cup shaking, sign holding and street performances for money within 50 feet of ATMs, bank entrances and exits, and parking meters or kiosks that accept money. The measure would also have applied to areas near bus stops, sidewalk cafes, marked crosswalks, trails and underpasses.
Many downtown leaders don't think street performers should be included in the restrictions, but city-county councilors said it would have been difficult—and constitutionally thorny—to try and define what constitutes a legitimate performance.
Angie's List goes up, then down
The contractor review site Angie's List started 2013 spectacularly, announcing it had a fourth quarter profit of $2.4 million—the first profitable period since its founding in 1995.
Angie's would have been profitable in most quarters if not for a strategic decision to plow its dollars into marketing as it seeks to expand its footprint nationwide.
As the year went on, Angie's List also pleased analysts with word that its e-commerce efforts were showing new promise. Service providers such as plumbers and landscapers increasingly offer special online deals to Angie's 2.2 million paid members.
The stock, which began the year around $11 was trading at $28 in mid-year.
But things went down hill fast. In October, Angie's revealed that it was cutting subscription prices in some markets, which some observers perceived as a desperation move. Co-founders Angie Hicks and Bill Oesterle countered that Angie's constantly experiments with pricing.
There also were perceived threats from competitors, including the specter that eBay would get into the Angie's list game in the United Kingdom. More recently trade publications said eBay would introduce a reviews site in the United States, to be known as eBayHire.
By year-end, Angie's shares had fallen almost to where they started the year, down from its $13 IPO price.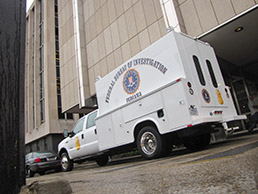 The FBI raided the City-County Building as it investigated the Indy Land Bank.(IBJ file photo)
Scandal strikes Indy Land Bank
The city in May suspended operations for an agency that sold vacant and tax-delinquent properties after federal prosecutors indicted two of its top officials for allegedly accepting bribes and kickbacks.
The charges were unsealed the same day the FBI raided the Indy Land Bank offices in the City-County Building. The agency promotes the redevelopment of vacant and tax-delinquent properties by selling them to private developers.
An indictment alleges Reginald Walton, 29, who led the department; and John Hawkins, 27, a senior project manager for the agency, received bribes and kickbacks from the sale of properties to not-for-profits for as little as $1,000 apiece. Three other men also were indicted.
City backs Natatorium renovation
Mayor Greg Ballard announced in November that he is backing a plan for the city to pay about half of the $17 million to $20 million in renovations needed at the Indiana University Natatorium at IUPUI.
IU owns the facility on the west side of downtown, and university administrators are working on a plan to come up with the rest of the money needed for the 31-year-old aquatics venue.
The city's Capital Improvement Board also is contemplating setting aside $500,000 annually in local hospitality tax revenue for the ongoing maintenance of the facility, officials said.
While the pools and diving well are in good shape, the roof needs to be replaced, as do the heating and air-conditioning and electrical systems, IU officials said. Officials for USA Swimming said the facility needs modern video and scoreboards and other amenities common in newer facilities.
Utility-services firm brings $905M
Indianapolis-based United States Infrastructure Corp.—a low-profile, underground-utility-locating firm that is the largest player in its field—sold in July for an eye-popping $905 million.
The buyer was Los Angeles-based Leonard Green & Partners, which teamed with management to buy USIC from OMERS Private Equity, an affiliate of one of Canada's largest pension plans.
USIC has 5,000 employees (including 100 at its River Road headquarters) who will conduct 45 million utility-locates this year in 30 states and one province of Canada.
Ingersoll spins off security biz
Carmel scored a publicly traded company this fall when Dublin, Ireland-based Ingersoll Rand spun its security-devices manufacturing business.
The new company, which adopted the moniker Allegion PLC, is officially headquartered in Ireland, but most of its top executives, including the CEO, are stationed in Carmel.
Allegion reports about $2 billion a year in revenue and has a stock market value of about $4.2 billion. Shares began trading Nov. 30 under the New York Stock Exchange ticker ALLE.
About 7,600 people work for Allegion worldwide, with 400 at the Carmel headquarters and another 500 at a factory in Indianapolis.
Deal sets stage for $43M project
City leaders finalized a complicated land-swap deal in March to clear the way for a $43 million apartment and retail development on Massachusetts Avenue.
The agreement calls for the Indianapolis Fire Department to take over the local headquarters of the American Red Cross at 441 E. 10th St., with the Red Cross building a new headquarters at the former home of the Payton Wells car dealership at 1510 N. Meridian St.
The jockeying paves the way for construction of a five-story project on Massachusetts Avenue with about 235 apartments and 40,000 square feet of commercial space. The project is to be built on a 1.45-acre parcel that currently houses the fire department and its credit union.
Changes rock TV news industry
Between retirements and defections to competing stations, it was sometimes hard telling which local TV news station you were watching in 2013.
The biggest change came in September, when former WISH-TV Channel 8 meteorologist Angela Buchman started work at WTHR-TV Channel 13 after sitting out a year per a non-compete clause in her contract.
Out was WTHR's veteran meteorologist Chris Wright. WISH replaced Buchman with weather whiz kid Robb Ellis, who'd covered severe storms in the Carolinas.
Meanwhile, WISH-TV waved farewell to veteran anchor Debby Knox after more than three decades at the CBS affiliate. Taking over was Lori Wilson, a Columbus, Ind. native hired from a Philadelphia station.
The year also saw the retirement of WRTV-TV Channel 6 Statehouse reporter Norm Cox after 36 years at the station and seven governors.
Symphony turns around finances
The Indianapolis Symphony Orchestra said in December that a big boost in donations and hefty cutbacks pushed its annual budget into the black for the first time since 2007.
The ISO finished the fiscal year that ended Aug. 31 with a $236,000 surplus on $23.2 million in revenue
Contract negotiations with the musicians' union boiled over in 2012, leading to a five-week lockout that canceled the first several shows of the season.
The lockout ended after the performers agreed to steep pay cuts that mainly were achieved by reducing the number of shows they were scheduled to perform. The base salary for a musician dropped to $53,000 from $78,000.
Endowment spending the last few years had become a major concern for the group, which consistently spent more than the investment fund earned.
The ISO reined in the withdrawals, which amounted to $5.1 million, or 6 percent in the latest fiscal year. The previous year, the ISO drew $11.4 million, or about 12 percent.

Stevens
Stevens leaves Butler for Celtics
In July, Brad Stevens stunned the basketball world by announcing he was quitting his job as Butler University men's basketball coach to take over one of the most storied hoops programs—in the NBA.
Stevens signed a six-year, $22 million deal to replace Doc Rivers as head coach for the legendary Boston Celtics franchise.
Stevens amassed a 166-49 record in six seasons as the Bulldogs coach. His tenure included two trips to the NCAA championship game, where Butler lost both times.
Three days after Stevens' departure was announced, Butler Athletic Director Barry Collier introduced Butler assistant and former Butler player Brandon Miller as the next Bulldogs head coach.•
Please enable JavaScript to view this content.