Save for some outdated furniture and medical equipment, Wishard Hospital now sits empty after serving the city's indigent for more than 150 years.
Time finally caught up with the 26-acre, 17-building complex at Indiana Avenue and West 10th Street, where the oldest building is nearly a century old.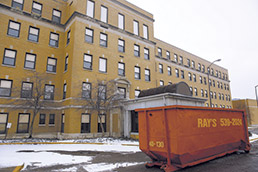 Indiana University plans to take ownership of the Wishard property within the next few months, once all buildings are cleared of remaining furniture and medical equipment. (IBJ photo/Aaron P. Bernstein)
But Indiana University is preparing to breathe new life into the aging property. IU is acquiring the land near the IUPUI campus as part of a swap with the city that cleared the way for the shiny, $754 million Eskenazi Health just to the west.
The university wants to expand its health services program by using some existing Wishard space and tearing down other buildings and replacing them with modern facilities, said Tom Morrison, IU's vice president of capital planning and facilities.
"We're coming into the acquisition of several buildings and acreage that is right next to one of the nation's largest medical schools," he said. "It's one of those things that doesn't happen every day."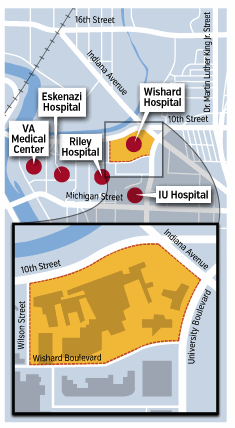 IU officials are scheduled to present a report in February to the university's board of trustees that will provide more details for the Wishard property.
An early look at the plans calls for IU to expand its research and instructional capabilities in an effort that could help the city transform an area northwest of downtown into a life sciences hub.
"This piece of real estate will be a key player in the city's life sciences bid," Morrison said. "It's a key space, just in terms of its location."
Some of the buildings on the Wishard campus are quite old, making it more difficult to retrofit the space for modern-day technology. Morrison estimated that about a third of the total square footage, or roughly 400,000 square feet, could be demolished to make way for future needs.
Deron Kintner, the city's deputy mayor for economic development, agreed, saying the Wishard land is well-positioned to serve as an entry for what city officials hope will become a magnet for high-tech jobs and life-sciences research.
"Certainly, we identified the 16 Tech area as one of opportunity for development," he said, "and this could only help as somewhat of a gateway."
IU already has an interest in the 16 Tech project. The university and the city own about two-thirds of the tech corridor's 120 acres, which could help make the Wishard property a natural extension of 16 Tech.
The entire 16 Tech area bounded by 10th Street to the south, 16th Street to the north, Fall Creek Parkway to the east, and White River to the west sits within a tax increment financing, or TIF, district created in 2012.
Items for sale
IU can't take ownership of the Wishard buildings until they're "decommissioned" by the Health and Hospital Corporation of Marion County, the entity that operated Wishard and now runs Eskenazi Hospital, said Brian Carney, Health and Hospital Corp.'s vice president of planning.
That means going room-to-room removing all medical equipment and furniture that's been left behind—a process that started Dec. 9.
Non-medical items, which include anything from office chairs and desks to computers and refrigerators, will be offered for sale in January.
On Jan. 6, entities under the Health and Hospital Corp. umbrella such as the Marion County Health Department and Emergency Medical Services will get first dibs on the items.
Employees of the agencies and their family members will get the next crack, Jan. 10, before the pieces become available to the public Jan. 11-12.
What's left can be taken by local not-for-profits at no charge Jan. 13.
"We've been very conscious of anything we purchased, knowing we would be moving in a few years," Carney said. "Most of the furniture is past its useful life, but some of it we'll be able to sell."
Suburban Chicago-based Centurion Service Group LLC is conducting the sale. It's also taking the medical equipment left in Wishard to Chicago to sell at auction. Any money left after paying Centurion will go in Health and Hospital Corp.'s general fund, Carney said.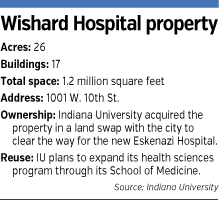 Citizens site critical
Besides the Wishard property, another site in play that could benefit 16 Tech is 1220 Waterway Blvd., where Citizens Energy Group's water operations are located. The city in April agreed to pay Citizens $6.5 million for the 19 acres.
The city isn't officially marketing the site yet, Kintner said. But officials are taking every opportunity to promote it when they can.
The site can accommodate 1 million square feet of space, for a single tenant or multiple users. But the city sees the property as an ideal location for the proposed life-sciences-focused research institute supported by Gov. Mike Pence and Eli Lilly and Co. CEO John Lechleiter.
Citizens bought the city's water and sewer utility in 2011 for $1.9 billion. As part of the deal, Citizens agreed to give the city first rights to buy the property.
The city anticipates spending $1 million to tear down the structure and remediate the site. In connection with the property sale, Citizens plans to move about 100 employees from Waterway Boulevard and from two modular buildings on Dr. Martin Luther King Jr. Street to other locations.
Some will move to its headquarters at 2020 N. Meridian St. while others will move to a two-story, 48,000-square-foot building Citizens is constructing at the site of its operations center on Dr. Martin Luther King Jr. Street.•
 
Please enable JavaScript to view this content.