Indiana for more than a decade has blown away the national average when it comes to adding high-tech jobs.
But outside the Indianapolis metro area, there isn't much cause for celebration.
Careers in science, technology, engineering and math—typically referred to as STEM fields—have surged in growth compared to other careers in Marion and Hamilton counties.

It's a boon for economic development, considering the workers earn average wages almost twice as high as all others, and employers sorely need the skills. Dozens of initiatives focus on building STEM jobs in the state.
A recent report ranked the Indianapolis-Carmel metro area ninth in the country in STEM jobs growth since the tech bubble burst in 2001. But while the metro area has grown, the rest of Indiana has barely budged from the early 2000s, an IBJ analysis of U.S. Bureau of Labor Statistics found.
Indianapolis had a massive 39 percent more STEM jobs in 2012 than it did in 2001, compared to 17-percent growth nationwide.
The rest of Indiana gained only 10 percent. At least four of the state's 14 metro areas—Muncie, Terre Haute, Fort Wayne and South Bend-Mishawaka—had fewer STEM jobs than in 2001.
"Indianapolis is somewhat of a sponge city for the whole region," said Mark Schill, vice president of research at Praxis Strategy Group, an economic development consultant in North Dakota.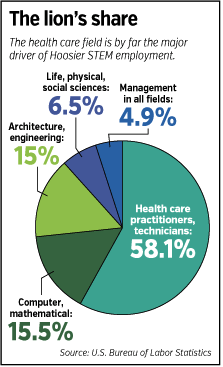 The situation in Indiana, Schill said, is common throughout the United States: States with one large city typically see their engineers, scientists and other high-tech workers flock to the urban areas from smaller towns.
A few exceptions to the slump include the college towns of Bloomington and Lafayette, as well as Columbus, which is home to one of the country's largest manufacturers, Cummins Inc. and its engineers.
Take out hiring in health care—by far the largest source of new STEM jobs—and high-tech job growth outside Indianapolis over the past decade looks even worse.
Without hospitals and medical centers, the number of these lucrative, in-demand jobs in most of Indiana drops to just 6 percent higher than it was more than a decade ago, IBJ found. That compares to 34-percent growth in Indianapolis.
A few explanations behind the shortage of STEM jobs:
• Turbulence among the state's major manufacturers put thousands of engineers out of work. Many of those jobs have yet to return.
• Computer-related occupations picked up in the mid-2000s but flat-lined the past few years. Meanwhile, the number of computer positions in the Indianapolis area has exploded, gaining ground even during the recession.
• There are slightly more life- and physical-sciences jobs after years of ups and downs, and the category has grown more than any other post-recession. But it's also the smallest group, at about 11,000 people out of more than 190,000 STEM professionals.
IBJ excluded natural scientists and STEM educators from its analysis because the Bureau of Labor Statistics did not consistently report the annual data. The two categories make up roughly 5 percent of all STEM jobs in Indiana, based on the most complete information available.
Economics of STEM
Economic developers have long tried to lure STEM careers as a way to boost the economy. The jobs hedge against dismal results in other professions since the recession began in Indiana.
 

Hicks
STEM employment increased 4 percent from mid-2009 through 2012, while all other careers were still down 0.1 percent.
And pay has increased more quickly. Annual salaries for STEM jobs rose 5.2 percent—to an average of $65,500—compared to a 4.3 percent hike—to $35,500—for everyone else.
However, since 2009, none of the fastest-growing careers in Indiana have fallen under the category of STEM, which is a radically different picture than the early 2000s.
Life, physical and social sciences grew faster than any other career field from 2001 to 2008. Computer and math occupations ranked third. Those careers plunged to eighth and 15th in the state, respectively, from 2009 to 2012.
General business careers—management, finance and law—all grew quicker.
The shift has prompted some economists to rethink the value of STEM.
"There's just not evidence in the United States that STEM is the driving force for economic revitalization," said Michael Hicks, executive director of the Center for Business and Economic Research at Ball State University.
"Don't get me wrong; there are many strong STEM occupations that are growing. But when you think about people who say … we need these PhDs in chemistry and biology, employment growth is lagging MBAs."
Who says it's STEM?
Researchers disagree on what jobs can claim STEM status, making it harder to develop government policies that promote the career field, said Derek Redelman, vice president for education and work-force policy at the Indiana Chamber of Commerce.
Production workers, for instance, often need technical skills to operate machinery. Marketers need analytical skills to digest data. But the professions don't meet puritanical definitions of STEM.
"We do need some sort of common agreement, at least for policy development," Redelman said.
Definitions that are too narrow can hinder job growth, according to a June study by The Brookings Institution think tank in Washington, D.C.
"Workers in STEM … fields play a direct role in driving economic growth," the report said. "Yet, because of how the STEM economy has been defined, policymakers have mainly focused on supporting workers with at least a bachelor's degree, overlooking a strong potential work force of those with less than a BA."
 

Redelman
Redelman agreed with the report that government programs—like an Indiana initiative that provides incentives for four-year state universities to recruit students into STEM subjects—need to broaden themselves to include two-year degrees and certificates.
He emphasized the state's need for more rank-and-file factory workers with technical certifications, even though they often don't count as STEM. The qualifications are especially important as manufacturers expect better-trained employees but lament a lack of qualified job candidates—a major hindrance to the state's manufacturing-based economy.
"That is the area that Indiana particularly struggles in," he said about the lack of technical degrees and certifications. "Not only are we not at the national average, we're below the Midwest average. And we have the highest percentage of manufacturing jobs in the country."
Education remains a hurdle
A skills gap is stunting STEM job growth in Indiana, experts believe. Addressing the issue means evoking interest not just in high-tech jobs, but in higher education in general.
 
Convincing people to continue their education after high school—no matter the program—remains a challenge in Indiana. Most of the state, outside of Marion and Hamilton counties, has a lower college graduation rate than the rest of the country.
Trying to prod Hoosiers into STEM fields is an added challenge, considering math and science aren't the most popular school subjects.
"There's a lot of baccalaureate degrees out there who aren't employed," Redelman said. "It's not just any post-secondary credential. They need to be in areas where there's actually demand for jobs."
Groups are trying to reach out to younger students to address the state's shortage in technical trades and degrees.
"Students decide at a very early age whether they're good at math and science," said David Dimmett, senior vice president and chief engagement officer at Indianapolis-based Project Lead the Way Inc., a not-for-profit that develops STEM curricula for middle and high school classes.
The organization began in 1997 by focusing on attracting high school students into STEM fields. It began developing a program in 2012 for elementary school students.
"We realized over the years that it wasn't adequate to catch kids in high school," Dimmett said. "There's no silver bullet."•
Please enable JavaScript to view this content.