Apartment specialist Edward Rose Properties Inc. is proposing an $80 million mixed-use project on mostly undeveloped land in Carmel's Old Meridian District.
Preliminary plans call for 400 apartments—including some wrapped around a four-story parking garage and above-ground-floor retail "nodes"—65 single-family town homes, a senior-living facility, and a 100-plus-room boutique hotel.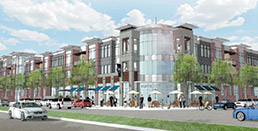 Plans call for apartments, retail and senior living. (Rendering courtesy of Edward Rose & Sons)
Two stand-alone commercial buildings would join the hotel on Main Street, a key connection between U.S. 31 and downtown Carmel that Michigan-based Rose's proposal said "affords opportunities for thoroughfare-oriented businesses."
Dubbed "The District," the development spans about 30 acres southwest of a roundabout at Main and Old Meridian streets.
The property borders a parcel at the intersection where Indianapolis-based Keystone Realty Group is planning the 200-unit Sophia Pointe residential project. Its neighbor to the west would be Rose's existing Alexandria Apartments, which has about 325 units.
"You really can't go wrong there," said George Tikijian of local apartment brokerage Tikijian Associates.
Rose, which has a regional office at 116th and Meridian streets in Carmel, is asking to rezone The District as a planned unit development—establishing special rules and development standards for the project.
Tikijian
A plan commission committee is scheduled to review the request Jan. 7, and the full panel could make a recommendation to the City Council later this month.
No one spoke during a public hearing on the proposal in December, but commission members peppered the development team with questions on topics ranging from rental rates (studio apartments likely will start at $800-$900, Rose's Steve Hormann said) to the expected mix of residential options at the retirement community (Hormann said that's still being determined, but the national average is about 40 percent independent living, 40 percent assisted living and 20 percent memory care).
Commissioner John Adams asked the company to be prepared to explain to the committee why the project includes so many multifamily units.
"I am more and more concerned with the sheer number of apartments we see coming forward," he said, citing a 280-unit apartment complex planned for Carmel Drive and the 235-apartment Highpointe on Meridian project in the works on the west side of U.S. 31 at Main Street.
Indeed, growing demand and limited inventory—Carmel's vacancy rate was about 5 percent during 2013—have fueled an apartment building boom of sorts.
Tikijian said higher interest rates or a softer leasing environment could slow the pace, but he hasn't seen any warning signs in Carmel yet.
"There's not that much land left and it's still a highly desirable place," he said. "If [The District] gets built over time, it may not have a huge impact."
The area is zoned now for mixed uses along Old Meridian and town homes elsewhere, said Steve Hardin, an attorney with Indianapolis-based Faegre Baker Daniels who is representing the company. He told the Plan Commission that Edward Rose's proposed development could double the potential assessed value of the 30 acres to an estimated $80 million.
City planners and engineers have worked with the development team to fine-tune the plans for one of the last remaining undeveloped sites in Carmel's Old Meridian District.
Carmel Planning Administrator Adrienne Keeling told the commission that the staff is concerned about the proposed architectural requirements, street layout and connectivity to other properties. Hardin said the company is working to resolve outstanding issues.
I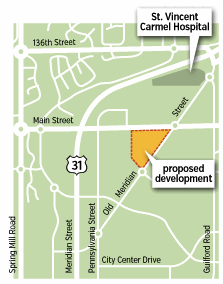 t remains to be seen whether the developer will ask the city to help pay for the parking garage and necessary infrastructure improvements, including a planned extension of Grand Boulevard west of Old Meridian.
Company officials were not available for comment by IBJ's deadline.
Established in 1921, Edward Rose has built more than 65,000 apartment units in 13 states since switching its emphasis from single-family dwellings nearly 50 years ago; about 57,000 remain in its portfolio.
Tikijian praised the private company's "careful, conservative" approach to development. Rose tends to build projects slowly, he said, and many of its apartment complexes carry no debt.
"It is one of the most well-capitalized developers in the country," he said.
Rose already operates six communities in central Indiana: four in Indianapolis, one in Greenwood, and the Alexandria in Carmel. It is in the process of building 180 units in the first phase of its Bella Vista project at 106th Street and Lantern Road in Fishers, just west of Interstate 69.
The District appears to be among its more ambitious undertakings, Tikijian said.
"Traditionally, it has been more of a bread-and-butter developer: Buy land, build the right product, and be done," he said. "This larger-scale mixed use, I think, is new for them. … It seems like a good idea."
At the hearing, Rose's Hormann said the company expects to develop the apartments itself but is talking with "national builders" about the hotel, town homes and senior housing. It collaborated with senior-living specialist Ecumen to open Heritage at Irene Woods outside Memphis in 2013, for example, and the partners plan to debut a similar facility in Michigan this summer.
Tikijian expects the senior-living component of The District to be particularly popular, given the aging population and Carmel's high-end demographic.
"I think there's going to be incredible demand for upscale senior housing," he said.•
Please enable JavaScript to view this content.