For some, turning 50 is an angst-ridden milestone. For me, it's an excuse to come up with my 50 favorite nights (or matinees) at the theater. Turns out, I've had a wonderful enough life—even having never seen theater overseas—that it was tough keeping it down to 50.
While these are in no particular order, I have to start with the first professional musical I saw, "Shenandoah," starring the charming John Raitt at a tented summer theater in New Jersey. And my first Broadway show, "Dracula," where my disappointment in missing star Frank Langella was quickly forgotten when I was knocked out by (to-me) an unknown named Raul Julia. Seeing performances like his, and Bernard Hughes' work in "Da," sealed the deal for me on a lifetime of theater-going. And after seeing the original cast of "Sweeney Todd," there was no turning back.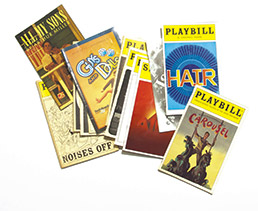 (IBJ Photo/ Susan Bertocci)
Around the same time, going to (and, later, participating in) high school shows had a strong impact as well, particularly Wildwood High School's "Godspell" and its summer theater revival.
Philly's Arden Theatre Company's "As You Like It" showed me the joy that could be had in low-budget/high-spirited Shakespeare. Memories of D.C.'s Shakespeare Theatre's 1994 "Love's Labour's Lost" still bring a smile. Christopher Plummer made clear why Iago is a plum part in the Broadway "Othello" (opposite James Earl
Jones), the Goodman Theatre's "King Lear" shook me to the core, and Pike High School's "A Midsummer Night's Dream" showed me what brave acting is all about.
I'm not shy about my love of a good musical. And that's helped by the fact that I've seen some great ones, including Lincoln Center's "Carousel," Broadway's "Ragtime" and the recent "Hair" revival (each twice). And I'd need two hands to count the productions of the underrated "Aida" I've seen (and enjoyed and had an odd hand in … long story). Broadway's stellar casts also helped me become fans of both "Urinetown" and "Catch Me If You Can" (when, oh, when can we get a local production of the latter?).
But New York isn't the only place for great musicals. "Eastland" at Chicago's Lookingglass Theatre, "Children of Eden" at NJ's Paper Mill Playhouse, Chicago Shakespeare's "Sunday in the Park with George," "Assassins" at the now-defunct Philadelphia Area Repertory Theatre, and "The Baker's Wife" at Amish Acres also score big in my memory bank. And I had no intention of missing the revival of Sondheim's "Follies," so I caught it pre-Broadway in D.C. just in case.
Closer to home, Beef & Boards' first production of "Smoke on the Mountain" and its 1998 "Guys and Dolls" would hold up against the best anywhere. I don't expect to see "A Very Merry Unauthorized Children's Scientology Pageant" again, but I'm thrilled to have seen it here at Theatre on the Square. I happily returned to Actors Theatre of Indiana's "A Year with Frog and Toad" year after year. And my only regret about the Phoenix Theatre's "Pure Prine" is that rights complications kept it from having much of an afterlife.
Dramatic highlights include two stunning productions of "The Iceman Cometh," one with Jason Robards in NYC and the other with Nathan Lane in Chicago (that one's being restaged in New York this fall. Go.). There were "The Crucible" and "All My Sons" at the Indiana Repertory Theatre, Philip Baker Hall leading "I Never Sang for My Father" in a 50-seat L.A. theater, "Come Back, Little Sheba" at the Shaw Festival, the not-to-be-topped original New York cast of "Love, Valour, Compassion," and Derek Jacobi nearly provoking me to fall out of a box seat watching him in "Breaking the Code."
And more. John Malkovich and Joan Allen were highly combustible in "Burn This." I wish I could have seen The Goodman Theatre's achingly intimate production of "The Seagull" at least once a week for its too-limited run. The Phoenix Theatre's "Proof" dug down to that play's marrow. And while I'm not sure if it qualifies as a drama or a musical, I do know that the out-of-town opening night of "Master Class" with Zoe Caldwell and Audra McDonald qualifies as theatrical greatness.
I don't think I've ever laughed as much as I did thanks to the original Broadway cast of "Noises Off" or felt pure theatrical joy the way I did at the Victor Garber/Uta Hagen/Philip Bosco et al. Circle in the Square revival of Shaw's "You Never Can Tell." I can't remember wanting a couple to get together as badly as I did at the Philly production of "Talley's Folly" or ache for a couple's loss the way I did at the off-Broadway "The Last Five Years."
One of the blessings of moving to Indianapolis was having Louisville's annual Humana Festival for New American Plays just down the road, providing access to original productions of "Becky Shaw," the SITI Company's rule-breaking "Cabin Pressure" and the future Pulitzer-winner "Dinner with Friends."
Sometimes the script doesn't matter, as was demonstrated when I went relatively blindly into an L.A. gymnasium to see "Sills & Company," a $5 night of improv exercises that featured the likes of Valerie Harper, Severn Darden and Paul Dooley. Sometimes the visuals are far more vital than the script, as with Butler University's "Lamentations," which shook me speechless.
And sometimes it's great just to be read to, as with a handful of wonderful nights watching LA TheatreWorks create script-in-hand recordings onstage, including "McReele" with Eric Stoltz. Similarly, Indy actors have shown brightly in the Indy Actors' Playground reading series I co-host at Indy Reads Books. I can honestly say that both "The Cripple of Inishmaan" (actress Lauren Briggeman's choice) and "Eat Your Heart Out" (Bill Simmons' pick) casually earned spots on this list. And others would be contenders if this list could go on.
And now, forward to the next 50 years of theater-going. By the time you read this, I'll already have gone to one. Maybe two …•
__________
This column appears weekly. Send information on upcoming arts and entertainment events to lharry@ibj.com.
 
Please enable JavaScript to view this content.