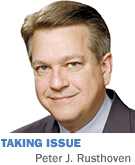 The death of former congressman Andrew Jacobs Jr. is a sad year-end note for all who knew him during and after his decades of service.
Jacobs represented central Indiana in the House from 1965 to 1997, with a single interruption when future Indianapolis mayor Bill Hudnut defeated him in 1972. Jacobs returned the favor in 1974 and never lost again.
Jacobs was born into a political family and bore a famous local name. His father, Andrew Jacobs Sr., served a term in Congress himself and was a longtime Marion County judge.
The independent-minded Andy Sr. did not shy from political battles. Relations between him and Indianapolis Star and News publisher Eugene Pulliam became so embittered that neither paper would publish the senior Jacobs' name or picture. Once, when Andy Sr. happened to be in a photo the papers couldn't avoid using, the caption called him "unidentified man."
Andy Jr. matched his father's independent streak, and achieved greater prominence. Yet he seemed cast from a different mold—different from his father, and from almost anyone else in politics.
One example was his attitude toward money. Jacobs refused speaking fees. He refused PAC contributions. He often told potential contributors to put their checkbooks away.
Jacobs prized his independence, and didn't think he needed the money. He was right. In 1986, his GOP opponent outspent him $540,000 to $8,000. Jacobs won with 58 percent of the vote.
Jacobs was frugal with taxpayer dollars, too. Unlike many in his party, he was a notorious fiscal hawk. When accused of being a penny-pincher, he would respond, "No—I'm a billions-pincher."
Unlike many in both parties, Jacobs practiced what he preached—far more so than he needed to. He was a Marine Corps veteran, wounded in combat in Korea. Yet while serving in Congress, Jacobs would not accept veteran's disability checks.
Jacobs also refused congressional pay raises. He would not even use the "franking" privilege, under which senators and representatives pay no postage for official mail ("official" being a highly elastic concept in many congressional offices).
One of my favorite Andy Jacobs quotes came when he sent back a color television from the House media office, saying, "I know of no good reason for viewing Tip O'Neill in living color." What Republican could disagree?
Jacobs was also a man of uncommon courtesy and civility—in my experience, unfailingly so—in a field where discourtesy and incivility have become commonplace. He could disagree, even forcefully so, without being disagreeable. In my every encounter with him, his sincerity and good humor (including about himself) stood out. Here as well, and to his credit, he was outside the political norm.
No one is likely to list Andy Jacobs among the giants in congressional history. He held no major leadership post. No major enactment bears his name. Successive Republican challengers would increasingly charge, with increasing frustration, that Jacobs hadn't accomplished much.
Most of his constituents disagreed. They knew their congressman, and they liked him. His convictions were clear, and were clearly his own. His honesty and integrity were givens. He represented no interest but theirs, based on what he believed best served those interests. He treated people with dignity and respect.
To those who kept re-electing him, these were accomplishments enough. This Republican thinks they were pretty much right. I'll miss him.•
__________
Rusthoven, an Indianapolis attorney and graduate of Harvard College and Harvard Law School, was associate counsel to President Reagan. Send comments on this column to ibjedit@ibj.com.
 
Please enable JavaScript to view this content.