Alarm bells went off among Mayor Greg Ballard's staff Dec. 3 when Virginia-based Imagine Schools issued an arcane press release announcing its Imagine-West charter school in Indianapolis would be overseen by Trine University rather than by Ball State University.
To the mayor's staff, the shift in "charter authorizer" was a way for Imagine-West to duck accountability that sets dangerous precedent that could lead to lower-performing charter schools across the state.
"True accountability is necessary for the sustainability of education reform," said Jason Kloth, Ballard's deputy mayor for education.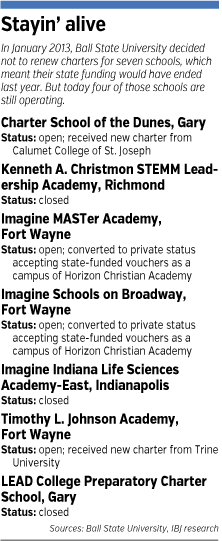 For all the controversy around them, charter schools in Indiana have posted better student performance than their peers in most other states, according to state-by-state analysis by Stanford University.
The key reason, Stanford's researchers said, is that the entities that authorize charter schools have done a better job of not letting bad schools open in the first place and, when necessary, closing poor-performing schools.
That credit falls mostly to the Indianapolis mayor, who oversees 25 K-12 charter schools, most of which are performing well. The performance of schools approved by Ball State has been mixed, but the university has been trying to clean up its portfolio by closing the worst of the bunch.
That is, after all, the basic bargain of charter schools: The privately run, but publicly funded entities are given freedom from some state regulations in exchange for stronger accountability; in other words, they can be closed down by their authorizer.
In theory. In practice, poor-performing charter schools are finding ways to live on. Of the seven schools Ball State marked for closure in January last year, four are still operating, either as charter schools or as private schools accepting public vouchers.
The trend threatens to erase the performance edge Indiana's charter schools have enjoyed over their public and charter school
peers in other states, according to David Harris, CEO of The Mind Trust, an education reform group based in Indianapolis.
"I'm worried that we're going to have bad schools operating. I'm also worried about it damaging the brand of charters in Indianapolis," said Harris, who was Indianapolis' first director of charter schools after such schools were legalized by the Legislature in 2001.
Few authorizers
Indiana was late to the charter school movement, becoming the 37th state to allow them. It now has eight charter authorizers.
Many states that adopted charter schools earlier allowed the number of authorizers to rise rapidly. In Minnesota, the number shot to 50 before the state cut it by about half.
Ohio has 66 authorizers. And because those organizations are mostly financed by fees paid by the schools they authorize, they compete with one another to authorize as many schools as possible.
Among Ohio's charter schools, students actually perform worse than their traditional public school peers, according to the Stanford research.
But in Indiana, charter schools improved students' reading ability faster than charters in all but five of the 27 states studied. On math, Indiana charter schools advanced learning faster than charter schools in all but 11 other states studied.
"The overall picture of charter school effectiveness remains positive across Indiana and in particular in Indianapolis," said Macke Raymond, director of Stanford's Center for Research and Education Outcomes, which released the research in December 2012.
However, different authorizers can put up strikingly different results.
Before Ball State started to purge poor-performing schools from its portfolio, just 10 percent of its schools were performing significantly better in reading than the traditional public school districts in which they were located, according to the study. On math, just 16 percent of Ball State's charter schools were performing better than their traditional school peers.
By contrast, the study found that 37 percent of the charter schools approved by the Indianapolis mayor's office were performing significantly better than their peers in both math and reading.
Also, the mayor's charter schools outperformed Ball State's schools by a wide margin over their traditional public school peers in both reading and math.
"While there are solid proportions of charter schools outperforming their local district schools, there are also some changes in the distribution of quality across schools that warrant careful attention," Raymond said.
Protests of fairness
Some organizations that run charter schools complain that Ballard's charter schools office fails to acknowledge when schools have taken on challenging groups of students and helped them improve.
Leaders of the schools Ballard has tried to close—Fountain Square Academy in 2011 and The Project School in 2012—both accused the mayor of focusing too much on how many kids pass the state standardized tests, rather than on how many more of a school's students pass than when the school opened.
Now Imagine Schools says the Mayor's Office, which has no direct authority over Imagine-West, is making the same mistake.
Imagine-West, founded in 2009, has 624 students in grades K-8. In that first year, just 38 percent of Imagine-West's students passed the state standardized ISTEP test in math and only 49 percent passed in reading.
But last year, those pass rates had surged to 61 percent in math and 58 percent in reading.
"Our test scores have improved every year," said Amy Butke, Imagine's executive vice president for Ohio and Indiana. "I would just hope that they look at all the data before they start making accusations."
Kloth, however, noted the Stanford findings that charter schools that start poorly almost never catch up—despite what their organizers say. He contends Imagine-West is not on a trajectory to reach the standards his office would expect.
Besides, he noted, it's hard to argue for Imagine-West to keep operating when it sits directly across the street from one of the highest-performing public schools in the city, Indianapolis Public Schools' Carl Wilde Elementary School.
"We actually have to live up to the promise of school choice," Kloth said, "and if we don't, what differentiates charter schools from any other public schools?"
Ball State cracks down
Bob Marra, Ball State's director of charter schools, agrees the poor-performing schools need to be closed.
"While I understand it may cause some short-term difficulty for families, it is a decision made in the long-term best interests of their students," Marra said.
And there is a clear performance difference when Imagine-West and the seven charter schools Ball State tried to close last year are stacked up against all other charter schools.
At the eight poor-performing schools, about 57 percent of elementary and middle-school students passed the math or English portion of the state standardized ISTEP test in spring 2013. Among all other charter schools statewide, 69 percent of elementary and middle school students passed math or English.
The schools Ball State tried to close are even inferior to the traditional public schools that would otherwise be educating the charter schools' students.
At Charter School of the Dunes in Gary, 42 percent passed the ISTEP test compared with 46 percent at Gary Community School Corp.
At Imagine-East charter school in Indianapolis, 33 percent passed versus 48 percent at Lawrence Township schools.
At Fort Wayne Community Schools, 67 percent passed the ISTEP test, but the pass rates were just 52 percent at the Imagine MASTer Academy charter school and just 37 percent at a second Imagine charter school there. The Timothy L. Johnson Academy, another charter school in Fort Wayne, posted pass rates of 41 percent.
Imagine converted its two charter schools in Fort Wayne—which Ball State moved to close down—into private schools, and now accepts taxpayer-funded vouchers.
Butke denied Imagine switched Imagine-West to Trine to avoid having Ball state close the school.
"The law gives you the opportunity," she said. "If you can find a partner out there that better suits their mission, why wouldn't you?"
Trine, based in Angola, is a private university started in 1884 as a teacher's college. It also approved a new charter for one of the seven schools Ball State tried to close, the Timothy L. Johnson Academy.
Trine officials did not return a phone call seeking comment. However, in the press release announcing Trine's authorization of Imagine-West, David Woods, Trine's director of charter school operations, said the decision was based on Imagine's desire to expand its use of technology and to add a high school to its K-8 school.
"There is a commitment to strategic growth that increases academic rigor, which aligns with our objectives for innovative education," he said. "We believe it is a partnership that is good for students and good for the community."
State legislation
Ironically, the problem that charter proponents like Kloth and Harris now fight was created by charter proponents in the Legislature.
Private universities like Trine were given authority to authorize charter schools in 2011 as part of a sweeping package of education reforms championed by then-Gov. Mitch Daniels, then-state schools chief Tony Bennett and the Republican-controlled Legislature.
Lawmakers thought that by giving private colleges authority to approve charter schools, they could increase the number of charters throughout the state. Toward that goal, the Legislature made state government a charter authorizer, too, via an entity called the Indiana Charter School Board.
The goal of both measures—as well as of a program of private school vouchers approved that year—was to extend more school choices to more parents throughout the state, according to Ryan Streeter, the head of Gov. Mike Pence's policy team.
"With more charters, parents have an even wider choice among many options," Streeter wrote in a June 2013 article published by Sagamore Institute for Public Policy, an Indianapolis-based think tank that supports education reform. "These reforms ultimately produce a vibrant marketplace aimed at disrupting the public school system's monopoly."
Expanding the option of charter schools was a bit more difficult before. Charter schools that wanted to operate outside of Indianapolis really had only one option for getting authorized: Ball State.
Even though every public university had been given authority to approve charter schools, only Ball State did so. Also, every public school district in the state has authority to approve charter schools, but only two have done so.
Since the 2011 legislation, three private colleges have started to approve charter schools: Trine, Grace College in Winona Lake, and Calumet College of St. Joseph in Gary.
Only Grace has approved an entirely new school. Calumet College's only charter approval was for the Charter School of the Dunes—one of the schools Ball State was trying to close.
Among the new charter authorizers created since 2011, only the Indiana Charter School Board has approved a significant number of new schools. It has OK'd nine charter schools serving K-12 students.
In 2013, lawmakers tried to prevent charter schools from switching to a new charter authorizer to avoid being closed down. They passed House Bill 1338, which requires a hearing before the State Board of Education whenever a charter authorizer decided to extend the life of a school that another authorizer decided to close.
But the case of Imagine-West appears to skirt that law because Ball State had not told Imagine-West, either formally or informally, that it would be closed.
However, Butke acknowledged that Ball State's attempt to close three other Imagine schools last year made the future of Imagine-West uncertain.
"There's always uncertainty when things aren't specifically laid out," she said, hinting that Trine has made its expectations for the school clearer than Ball State did.
Harris, of The Mind Trust, said making state government a charter authorizer was a sensible way to get more charters throughout the state. Beyond that, he said, there was no need to create more authorizers.
"We're solving a problem that did not exist," Harris said, noting that Indiana's authorizers could approve far more schools, but there has been a shortage of high-quality applicants.
"In so doing," he added, "we've moved away from the lessons that the entire country has learned."•
 
Please enable JavaScript to view this content.