Indianapolis technology industry fixture Chris Baggott has left his software firm and has turned his attention fully to the food business.
Chris Baggott
Baggott, who co-founded email marketer ExactTarget Inc. before starting blogware developer Compendium Software LLC, resigned last month as CEO from the more recent venture, he said Thursday. Oracle Corp., one of the largest software companies in the world, bought Compendium for an undisclosed price in October.
Today, Baggott is focused on a set of local, agriculture-based businesses he has started in recent years.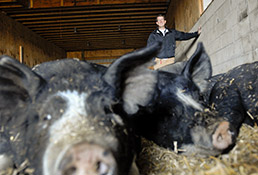 Chris Baggott's Tyner Pond Farm raises heritage-breed pigs. (IBJ Photo/ Perry Reichanadter)
In 2011, he began Tyner Pond Farm, an open-pasture, direct-to-consumer livestock operation in Greenfield.
He also co-founded Husk LLC, a small-scale corn processor, freezer and distributor that includes a 5,000-square-feet plant just east of Indianapolis.
And on Tuesday, he bought the Frosty Mug drive-in in Greenfield, which he plans to convert into a farm-to-table restaurant that pulls in all its food from central Indiana.
"These are all multi-million-dollar opportunities," Baggott said about his decision to step away from software and focus on the food industry.
With Baggott's departure, Compendium, which had about 25 employees when it was acquired, is now under Oracle's management.
An Oracle spokeswoman did not respond to messages seeking comment on Thursday.
Please enable JavaScript to view this content.