It's difficult to see Rick Snow in the same villainous light as the other two Indianapolis executives convicted in 2012 of orchestrating a massive Ponzi scheme at Akron, Ohio-based Fair Finance Co.
After all, unlike Fair co-owners Tim Durham and Jim Cochran, Snow, the chief financial officer, did not take any of the insider loans that gutted the business, leaving it unable to repay more than $200 million to mom-and-pop Ohio investors who purchased unsecured notes from Fair.
That helps explain why a jury convicted him on the fewest counts and why Judge Jane Magnus-Stinson sentenced him to just 10 years, compared with 50 for Durham and 25 for Cochran.
But a settlement filed in federal court in Ohio on New Year's Eve appears to put to rest any possibility that the 50-year-old executive will be able to return to a life of affluence after serving his time.
To settle a civil lawsuit brought by Fair investors and the company's bankruptcy trustee accusing him of conspiracy to commit fraud, Snow consented to having the court enter a $50 million judgment against him.
Don't count on the deal generating a windfall for the Ohio investors, who have yet to recoup any of their losses. In fact, Snow's counsel, Indianapolis attorney Anthony Paganelli, said Snow is rolling over only because he can't afford the alternative.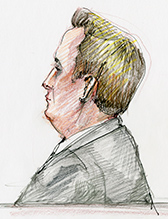 Snow's attorney says he couldn't afford to defend himself. (IBJ file rendering)
"Without going into any detail, he doesn't have the resources that would allow him to defend himself against this lawsuit any further," Paganelli said. "Mr. Snow disputes the claims the trustee made in the … case. He just simply can't afford to fight them anymore."
Fair's bankruptcy trustee, Brian Bash, isn't finished with Snow. He's continuing to press forward with a separate lawsuit seeking to recoup the $1.7 million in compensation Snow earned from 2002 to 2009, much of it based on fictitious profits.
Paganelli said Snow hopes to reach a settlement in that case as well.
Bash and federal prosecutors say the lucrative compensation helps explain why Snow comes across as spineless and as acquiescing to dubious accounting in wiretapped phone calls the FBI recorded in late 2009.
In one call, Snow appeared to endorse Durham's suggestions that they provide a deluge of paperwork to an Ohio securities regulator who was considering whether to permit Fair to sell additional investment certificates.
"My feeling is, give them a s—load more information so that there's just so much it overwhelms the guy. My guess is the guy at the state isn't a financial genius," Durham said on the call.
According to the transcript, Snow responded, "Yeah, no. I think you are right."
During the criminal trial for Snow, Durham and Cochran, prosecutors said the massive fraud would have been impossible to carry out without Snow's participation.
"Did Mr. Durham keep him tied to a chair in his office and beat him with a stick when he needed something?" Assistant U.S. Attorney Henry Van Dyck asked.
"No," Van Dyck continued, asserting that it was the carrot of a $400,000 salary that kept Snow on board for seven years.
Nick's settles ATM suit
Famed Bloomington watering hole Nick's English Hut has agreed to establish a $7,500 settlement fund for customers who used its ATM when it lacked a fee-disclosure sticker.
The settlement, up for final approval this spring, concludes a three-year legal odyssey for Nick's—one of hundreds of U.S. businesses sued by class action attorneys for failing to comply with a federal law that required the stickers before December 2012.
Under the deal, each user of the ATM can recover no more than $100. The biggest payout—more than $48,000—will go to the firms that brought the case, Dallas-based Travis & Calhoun and locally based Frasher Law Firm.
Those numbers might seem small for a case that featured years of wrangling. But the plaintiffs' attorneys acknowledged in a filing that they could have fared worse if they'd gone to trial, given Nick's "relatively low net worth" and the fact that a Kentucky court recently refused to certify a class in another ATM case.•
 
Please enable JavaScript to view this content.