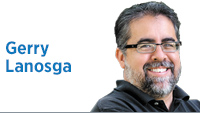 I've written a fair bit in these pages about the pitfalls of official secrecy—the often unjustified withholding of information by public agencies at all levels of government. With a new legislative session under way, it would be nice to see lawmakers take up some of the shortcomings of the state's public access laws.
But there's another side to the public information coin that deserves some close scrutiny as well. While we're looking at the records government agencies are keeping from us, we also ought to have some concern for the records the government is keeping on us!
I refer not just to the now-well-documented surveillance programs of the National Security Agency, but to the recent revelations by Gannett news organizations, including The Indianapolis Star, of such tactics in use by the Indiana State Police and at least two dozen other local police agencies around the country.
These agencies have purchased devices called Stingrays that mimic cell phone towers, thus allowing real-time collection of data on cell phone users' movements, calls and text messages. The device can be used to target a specific cell phone number or to sweep in, NSA-style, boatloads of data—perhaps yours or mine.
Allow me here to just head off the flippant response that is often heard with regard to programs like this, to wit: If you're not doing anything wrong, you have nothing to worry about. Well, sure, but that doesn't mean we should allow government agents to rummage through our private communications at their whim.
The State Police won't discuss their Stingray, but the agency's denial of requests for information about it cited, among other things, concern that releasing such information would hamper its unspecified efforts to fight crime and terrorism.
So we know very little about what the agency is doing with the Stingray. Is it indiscriminately scooping up cell phone data? Is it using the devices to deal with specific known threats, or just potential problems? (Miami police, for example, wanted to use their Stingray to monitor protesters.)
Further, what are the State Police doing with the data once they have it? Does it ever get destroyed? How are they protecting the privacy of cell users who have no involvement in crime or terrorism? How do they justify this use in light of our Fourth Amendment protections against unreasonable search and seizure?
To these and other important questions, there are no answers on offer, and no way to know whether anyone—a judge, perhaps?—is compelling the answers before allowing the tactics. We are left simply to trust that the authorities will not abuse the power the Stingray technology provides.
Several lawmakers have indicated they will push legislation banning the gathering of cell phone data without a warrant. This is a vital matter for all citizens, whether your inclinations run toward the Tea Party or more toward the Occupy movement.
If a nebulous fear of enemies—within or without—leads us to excuse this one itty-bitty intrusive technology, I just can't wait to hear about the next high-tech law enforcement tool. Of course, as these things go, we might never even know about it.
Remember the old story about how to boil a frog? Put him in the water before you turn on the heat, and by the time he notices it's getting a bit hot, it's already too late.
Do you think maybe now would be a good time to jump out of the pot?•
__________
Lanosga is an assistant professor of journalism at Indiana University and president of the Indiana Coalition for Open Government. Send comments to ibjedit@ibj.com.
Please enable JavaScript to view this content.