A legislative study committee voted 12-1 in November to support a proposal that would allow Delaware, Hamilton, Johnson, Madison and Marion counties to tax local residents and C corporations to fund expanded mass transit. Also, bus riders would be required to pay at least 25 percent of the operating costs. Should a bill based on the plan be approved by the Legislature and sent to a voter referendum?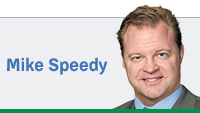 Each session, I work to find efficient and effective ways to streamline government functions. Bolstering our city's infrastructure is vital for sustained economic growth.
Public transit has value for some members of the Indianapolis community, but I believe the service remains predominantly a social program. Before even more taxes are levied from the public, I want to be sure it is a smart investment.
An important value of our state and central Indiana has been our fiscal integrity and lean governance. Bloated budgets and out-of-control spending at the federal level is concerning as future generations are saddled with debt estimated at $50,000 per person.
It is difficult to support increasing Hoosiers' taxes because it lessens the economic vitality and freedom of a productive society.
I understand that my view on this issue doesn't align with the other members of the committee in assessing public transit needs for central Indiana.
I think we all need to be careful in unleashing the power to tax for mass transit. Many advocates seem to ignore or not understand that "robust" transit systems around the country have geography on their side. Indy does not.
Many cities have large bodies of water, like Lake Michigan (Chicago, Cleveland); a bay (New York, Boston); a river or rivers (St. Louis, Washington, D.C.); a mountain range (Denver); or simply a Sun Belt economy (Charlotte, Atlanta, etc.) that push population density and/or growth rates in ways that make their financial modeling substantially better than ours.
The best way to get people from point A to B is to offer training and foster private investments that create jobs.
A chance at a better life is what motivated our ancestors to sail here. Jobs will motivate people to make the same decisions around our city.
Given opportunity, families need to make decisions on where to live based on their proximity to their job and existing transportation services to get there, whether those services are the good work of IndyGo, school systems, family or friends. Those pressures and opportunities are what truly move people.
Tax increases ultimately put additional pressure on our anemic economy and families that struggle to get to work independently. If you believe the American free enterprise system is the most efficient way to allocate resources and services to meet the needs of communities, then you can agree that the more we take from it, the less it can serve all of us. Americans and Hoosiers alike have a higher standard of living because of the investments made by the private sector.
Participating in the Central Indiana Transit Study Committee was an honor and a learning experience. Hearing from many experts and constituents who testified gave me a better and more accurate perspective of the issue.
However, I ultimately concluded we are making recommendations to take money away from the private sector, which could go toward job training or investment. Without this incremental training and jobs, the additional tax revenue may not best serve the people it intended to serve.•
__________
Speedy represents District 90 in the Indiana House. He is a Republican and voted against the proposal. Send comments to ibjedit@ibj.com.
Please enable JavaScript to view this content.