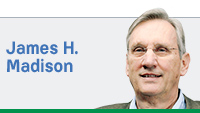 I've been listing to the Swan Silverstones.
"Don't blame it on the children," this gospel group sings, which got me thinking about who's to blame for the failure to regulate all our state's child care facilities.
One finger points at Eric Miller and his band of Christian followers.
It gets a mind thinking about the place of religion in government.
Indiana pioneers had good practical reasons to believe in religious freedom.
There were so many different churches competing in early Indiana that pioneers feared one might emerge as the official Hoosier church.
So as not to have a state church, like our state bird or song, all were denied special status.
Some churches readily disciplined their own wayward members.
A Baptist congregation closed its door to an unmarried couple who "indulged themselves in keeping company with each other and at an unreasonable hour of the night."
OK, but then some eager Christians moved outside their congregations and into the Statehouse.
Methodists objected to the sale of alcohol; Presbyterians wanted more state support for public schools; Catholics feared (sometimes rightly) that Protestants were conspiring against them.
In 1855, Protestants pushed the General Assembly to prohibit all Hoosiers from hunting, fishing or unnecessary work on Sundays.
It's a slippery slope down to our day, where we end up with denominational prayer in the General Assembly and the words "In God We Trust" on our license plate.
These may be harmless mixes of church and state, except to a few of us infatuated with constitutional principles.
Far more serious over the last two decades has been the aggressive invasion of true believers into our lives.
Miller leads the charge, perhaps the most outspoken bank robber stealing our democracy.
Advance America has insisted on state-supported religious schools, repeal of property taxes, and conservative social values, including harsh abortion restrictions and multiple bans on gay marriage.
Although some legislators in both parties think Miller's belligerence is over the top, many have feared standing up to him.
We can hope that Miller has already had his day, that members in the current session are ignoring him.
I grew up in the church founded by Martin Luther in 1517. This man of the mighty fortress stood up to pope, emperor and the established religion.
Our nation's founders knew all about religious bullying in their European homelands.
So we came to America and to Indiana yearning to breathe free.
We Lutherans, Jews, Methodists, Muslims, agnostics, Catholics and free-thinkers. Even socialists.
In the old days, it was not necessary to wear your personal religious belief on your shirt sleeve in order to get elected to office. (Voters sent at least two well-known atheists to the 1851 Constitutional Convention.)
Doubtless, Brother Miller will continue to light up his personal religion like a fiery cross as he prowls under the Statehouse dome, posed to unleash his ministers.
Most Hoosiers have some kind of religious belief. I suspect only a small minority of us share Miller's extreme brand of political religion.
Even if a majority agreed with him, he'd still be wrong to impose his will on all.
Our democratic ideals respect minority opinion and guarantee us rights, extending back to 1776 and 1816, including our choice of God and scripture.
So, as the lobbyists continue to descend on the people's Statehouse, we need to watch carefully not only those toting bags of money but also some of those carrying Christian crosses.
Both are potential threats to our Hoosier democracy.•
__________
Madison, an Indiana University historian, is author of the forthcoming book "Hoosiers: A History of Indiana." Send comments to ibjedit@ibj.com.
Please enable JavaScript to view this content.