Walk with security commander Maj. Royce Cole through the narrow cellblocks, past the iron bars holding inmates in Marion County Jail 1, and he'll tell you what you're not seeing.
"It doesn't have the modern stuff newer jails have," Cole said. What Marion County's jails do have is duplication. There are five facilities housing county arrestees and inmates, several with their own food prep areas, medical facilities, laundries and other essentials.
In Jail 1, you also won't see, but it exists, the inefficiency that comes from an antiquated holding facility designed so there's no monitoring of cellblocks from a central location. That means deputies, every 15 minutes, walk through the cell blocks, checking. "It's not direct supervision, which is what we want," Cole said.
A tunnel that predates Marion County Jail I is still used to transport inmates to and from the City-County Building. (Indiana Lawyer Photo/Eric Learned)
Those sorts of redundancies and inefficiencies, plus concerns for security at the jail and at the Indianapolis City-County Building—where defendants with court dates come into regular contact with the public—prompted city and county officials last month to announce a Criminal Justice Complex proposal that would bring courts, jails and other related functions under one very large roof.
Officials say the facility can be funded by savings without a tax increase. The complex would house juvenile and adult detention facilities, adding 1,000 beds to the current maximum population of 2,507. It also would be home to criminal courts; prosecutor, public defender and probation offices; and practically all related county criminal-justice offices.
Indianapolis Mayor Greg Ballard announced the plan, saying, "Marion County's jail and court facilities are aging, inefficient and unsafe." Sheriff John Layton said 70,000 inmates move through the City-County Building each year alongside victims, jurors and witnesses.
But for lawyers who practice in the City-County Building, unanswered questions about the plan are concerning, especially persistent speculation that the facility might be located on city-owned property near the Indianapolis International Airport on the far west side.
"I'm concerned about all the businesses that are dependent on the City-County Building—the City Market, the bail bondsmen, the lunch places over there," said criminal defense attorney Andrew Borland, whose office is near the downtown building that houses the courts. He said he'd back a complex downtown, but doesn't know if that's in the cards.
On a recent day, Borland said he'd been to the City-County Building on business three times by 11 a.m. and expected to return a couple more times.
Borland said his office "would have to move wherever that building went. … 1,000 lawyers (could) make that same statement, and you start to see the economics of it. … It's not a small thing.
"If they move that out to the airport, they're going to have to build offices" for attorneys, bail bondsmen and the like, Borland said. "I'd have a hard time getting out there. I live in the city, my office is down here, and it would add an hour a day in the car for me."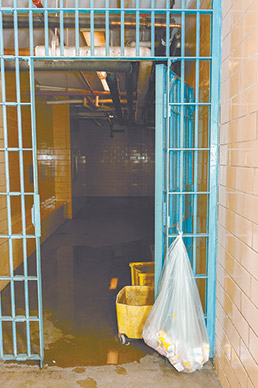 A jail corridor is flooded after the recent freeze burst water pipes. (Indiana Lawyer Photo/Eric Learned)
Kevin Murray, the sheriff's counsel, said no decision has been made about the facility location, but the sheriff is open to considering various locations. "We'll see what comes back" in proposals from developers, Murray said. "One of the big issues will be venue.
"We think consolidation makes sense, and we think that we'll save some money," he said, adding the complex won't move forward without popular buy-in.
Murray said the proposal is an outgrowth of long collaboration with numerous criminal justice agencies, judges, prosecutors, public defenders and others that identified problems and worked on solutions going back to federal jail overcrowding lawsuits against former sheriffs. Murray notes the Marion County Jail went from federal oversight to correctional accreditation in just a few years.
But the current handling of arrestees is a "Rube Goldberg" system, he said. They're brought to an arrestee processing center separate from the jail, where they may linger for hours before being taken to jail or court.
What Marion County is proposing, Murray said, would be unique in the nation and would build on the collaborative momentum that's helped drive down the daily jail population to an average daily count of 495 below maximum.
There has been no estimate of the complex's cost. Savings that would fund the project would come from a reduced force of deputies guarding and transporting inmates, savings on office leases, and elimination of duplicated services, among other things.
Marion County Prosecutor Terry Curry's office would move from rented space a block from the City-County Building to the proposed complex, as would probation offices, community corrections and other offices.
"This is an idea that's been discussed for years now and clearly is something that needs to be addressed, and I'm 100 percent on board with the idea of a justice center" combining various functions, Curry said. "We have some concerns about the ultimate site. Like the judges, we have a significant interest in making sure any facility is easily accessible to everyone in the county."
Curry notes many people come to the prosecutor's office to lodge complaints, so an accessible location is critical. Some judges also have said the location of a complex would have to be such that courts are accessible to defendants and witnesses.
Accessibility concerns David Deal, too. An attorney with Voyles Zahn & Paul near the City-County Building, Deal's practice is divided between criminal and civil law. Because civil courts will remain in the City-County Building, he's looking at the prospect of having to juggle appearances in two courthouses if the complex is built.
"I'd become a lot more in favor of it if they keep it in the core of the city for access for litigants and also for access for attorneys," Deal said.
He also worries that attorneys with long leases to fulfill near the building could be in a fix if courts move far from their current location. "If you recently renewed a five- or 10-year lease, you're going to be in tough condition."
If a complex were built far away from downtown, it could lead to an exodus from offices near the City-County Building, Deal said. "I think that could hurt downtown Indianapolis."
Officials who announced the complex noted it could free up prime downtown real estate that could give the city an economic boost. Jail 1 at 40 S. Alabama St., and Jail 2 at 730 E. Washington St., sit on property valued at more than $17 million, officials said.
Borland believes the complex belongs in the mile square of downtown Indianapolis. "I just can't imagine taking it out of the downtown core is going to be helpful to the litigants in those cases," he said. "Those are, for the most part, the poor people in our community. … Going 10 miles further is a big deal to them."
 
Please enable JavaScript to view this content.