Kathy Farris eyes the fish inside a cooler at Caplinger's Fresh Catch seafood market before inquiring whether the last remaining piece of walleye is still fresh.
"Absolutely," responds Andrew Caplinger, explaining that the store's walleye stock is running low because the Canadian lakes where they're caught are frozen.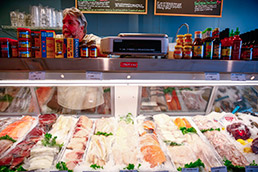 Nick Caplinger (above) launched the fish market late last month with his son Andrew (below). (IBJ photo/Aaron P. Bernstein)
Otherwise, the cooler is packed to the gills with about a dozen varieties of fresh fish, ranging from fluke to flounder, perch to pollock, tilapia to trout.
Fish connoisseurs like Farris, a vegetarian who eats fish, say the new market operated by Andrew and his father, Nick Caplinger, at East 75th Street and Shadeland Avenue boasts the largest selection of fresh fish in the Indianapolis area.
Owners Andrew, 34, and father Nick, 56, opened the shop in late December. But they are hardly newcomers to the seafood industry, having operated the popular 56th Street Fish Market from 1993 until 2005, two years before it closed.
Many of their old customers have already found the 1,600-square-foot shop in a nondescript strip center.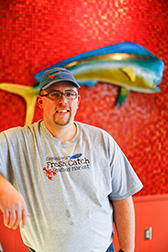 Andrew Caplinger (IBJ photo/Aaron P. Bernstein)
While Farris and her husband, Bill, both retirees, are shopping for fresh fish, the noontime pace quickens until the line of patrons runs about a dozen deep.
Caplinger's also serves cooked-to-order seafood for lunch and dinner five days a week. The market is closed Sundays and Mondays.
The rush prompts Nick to tell the hungry hoard that he'll be with them in a minute. They don't seem to mind the wait.
"I'm so excited that you're here," Farris gushes. "I can't even tell you …"
Counting employees Anthony Murray and Charles Burkes, the four have a combined 70 years of experience in the seafood business.
Close to their roots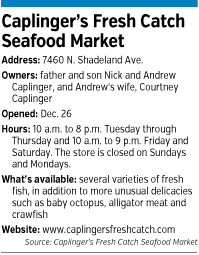 Customers are greeted inside the market by a large, stuffed mahi-mahi that Nick caught as a young teenager, not long after he began working with his father in the fish business.
Nick, an Indianapolis native, started in the seafood industry as an 18-year-old in 1975 at a Standard Grocery store at 25th Street and Sherman Drive. Five years later, he started seafood programs at the former O'Malia's and Mr. D's grocery chains.
In 1991, with a business partner, he launched wholesaler Midwest Seafood. Two years later, they started the 56th Street Fish Market.
Andrew began working at the market as a 13-year-old, setting up display cases and doing "a little bit of everything," he said.
The partnership between Nick and the financier ultimately went south when Nick attempted to buy the business in 2005 following a disagreement that led to his firing. It closed two years later when the investor filed bankruptcy.
Nick sold seafood out of the rear of a truck for about two years and worked four years as a salesman at Long's Furniture World in Franklin.
Meanwhile, Andrew, who was 26 when he and his dad left the fish market, went to work as a seafood buyer at McFarling Foods Inc. in Indianapolis. Nearly three years later, the North Carolina-based Harris Teeter grocery chain hired him to run its seafood department at a store in northern Virginia.
A promotion to assistant manager led him to Asheville, N.C., until last year, when he and his wife, Courtney, who also is an owner of Caplinger's, decided it was time to start their own business and return to Indianapolis.
"We wanted to stay close to our roots at 56th and Emerson," Andrew said of the market's location. "We knew our clientele would be loyal."
In fact, the new market would have been even closer to the original store had a lease arrangement for space at 62nd Street and Allisonville Road not fallen through.
Their location on Shadeland formerly housed a Fast Burrito and was already designed to accommodate another restaurant.
'Nobody like them'
The search for space and fish coolers turned out to be the biggest obstacles. Upon delivery, the two coolers they had bought online from an outfit in Georgia hardly resembled the photographs and description from the seller.
They were in such sore shape that the seller ultimately offered to let the Caplingers keep them at no cost to save him the trouble of hauling them back to Georgia. They declined the offer and found a pair of used ones to their liking.
The Caplingers have plowed about $150,000 into the business, including personal funds and loans from the U.S. Small Business Administration and the owner of a local real estate firm that helped in their search for space.
Ted Kleinmaier and his wife, Betsy, became so enthralled with the Caplingers' business plan that they loaned them money to help with startup costs.
"As we got to know them, we really liked their idea," said Ted Kleinmaier, who operates Retail Realty Inc. with his son Keith. "Not that it was a new idea, because they had been in business before. But it was as much about the people as it was the business."
The Caplingers hope to hit $425,000 in first-year sales and are encouraged by their strong start.
What sets Caplinger's apart from its competitors—Joe's Butcher Shop & Fish Market in Carmel, Jonah's Market in Fishers and Kona Jack's Fish Market & Sushi Bar in Indianapolis—is the variety, said Greg Skotnicki, director of sales for Bell Aquaculture.
Caplinger's purchases its yellow perch from Bell, which produces 3 million perch annually from its operations northeast of Muncie. Bell, the state's only industrial-scale fish farming outfit, also sells to local restaurants such as Black Market and R Bistro.
"There's nobody in town like them; there just isn't," said Skotnicki, who's been in the fish business 30 years. "It's the variety, the product mix, the prepared food, the whole nine yards."
The Caplingers strive to buy local when they can. Roll With It Bakery in Irvington, for instance, provides their sandwich bread.
Besides fresh fish, other offerings range from Canadian lobster tail and soft shell crabs to more obscure delicacies such as alligator, baby octopus and Portugal sardines. A popular clam chowder and house-made desserts also are on the menu.
Deliveries are made daily to the market from about a half-dozen vendors that might bring fish caught from the Gulf of Mexico, the East and West coasts, Canada, and as far away as Ecuador and Peru.
Besides getting reacquainted with former customers, the biggest joy for Nick is to be back at the side of Andrew.
"It's a pretty big blessing for a father to be able to work with his son," Nick said.
"And vice versa," Andrew quickly replied.•
Please enable JavaScript to view this content.