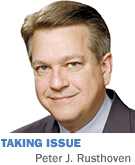 Commentary on New Jersey Gov. Chris Christie's current troubles, after aides snarled traffic to punish a mayor who didn't endorse him, has focused on the impact on his presidential aspirations.
This observer was struck more by Christie's self-absorption in his apology press conference—and what it might portend for a Christie presidency.
The Washington Post's Dana Milbank kept score on Christie's use of the first-person pronoun: "I," 692 times; "I'm," 119; "I've," 67; "Me," 83; "My/myself," 134.
Christie viewed the event through egocentric lenses. He fired an aide because "she lied to me." The incident had huge impact—on Christie: "I am a very sad person today." "I got to tell you the truth. I'm sad. I'm a sad guy standing here today." You're breaking our hearts.
Other quotes: "I'm a very loyal guy." "I am not a focus-group-tested, blow-dried candidate." "I'm incredibly loyal to my people." My favorite: "I was the class president and athlete."
The man Christie would replace has also conquered low self-esteem. Candidate Obama said, "I think I'm a better speechwriter than my speechwriters. I know more about policies on any particular issue than my policy directors. And I'll tell you right now that I'm gonna think I'm a better political director than my political director."
December 2011 brought this self-assessment: "I would put our legislative and foreign policy accomplishments in our first two years against any president—with the possible exceptions of Johnson, FDR and Lincoln—just in terms of what we've gotten done in modern history."
Only "possible" exceptions, mind you. He might be the best ever.
Big occasions are about him. On Nelson Mandela's death, he sent out a picture of himself in Mandela's jail cell, with a quote—from Obama. Rosa Parks' refusal to move to the back of a bus is celebrated with photos of Obama on the bus. The 50th anniversary of President Kennedy's assassination yielded a photo of (you guessed it) Obama, gazing at JFK's portrait.
Chief GOP competitor for narcissism honors is Newt Gingrich. At the Reagan library in 2011, Gingrich said, "I helped Reagan create millions of jobs while he was president," and, "We helped defeat the Soviet empire."
(Really? At the time, Newt said: "Measured against the scale and momentum of the Soviet empire's challenge, the Reagan administration has failed, is failing and without a dramatic, fundamental change in strategy, will continue to fail.")
A 1992 note to himself outlines Newt's 25-year plan. Sample items: "A series of books [the history of Freedom, prosperity and safety]," followed by "Campus [intellectual] appearances on 'the histories,'" with "Gingrich the historian applying the lessons of history to public life."
Here's a lesson from history: Don't talk about yourself in the third person.
A Gingrich doodle features concentric circles depicting his universe. At the center is "Gingrich," the "System Designer." The next circle has "staff" and "key supporters." Orbiting in circle three are "constituents," "media" and "interest groups." The circle most distant from the Newtonian sun has the "public." Wow.
It's said politics demands a healthy ego. Yes—but "healthy" needn't mean "huge." Reagan's ego was genuinely healthy—confident, at peace with himself, with a servant's mentality that knew it wasn't about him. The same is true of our current governor, as anyone who knows him will attest.
It's impossible to imagine Mike Pence saying the things Chris Christie did last week. That's another leg-up Indiana has on New Jersey.•
__________
Rusthoven, an Indianapolis attorney and graduate of Harvard College and Harvard Law School, was associate counsel to President Reagan. Send comments on this column to ibjedit@ibj.com.
Please enable JavaScript to view this content.