Pittsburgh-based supermarket chain Giant Eagle Inc. officially announced Thursday that it will build a Market District grocery store in The Bridges development in Carmel, marking its entry into the Indiana market.
The Market District grocery, along with a GetGo convenience store and fuel station, should open in 2015, the company said in a prepared statement.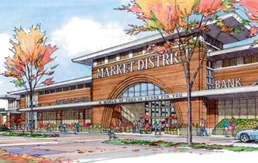 Giant Eagle's first local Market District store is set to open in 2015. (Image courtesy Giant Eagle)
Giant Eagle said it's exploring additional locations in the Indianapolis area but declined to divulge how many stores it might open and in what timeframe.
IBJ reported in December that The Bridges at 116th Street between Illinois Street and Springmill Road had landed a Giant Eagle store. The entry into an already-crowded local grocery market has sparked speculation that it could be eying Marsh Supermarkets Inc. as a takeover target.
Market District is Giant Eagle's specialty-grocery arm. The company describes the stores as "resembling open-air markets of Europe, combining the best of the everyday grocery needs with unique offerings and services not found elsewhere."
Chef demonstrations, interactive events and in-store appearances by some of the world's most prominent chefs are common at the stores, the company said.
The stores feature produce, a sweet shop with handmade confections, artisan domestic and imported cheese, and meat and seafood.
Food Network chef Guy Fieri called Market District "the Disneyland of grocery stores," the company said.
A gourmet prepared foods restaurant with stone-hearth baked pizzas, sushi and other freshly made dishes also is located in the stores, the company said.
T.M. Crowley & Associates and Gershman Partners are developing The Bridges' 62 acres along with Pittman Partners. Plans for the $100 million project call for 250,000 square feet of retail space, 500,000 square feet of office space, and 300 apartments.
Founded in 1931, the private company has 230 groceries in Pennsylvania, Ohio, West Virginia and Maryland. It has roughly 36,000 employees when counting its GetGo convenience stores. It reported revenue of $9.3 billion in fiscal 2011, the most recent year available.
 
Please enable JavaScript to view this content.