The online investing marketplace Localstake brokered a little more than $1 million in private investments for an Indiana distillery and a solar-heating startup in 2013.

The businesses are nothing like the software or biomedical firms that traditionally attract venture capital. And that's the point for the Indianapolis-based company.

Flynn
Localstake began in 2011 after Kevin Hitchen, Ryan Flynn and Brandon Smith left jobs as investment managers for the Indiana Public Retirement System and J.P. Morgan. The 20-somethings enjoyed what they did, but they wanted to do it for the mom-and-pop kind of businesses that usually don't elicit much interest from mainstream investors.

The idea behind Localstake: Investors use the service because they want to see certain businesses, maybe a restaurant or store, open or expand in their areas. They also collect investment returns, if all goes as planned.

The founders obtained all the federal certifications needed for an investment brokerage. Then they took the concept and blended it with crowd funding, or online fundraising.

Hitchen
"We view ourselves as a financial company with a great website," Hitchen said. "We're not a tech company, if you will. We're more of an investment company that utilizes the Web when most people don't."

Fundraisers on existing crowd-funding sites such as Kickstarter or Indiegogo collect donations for specific projects and, typically, reward their contributors with their products or other novelties. Localstake lets companies exchange an actual stake in the business.

"They just want a T-shirt or tickets to a show" on most crowd-funding sites, said Antone Najem, an early investor in Localstake. "But Localstake is giving people a legitimate avenue for investments."

Smith
Investors don't have to be accredited, which means someone meets income thresholds set by the Securities and Exchange Commission. People can invest as little as $500 on Localstake.

The company focuses on debt-financing deals that companies repay by sharing portions of their revenue with investors until debts are repaid, plus an additional return.

Before companies appear on Localstake, the firm spends weeks scrutinizing the businesses, combing through finances and checking for criminal backgrounds.

The company is marketing itself in a dozen states. Five businesses in Indiana, Michigan and Wisconsin are raising money on Localstake. Another five to 10 are going through a review process, Hitchen said.

Spirited investing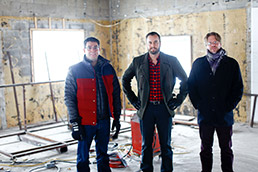 Cardinal Spirits founders Jeff Wuslich, Adam Quirk and Rick Dietz got $850,000 from Localstake to retrofit a sheet-metal factory for the distillery they hope to open soon. (IBJ photo/Aaron P. Bernstein)
The majority of Localstake's 2013 investments, $850,000, went to Cardinal Spirits in Bloomington.

The distillery plans to open its doors later this year. To get there, the company needed cash to fix up the old sheet-metal factory that houses the business and install equipment.

"We always knew we were going to have to raise money," said Cardinal co-founder Jeff Wuslich. "We weren't exactly sure how we were going to do it."

Wuslich said the Localstake team was willing to consult Cardinal through the fundraising process and not just give them a medium for raising money.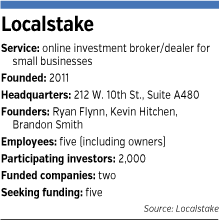 "Whenever you're doing one of these kind of deals, for us, the most important part was the people," he said.

Solar solicitation

The 2-year-old Indianapolis-based Solar America Solutions took in $275,000 from Localstake last year, said Charlie Slavik, a partner at the company, which designs and installs cells that harvest sunlight for heating.

He said the reviews and background checks it prepared should help the company prepare for future fundraising.

Solar America first brought the concept to traditional investors. But even after the partners explained, investors mistook the solar cells for the kind that generate electricity.

"We presented to people and 20 minutes into the presentation, someone would say, 'OK, so you're going to sell power back into the grid?'" he said. No, Solar America does nothing with generating electricity, the owners would explain.

"When people hear 'solar,' they think about that mess with Solyndra," Slavik said.

The company had better luck communicating what it does on Localstake because it could more easily provide information on what it did, he said.

The investments allowed the firm to build up its inventory and fulfill orders. Solar America installed almost 1,000 solar-heat collectors in the past year.

"We wouldn't be anywhere near that position if we hadn't had a little something from what those guys provided us," Slavik said.

Crowd investing's kickstart

Cardinal Spirits and Solar America are the first of what Localstake expects to be a massive market for raising investment capital, both in terms of potential customers and competition for them.

Researchers forecast the entire crowd-funding market at $5 billion worldwide for 2013, almost double the $2.7 billion in 2012, according to an April report by Massolution, a research firm that focuses on crowd funding.

Creative projects and charity efforts attract the most money. But pending changes to federal law have opened the door to online investing in private businesses.

One heavily discussed provision of the 2012 Jumpstart Our Business Startups, or JOBS Act, eases previous restrictions on crowd-funding private equity, regardless of whether the investing is through a certified broker-dealer.

Localstake does not have to worry about many of the existing restrictions on crowd funding because the firm is registered as a broker-dealer.

Other crowd-investing websites have already emerged. WeFunder, for instance, boasts of almost 25,000 investors, compared to about 2,000 signed up for Localstake. Another crowd investor, CircleUp, says on its home page it has raised $20 million, versus $1 million at Localstake.

And some of the biggest names in the broader arena of crowd funding, including Kickstarter, have expressed interest in jumping into private equity once the JOBS Act's new rules fully kick in.

Odds are many of the competitors will fizzle because they operate as a website and not as a brokerage, Localstake believes.

"We do a review on every single company," Hitchen said. "Some crowd-funding platforms will work like a listing service, like Craigslist. To me, those websites don't do as well."•