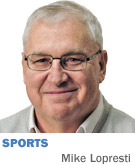 She goes to school before dawn and comes home after sunset, and in between swims six miles or so. She is a member of the Carmel High School girls swimming team. The dynasty of dynasties—the trophy-taking, record-breaking, history-making machine that next month will seek its 28th consecutive state championship.

No prep program in the nation—regardless of sport or gender—owns a longer streak. Neither Andrew Luck nor Paul George were born the last time the Carmel girls were not state champions. Two more will match the longest title run in the history of American high school sports.

It takes coaching, community support, facilities, numbers, involved parents. Carmel has all that, aplenty. But it takes something else, too: kids willing to devote a good portion of their teenage years to time in a pool. Sacrificing each day. Then getting up at 4:50 a.m. the next morning to do it all over again.

Meet senior Hanna House, state runner-up in two individual events and a member of two state champion relays as a junior. A day in the life of a Carmel swimmer:
As a junior, Hanna House was a member of two state champion relays. (Photo courtesy of Kim House)
5 a.m.— Breakfast is a banana and a few bites of peanut butter. The drive to school is easy. How many people are on the road at 5:15?

"You embrace it," she says of the unholy hour. "Everyone has such big goals, and there are so many of us. It doesn't even enter your mind, 'Oh, it's 5 in the morning.'

"If you want to be on this team, you're going to have to work hard every day. No one's going to be holding you accountable or holding your hand through it all. That's what makes us good. It's each other pushing us."

She is asked how often she takes a break from the pool. "Once, maybe twice a year."

5:40 a.m.— The Carmel natatorium has 23 lanes for the army of swimmers who are here. Head Coach Chris Plumb keeps an eye on the entire

throng, while Associate Coach Ian Murray works with the high-performance group—19 girls with championships and college careers on their minds. Murray is wearing a Carmel Swim Club shirt. On the back: "Don't tell me the sky's the limit when there are footprints on the moon."

The girls are towing small parachutes for more resistance, to make the yards even harder. They hold Wiffle balls to strengthen their hands. There are bars on the lane markers to make the swimmers kick longer under water after their turns.

The laps come and go.

"Let's go, ladies! More intensity!" Murray calls out. Finally: "Clean up, and have a good day at school."

7:10 a.m.—"Not a strenuous morning," Hanna says. Yep, only 3,000 yards. "I want to enjoy my last year, I want to swim with no regrets, put it all out there and see how good I can be."

What about all those trophies on the pool wall? Surely each Carmel class feels the burden to keep the streak going.

"I don't think anyone really feels pressure. It's something that's way bigger than us," she says. "We're still getting better, so let's see how far we can take this."

She heads to class. Advanced Placement environmental science, then a student government meeting, then Latin 5. Her grade point average is 4.55. Her last B? "My sophomore year, I think."

2:30 p.m.—Lunch for Hanna is salad with some turkey. Then Advanced Placement statistics followed by a National Honor Society meeting. She will attend the University of Notre Dame in the pre-med program, and also swim. In one way, college will be easier. You can grab a nap during the day.

At a now-quiet pool, Plumb, an Indiana University graduate in his eighth year leading the program, ponders what has happened at Carmel. He is the fifth head coach to be part of the streak, and watches over not only a high school team with 93 girls and 46 boys, but the Carmel Swim Club, a vibrant and vital feeder system.

The kids start as early as 5 years old. A notice on a board near the pool announces times for the stroke development class. You can start working on your butterfly at the age of 6.

Each year, the times from all 50 state meets are taken and a mythical national champion is named. Carmel has won seven public school national titles, and last year the overall championship.

"Somewhere along the line, the culture of swimming in the Carmel community became a real positive," Plumb says. "Young girls probably began to choose swimming over other sports. It took great support, a great community and a little bit of luck to be here today.

"The culture is so engrained here, that's the expectation. That's what motivates them. Young people want an identity, they want to be part of something. It's especially empowering to young women who think, 'If they can do it, so can I.'"

Earning a spot on the varsity team is a huge challenge in itself. Plumb says he has girls who could score in the state meet but won't even get to swim in the sectional.

The streak?

"It's going to [end] eventually, if it's me or somebody else. You just do the best job you can. I try to ensure with our club team that we keep producing top-quality kids. But is the sun not going to come up the next day when it happens? No."

Near his office is a board with insignias of all the colleges where Carmel swimmers have gone on to compete. Thirty-four schools. Plumb says there are more now. One went to Hawaii. Presumably, she did not swim to get there.

How about a rival? Does Carmel—with an average state-meet winning margin in Plumb's years of 153.9 points—even have one?

"The clock is our rival," he says. "The history, the girls that came before, the record boards, those are our rivals.

"We've gotten to a place where our goal is not the state championship, but the national championship."

3:30 p.m.—After National Honor Society, Hanna is back in her other world.

"One of the big things they teach is to drop your bag at the door when you come in," she says. "You're leaving all that behind, and swimming's a separate thing."

Since the conference meet is the next day, this practice will be light, right? Wrong. The Greyhounds are thinking beyond.

"One of the lucky things about Carmel," she says, "is we can afford to still go hard and not waste good practices before a meet."

5:30 p.m.—"How you doin', ladies?" asks assistant TJ Day, who has put the schedule on kickboards at the end of the pool. The girls do not require constant supervision. They see what they have to do, they do it. Their relentless purpose is what's so striking. Meanwhile, waves of little kids are coming in, some so tiny their kickboards look like sleds.

"There," Murray says, "is the future."

6 p.m.—It's over, after 7,000 yards. As is Carmel custom after every practice, Hanna and the other swimmers walk by Plumb and shake hands.

7 p.m.—Hanna House drives back home. It is as dark as when she left. Ahead is dinner, maybe an hour of homework, and hopefully bed at 9 p.m. "I'm definitely tired," she says. "But it won't hit me until later."

A normal week at Carmel means about 50,000 yards of swimming, or 28 miles. Hanna and her teammates spend one of every six minutes of their day in the pool.

"We have really high goals. Have fun, break records, just swim fast," she says. "It never really gets old. I love doing this."

Good thing. As Chris Plumb says, the sun always comes up the next morning. But Carmel's swimmers are usually already in the pool by then.•

__________

Lopresti is a lifelong resident of Richmond and a graduate of Ball State University. He was a columnist for USA Today and Gannett newspapers for 31 years; he covered 34 Final Fours, 30 Super Bowls, 32 World Series and 16 Olympics. His column appears weekly. He can be reached at mlopresti@ibj.com.