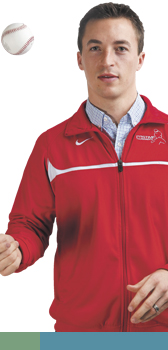 (IBJ Photo/Aaron P. Bernstein)
Diamond digs: An all-state outfielder at Lawrence Central High School, Davidson had played in baseball tournaments since he was 8 years old. But it wasn't until he was coaching 12- to 14-year-olds while in college (he started at Parkland College in Champaign, Ill., then transferred to Indiana University) that he noticed "nobody was hosting tournament games at college venues."

Why? "A high school field might cost $40-$50 a game. At a college, it could be $250-$500 a game." So why do it? "Ninety-nine percent of participating players aren't going to play Division I ball. Why not give these kids a chance to play on those facilities?"

Name change: Originally just as a summer gig at IU in Bloomington in 2006 with about 85 teams in eight tournaments, "I started getting other locations—and had to hire someone besides myself to run tournaments—we needed to make a quick change." Thus, Hoosier Sports Academy became Pastime Tournaments. Davidson soon ditched his retail clothing management job for the marketing department of a bank where he was offered greater flexibility. Now Pastime is a full-time business.
AGE 30
Hometown:
Indianapolis
Family: wife, Risa; daughter, Mila, 1
Primarily venues: Featured fields locally include Butler University and the University of Indianapolis, with one game out of about four on those, with others at Bishop Chatard and North Central high schools and other locations. For Pastime's 18-year-old nationals, more than 100 teams come to town playing on up to 16 fields. Last year, he added up to over 100 tournaments across the country. "We're still in a very large growth spurt... . This year," he said, "we added Brown University. We try to grab a couple of new venues a year, expanding before anyone else can get a foothold." This year will also feature Pastimes' first live tournament webcast.

Off-season: A member of Broadmoor Golf Club, Davidson says he tries to play as much as possible in late summer and early fall. "Whenever there's a tournament, I try to put a Pastime foursome together to help keep our guys sane before the crazy starts." Although a big Boston Red Sox fans, he hasn't seen a professional game live in years.•