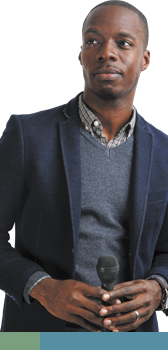 (IBJ Photo/Aaron P. Bernstein)
Dialed in: Although he played football (wide receiver) and basketball (guard) in high school, Grady found his calling elsewhere. "I was cut from sports and wondered what I could do with my time. My voice was changing at that time. Warren Central had a radio program. I decided to get involved and it was love at first sight." Or sound.
Putting in the time: "What separates you from the other person with the same goals?" Grady asks students when he speaks to them. His answer? "It usually comes down to hard work." In high school and, later, at Vincennes University, he spent as much time as he could in the studio.

Emmis-ized: Grady jumped at a part-time board operator position at WIBC even though he was taking calls for pet and cooking shows instead of sports. "If I had said, 'No, I'm only doing sports,' I never would have got my foot in the door." After fill-in hosting for "Indiana Sports Talk," though, a co-host broke up with his girlfriend and moved away. Thus, Grady moved into the job and became producer for sports talk show host Bob Lovell.

AGE 30
Hometown:
Born in Fort Riley, Kan.; grew up in Indianapolis
Family: wife, Deandra
Full-court press: In 2007, when 1070 transitioned to ESPN, Grady went full time, leaving his other gig at Sallie Mae. "During the first weeks, I missed Christmas. I grew a beard. Nobody saw me. It made me appreciate what it takes to get a station started."

Play ball: Months later, the Pacers called. Soon, Grady was doing emcee work on camera during games, which led to announcing. The only thing he was nervous about, he said, was following "a legend"—Reb Porter.

Hardest name to pronounce: Former Piston Viacheslav Kravtsov. "The horn blows, he walks out on the floor, and I didn't say anything. I just hoped he didn't score." More embarrassing: When, before an Indiana Fever game, he announced, "Everybody welcome your Indiana Pacers." "Tamika," he said, "still reminds me about that."

Getting away: "As far away from sports as possible. My wife and I are really into fashion, music and art. We'll travel to see runway shows."•