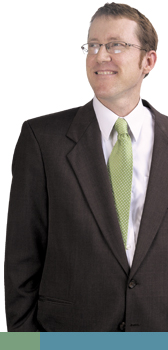 (IBJ Photo/Aaron P. Bernstein)
The privileged class. "It's an incredible privilege to be able to work at a not-for-profit where you are doing good every day," Grain said. "[Local Initiative Support Corp.] has an amazing mission to create great places. We have these wonderful neighborhoods that have the bones that are ready to be lively, thriving neighborhoods."
Mission driven: "I think growing up as a kid in the poorest part of Brazil … and going to one of the best private schools in the city … marked most of my life," said Grain, who earned his master's of public administration from IUPUI. "I'm constantly living between those worlds, thinking of ways to make those worlds connect and improve." The son of missionaries, Grain moved to West Lafayette as a high school sophomore, feeling like an outsider. "I speak English and I'm a white man," he said. "At the same time, I'm a Latino."
AGE 39
Hometown:
Anderson (grew up in Recife, Brazil)
Family: wife, Sarah; children Idalina, 4, and twins Luca and Stella, 2
Pro bono: In his 20s, Grain did a lot of civic engagement and activism without compensation. He canvassed. He marched. He organized. All the while supporting himself as a carpenter. In Chicago, he even led the building of a new high school. "There were 4,000 kids of school age in Little Village—the largest Mexican neighborhood outside of L.A. in the U.S.—and the one school that could fit only 2,000. The rest had to cross gang lines to get across town so a lot weren't going to school. We rallied, peacefully, and systematically managed to get the school built and money allocated." Grain was also lead organizer of the 2006 immigrant rights march in Indianapolis, the largest civil rights demonstration in Indiana history with 25,000 participants.
Navigating the waterways: Grain, who lives in the Clifton on the River neighborhood, serves on the steering committee for Reconnecting to Our Waterways. "The key thing is already happening," he said. "The combined sewage overflow issue will be largely solved in the next 12 years." Still, he wants us to think about the city's waterways in different ways. "We have six waterways—more than most cities, yet for whatever reason, unless it's Broad Ripple at the canal or downtown, we don't value them. It could be totally powerful for our city."
Taking care of himself: "I play and sing guitar quite a bit, but mostly at home. My wife is the singer/songwriter. She's the star. I'm just there for the ride."•
Please enable JavaScript to view this content.