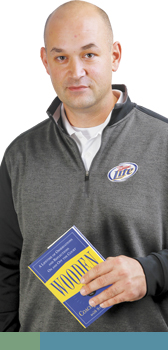 (IBJ Photo/Aaron P. Bernstein)
Innovation 1: Hedges supervised the conversion of 85 percent to 90 percent of his Class A truck fleet from diesel to compressed natural gas, reducing foreign dependence by 800,000 gallons annually, reducing the company's carbon footprint substantially, and saving over 60 percent annually in fuel expenses.
Innovation 2: Hedges also implemented Vertique, an automated picking system that reduced labor requirements 30 percent (only through attrition—he said Monarch has never laid off an employee), improved accuracy and improved fulfillment. "It's gotten to the point where we have to remind our accounts to check their order."
And the winner is: Monarch and Hedges were recognized with a Governor's Award for Environmental Excellence and an Indianapolis Sustainability Award.
I'll have a double: This is Hedges' second stint at Monarch. He first worked on the sales side when he was an undergrad at IUPUI. When he and his wife moved to Florida, Monarch helped him find work with a similar company down South. In 2005, he wanted to return for his MBA at the University of Indianapolis. (His advice, in hindsight: "Do it before you have kids.") Monarch hired him back as marketing coordinator. He was promoted to running the warehouse department, then, in 2008, to fleet and facility manager.
AGE 38
Hometown:
Indianapolis
Family: wife, Staci; children Jackson, 10, Madelynn, 9, and Cameron, 1
Doing community service (the good kind): Hedges has volunteered for such events as Canoes for a Cause and Neighborhood Clean-Up Indianapolis while also serving as president of the Monarch Charitable Foundation, which raises over $80,000 annually for not-for-profit organizations.
Credit: "I'm the beneficiary of some great mentors," Hedges said. "When you have the chance to talk with folks a little older and a little wiser, don't pass that up."
Getting out: "Friends don't necessarily understand that when everyone else is having the best time is when we are working the hardest. That golf invitation for Sunday morning on Memorial Day weekend is when I'm running backstock to grocery stores to make sure folks have what they need."
When he does get to a party … : "I would probably take a Louis Martini Cabernet Sauvignon."•
Please enable JavaScript to view this content.