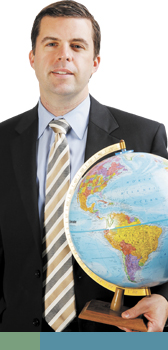 (IBJ Photo/Aaron P. Bernstein)
Road to the Governor's Office part 1: Graduated from Hillsdale College, received a master's in Western European Studies from Indiana University. Graduate work in international public policy and development from Georgetown University. Hired by Bose Public Affairs, then became director of global health and science policy for the American College of Sports Medicine.
String theory? A tennis player with an active 4.5 rating, Keefer serves as assistant tennis coach for Butler University's men's team. "I love to play," said Keefer, who went to regionals in high school and was all-conference in college. "It helps me get my mind off what I'm doing. When hitting a ball as hard as you can, that kind of helps."
Road to the Governor's Office part 2: Served as deputy secretary of state and chief of staff in the Indiana Secretary of State's Office. Appointed chief of staff in the State Department of Health in January 2013, then bumped up to legislative director in September.
His job in a nutshell: "Sometimes I say I'm the government's lobbyist."
AGE 36
Hometown: Fort Wayne
Family: wife, Gaby; sons Santiago, 7, and Ramiro, 4
On focus: "You can't be all things to all people. So really attempt to understand the three to five issues that really affect that position and make yourself the best at those."
The benefits of overseas travel: Keefer walks into an Irish bar in Argentina … and meets his future wife. "She moved up here with me, so she got to name the kids."
On his Six Sigma green belt designation: "Six Sigma [a business improvement program] really just puts technical terms to things we already do well. Making sure to have a cooperative spirit, having a sense of humor, being deferential, being nice. Make sure what you say is correct. Basic things that I've brought from job to job."
Ten years from now? "At this time, I'm living in the present and enjoying working for Gov. Pence. He's an outstanding governor. Make sure to put that in there."•
Please enable JavaScript to view this content.