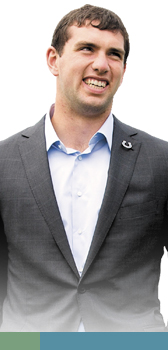 (IBJ Photo/Aaron P. Bernstein)
College choice: "The combination of what I could get out of football there plus what it offered academically, socially and its networking possibilities made the decision not too hard," said Luck on picking Stanford University. "If football didn't work out, I like to think I could send a couple of emails and at least get some interviews." He wasn't even sure he'd make it into the pros. "Going in, honestly, it was never a thought. It wasn't until my sophomore year that I said, 'OK, I'm good enough for this NFL thing to maybe happen.'"

Staying at Stanford: Luck could have been drafted without graduating. Instead, he opted for the degree. "Three years just felt too short. I wasn't ready to leave."

Cashing in: Unlike some other high-profile athletes, Luck didn't overload his first NFL years with endorsement deals. "If I don't drink Diet Coke, I won't endorse Diet Coke … not that they would have me."

Mentors/advisers: With a father who played in the NFL, Luck's first response is obvious. "And my mom knows me very well," he added. He also pointed to Will Wilson, his uncle, who is also his agent.
AGE 24
Hometown: Houston
Family: single
10 years from now: "I can't think past tomorrow," he said, before expressing some hopes: To still be a Colt. To win "a bunch of Super Bowls."

Living abroad: Luck lived overseas until 2000. "It opened my eyes to different cultures," he said. "I learned to respect how other people did things so that I'm not rooted in one way and think everything else is wrong. That's not to say I don't catch myself being ignorant. There's still the travel bug in me."

On putting himself out there: Football stardom includes media appearances. The media host Luck says he was most comfortable with: David Letterman. "Although I remember once I had to go on after Robin Williams. I thought, 'Great. He's a riot and the whole crowd is rolling and I'm going to be Debbie Downer.'"•