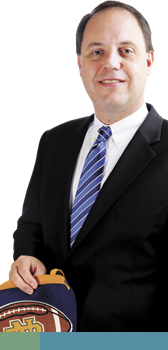 (IBJ Photo/Aaron P. Bernstein)
Why accounting? "I grew up in a small town," Ugo said, "and not a lot of people from my high school even went to college." The encouragement of his mother and counselors led him to the University of Notre Dame. "My eyes opened to what is out there in the world. And I chose accounting as a way to get a job." He found that job with Crowe Horwath's South Bend office, transferring to Indianapolis in 1998.
Clients: Credited with helping his firm expand deeper into the education and not-for-profit world, Ugo has worked with more than 40 (totaling nearly $2 milling in revenue), including The Children's Museum of Indianapolis, United Way of Central Indiana, YMCA of Greater Indianapolis, WFYI, Purdue Research Foundation, University of Indianapolis, and the Greater Indianapolis Chamber of Commerce.
In the community: Ugo is a board member for Junior Achievement, seeing it as a way to help kids understand finance. He serves on the finance committee for St. Lawrence Catholic Church and its school. He's also chaired the annual Indiana CPA Society conference for the past five years and is now a member of the national conference committee. He understands both the philanthropic and business benefits of such involvement. "It helps highlight Crowe's name," he said, "and increase the visibility of the firm."
AGE 38
Hometown:
Clinton
Family: wife, Chris; children Maria, 12, Monica, 10, Mark, 7, and Matthew, 4
Pay-it-forward push: Ugo remembers how his community pulled together to help when his father died. "People were just coming to help you; you didn't need to ask." When he was accepted at Notre Dame, he found community organizations willing to help out. "My role with not-for-profits is a way to pay that forward."
Ten years from now? "I have a goal of being the national leader of our higher education and not-for-profit practice and to have Crowe being one of the leaders in the nation for this industry."•
 
Please enable JavaScript to view this content.