The developer behind the $60 million Sophia Square building in Carmel's Arts & Design District is proposing a similar project about a mile west.
Indianapolis-based Keystone Realty Group wants the city to sign off on plans for a five-story building—as tall as 89 feet in places—on a sliver of land southwest of the roundabout at Old Meridian and Main streets.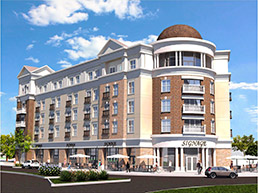 The proposed Sophia Pointe development is almost 35 feet taller than Carmel zoning laws currently allow. (Rendering courtesy of Keystone Group)
Keystone envisions about 200 luxury residential units above ground-floor retail and some structured parking. It wasn't clear in filings how much the project will cost, and Keystone officials declined to say.
The design Keystone came up with to make the most of the 5.3-acre site will need the blessing of city planners and officials charged with enforcing Carmel's development standards.
Among the potential hurdles: The proposed Sophia Pointe building is almost 35 feet taller than currently allowed.
A noticeably skeptical Carmel Board of Zoning Appeals last month deferred a decision on the building height and a handful of other design-related requests until after the project has been through the Carmel Clay Plan Commission review process.
In its variance application, Keystone said the size of the parcel "is insufficient to accommodate an economically viable multifamily retail development" at the required height. Building up instead of out will allow better use of the property, Krieg DeVault attorney Paul G. Reis told the panel Jan. 28.

Ozdemir
Strictly enforcing the city's zoning laws would "frustrate this project and continue to hinder development of this important corner," he said.
Keystone acquired about three acres of the targeted property from the Carmel Redevelopment Commission in 2011, paying $1.1 million for the corner parcel that was once home to Carmel Apostolic Church. (The existing building now serves as the headquarters for the Turkish American Society of Indiana, a nod to Keystone founder Ersal Ozdemir's heritage.)
The land was rezoned at the time to allow for the mix of uses the city wants to encourage in its Old Meridian District, Reis said, but Keystone later determined the parcel wasn't large enough to develop and acquired additional property to the west. That complicated the project, since it was zoned for town homes.
The five-member zoning appeals board didn't balk at allowing an exception to that rule, unanimously approving that variance and a number of others necessary for multi-family and retail development on the site. Keystone plans a mix of one- and two-bedroom units and 14,000 square feet of retail.
The developer hopes to start construction in the summer and move people in starting in 2015.
"The objective of the district is to promote high-quality, innovative site design," Reis reminded the panel, encouraging uses that "foster development and spur commercial activity."
The Keystone project will provide "an important jump-start to redevelopment of this portion of the Old Meridian Street corridor," he said.
Old Meridian already has attracted other mixed-use development farther south, including Indianapolis-based Buckingham Cos.' Providence at Old Meridian. And as IBJ reported in January, apartment specialist Edward Rose Properties Inc. is proposing an $80 million residential-and-retail project dubbed The District on 30 acres south and west of the Keystone site.
Local apartment guru George Tikijian III praised the location on a key corridor between U.S. 31 and downtown Carmel. Although the West Main Street area has been slow to develop, activity is expected to heat up when the reconstruction of U.S. 31 eliminates access at 126th Street/Carmel Drive. No interchanges are planned between Main Street and 116th Street.
A five-story building might stand out now, but Tikijian suspects that won't be the case for long.
"I assume everything between there and 31 is going to change," he said.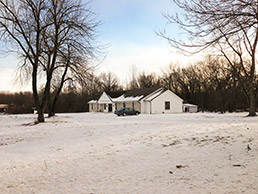 The existing building on the site proposed for Sophia Pointe serves as the headquarters for the Turkish American Society of Indiana.(IBJ photo/Andrea Muirragui Davis)
The city also is preparing for the inevitable traffic shift, "working diligently" to put together funding to upgrade that stretch of Main Street, spokeswoman Melanie Lentz said in an email. The goal is to complete those improvements by the end of 2016, about the time the state is scheduled to wrap up the highway project.
As part of the 2011 property sale, the redevelopment commission agreed to pay to install sidewalks and complete other streetscape work. Reis said Keystone is working on a new deal with the city and now-cash-strapped CRC.
City planners have been working with Keystone to come up with a workable plan for Sophia Pointe. Staff supports most of the requested zoning changes, but Planning Administrator Alexia Donahue-Wold told the BZA there's still some work to do on issues such as building height and construction materials.
"In general, increasing the height is not a negative," she said, but the requested 89 feet seems over the top. She suggested a compromise of 60 to 65 feet.
Keystone's plans to use fiber cement siding on about 65 percent of the building façade is another sticking point, she said, citing the upscale development standards intended to ensure the Old Meridian district has a "special sense of place."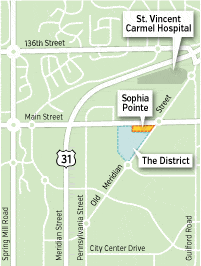 The city also wants to make sure planned surface parking lots at Keystone's project connect to Edward Rose's adjacent property.
Despite the similar scope—and name, an homage to Ozdemir's almost-3-year-old daughter—Sophia Pointe is not intended to become "Sophia Square West," as one BZA member put it.
Project Manager Mike Patarino, Keystone's vice president of real estate, said the company is not trying to emulate its other Carmel property. That seven-story structure (including a two-level underground parking garage paid for by the CRC) occupies a full downtown block, with ground-floor retail and about 200 upscale living units.
"They are two distinct projects," he said.
Sophia Square leased about 94 percent of its apartments within nine months of its May 2011 opening. Retail was slower to catch on, but most of the space is now spoken for.
Longtime broker Craig Kaiser, whose Kaiser Land Co. has offices on Old Meridian south of 126th Street, isn't making any predictions about the viability of the new Keystone project, but he questioned the need for additional retail in the area.
"We have all the neighborhood conveniences we need between Main and 116th," he said, citing an array of restaurants, dry cleaners and other services. And an existing Meijer store fits the bill as grocery and pharmacy. "Anything else would just be competition for what's already here."•
Please enable JavaScript to view this content.