As the owner of a target-shooting range, Tim Tomich thinks his business has a lot in common with a bowling alley.
"I'm just here providing the lanes," said Tomich, owner of Tim's Shooting Academy in Westfield.
Even a midweek afternoon is busy at newcomer Tim's Shooting Academy in Westfield. (IBJ photo/Aaron P. Bernstein)
Bowling alley owners probably wish they experienced the kind of demand that's greeted Tomich since he opened his $1 million facility in mid-January. Lines have formed outside the front door on Saturday mornings. Even on a recent Wednesday afternoon, five of the 10 pistol-shooting bays were occupied, while the gun-sales counter out front saw a steady stream of browsing customers.
Tim's is the first indoor shooting range to serve the north suburbs since Don's Guns and Galleries left its 96th Street location in 2001, but it won't be the last. A second range, Cincinnati-based Point Blank Range and Gun Shop, plans to open at City Center Drive and Pennsylvania Street in Carmel by November.
Tomich and Point Blank President Tom Willingham both think Hamilton County is the ideal place for a shooting range because of residents' high incomes and a likely high rate of gun ownership.
No one knows exactly how many households in the county have guns, but the range owners said Republican votes are a good proxy.
"Conservatives tend to have more guns," Tomich said.
Willingham said his research found that 34 percent of Indiana households own guns, and he believes that's also true for the Indianapolis metro area.

Tomich
"Because Hamilton County is so Republican-oriented, it's probably higher than that," he said.
Research by the National Shooting Sports Foundation indicates that gun sales have soared over the past few years, nationally and in Indiana. Approximating sales by the number of background checks, which are required for retail gun purchases, the NSSF reported nationwide jumps of 15 percent in 2011, 28 percent in 2012, and 7 percent last year.
In Indiana, the number of firearms background checks jumped 26 percent last year, to 597,124, according to the NSSF.
NSSF surveys suggest the growth demographics are first-time gun buyers and women over age 40. Both groups tend to sign up for training, which the indoor ranges offer. Tomich said he named his range Tim's Shooting Academy to play up educational opportunities, though he partners with a local expert, Guy Relford, to provide that service.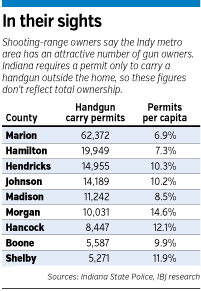 When Tomich opens the bulletproof doors onto his range, the sound of multiple guns firing is deafeningly loud. Shiny brass casings litter the concrete floor, and the range officer sweeps them up with a squeegee, Tomich points out, not a broom.
A broom would only kick up dust, Tomich explains, and he's gone to great lengths to create a clean, easy-breathing environment.
"We have the most sophisticated HVAC system for a shooting range within a couple of hundred miles," he boasted.
Save for one young couple, the shooters are middle-age men, and the clusters at the center of their paper targets suggest they have some experience.
Mike Johnston, a research scientist from Noblesville, grew up on a farm in Kansas and has been shooting guns since he was a boy. He practices with his semi-automatic .45 once a week, driving to the east side of Indianapolis to Family Indoor Shooting Range (formerly known as Pop Guns).
"I'm just tickled to death to have one in this area," Johnston said.
Allen Rumble, a financial adviser from Carmel, also grew up shooting and until now practiced at his family farm in southwestern Indiana or on the outdoor pistol range at Eagle Creek Park.
Since Tim's opened, Rumble has been shooting indoors several times a week.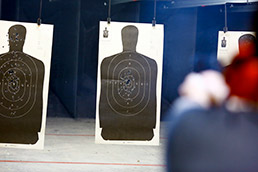 The evidence on Tim's Shooting Academy paper targets suggests that many customers are experienced with their firearms. (IBJ photo/Aaron P. Bernstein)
"I think they'll do just fantastic," he said. "I don't think many people really realized how much demand there is."
Willingham said he's not worried about being second to the north-of-96th-Street market because he's opening a larger facility in a higher-profile location. Point Blank caters to the uninitiated shooter, he said.
"Customer service is friendly and knowledgeable," Willingham said. "We're not looking at you in a condescending way. We're not going to make fun of you for not knowing about a gun."
Shooting ranges might have a business model that's similar to bowling alleys, but Willingham hopes they won't become as commonplace. He previously worked in commercial real estate appraisal and said he started the gun-range business because he realized how much it hinges on finding locations with the right zoning.
The parcel that Point Blank is buying in Carmel already was zoned to allow a gun range and gun sales, Willingham said.
Tomich also had an advantage in his location. A semi-retired construction company owner and real estate investor, he owned a parcel of land in an industrial park north of State Road 32 in Westfield. While that's not the first place one would build a business that relies on walk-in traffic, it's exactly where plan commission members in the past said they would welcome a shooting range.
Tomich said he wasn't sure whether the commission would grant variances for the shooting range as well as gun sales, but in the end he got both on an easy "seven-zip" vote.
Most indoor ranges have existed for decades, Willingham said. "This was a business, I found, that was completely out of kilter in terms of supply and demand."•
Please enable JavaScript to view this content.