Though it hasn't earned an annual profit in its 19 years in business, the treasure of Angie's List has been its reputation as a source of unbiased ratings of service providers, from auto mechanics to urologists.

And talk about a brilliant business model: Angie's doesn't pay to obtain reviews, but has persuaded more than 2 million consumers to pay an annual fee to write reviews for the site and to access them.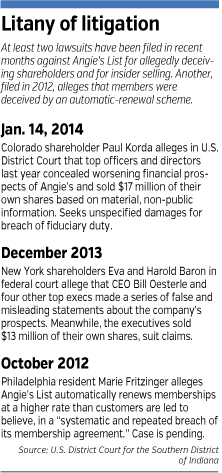 But the Indianapolis company's ostensibly consumer-driven business model is taking a beating like a low-rated plumber. Angie's List is the target of at least two investor lawsuits that note the company now generates the vast majority of its revenue from the service providers it's paying members to review.

Shareholders point to an experiment last fall to slash membership fees in several key markets, suggesting its member-paid model might be on the ropes. That sent Angie's shares tumbling almost 20 percent.

Angie's List also has been called out in Consumer Reports and other publications for allowing service providers to essentially buy their way to the top of the ratings page.

Ultimately, these developments raise questions whether Angie's has so altered its business model to devalue its unbiased reputation and prospects for future profitability. If that is so, how is it any better than competitors' reviews sites, such as Yelp, Porch.com and Google Local—which don't require consumers to pay and are growing at a faster clip?

A lawsuit brought on behalf of Colorado shareholder Paul Korda says Angie's executives, despite touting quarterly increases in revenue and other metrics, are "concealing the fundamental structural problems that have prevented it from achieving profitability and that, barring a miracle, will prevent it from reaching profitability in the future."

Angie's List spokesman Cheryl Reed broadly denied the allegations and said the company would vigorously defend against them. Angie's List points out that its revenue sources are no mystery. The company's 2011 IPO filings included revenue breakdowns going back five years, and since its public debut it has revealed that information every quarter.

Angie's List officials declined to comment further, citing a quiet period ahead of quarterly earnings set for release Feb. 12.

Confluence of issues

Oesterle
While Angie's List has long been a favorite of short-sellers who profit by betting its shares will tumble, pessimism blossomed in October when CEO Bill Oesterle disclosed the company was experimenting with cuts in membership pricing.

In an interview with The Wall Street Journal, Oesterle said Angie's was cutting prices for new members as much as 75 percent in key markets such as Chicago, Indianapolis, New York and San Francisco.

Around the same time came the abrupt departure of Chief Technology Officer Manu Thapar—and third-quarter earnings that came in slightly below estimates.

The company's stock price, which by the summer had soared to around $28 a share, fell nearly in half before gaining back some of the lost ground. The decline inspired Korda's recent suit and one filed in December that makes similar allegations.

The suits also question why insiders sold off more than $13 million of their own shares even as they were touting the company's rosy prospects. But records suggest the stock sales were planned months earlier, so it could be difficult for shareholders to prove that insiders cashed in because they believed the stock was poised to fall.

The membership price cuts were "unbeknownst to shareholders," Korda alleges, and were "so as to inflate the company's subscriber numbers and attract more advertisers, even as this contradicted the company's founding principle that 'You can't pay to be on Angie's List' and turns the company into just one more, expensive, publicity-based Web magazine."

The disgruntled shareholder goes on to say that executives had never disclosed the company's "lack of a viable business model" to shareholders.

Adequate disclosure

But should shareholders really have been surprised about Angie's financials or its business model?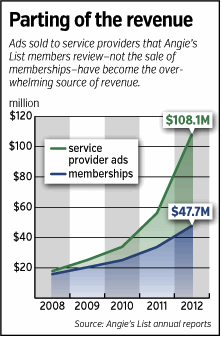 In its most recent quarterly financial report, Angie's discloses that the percentage of revenue from memberships declined between 2008 and 2012.

As far back as six years ago, Angie's got 47 percent of revenue from membership and the other 53 percent from service providers they review.

By the time of Angie's 2011 initial public stock offering, service-provider revenue had grown to 63 percent of total revenue, and hit 69 percent during 2012.

In the first nine months of 2013, service-provider revenue had swelled to $129.3 million of the $176.9 million in total revenue—or 73 percent.

"It is relatively easy to see that the ad proportion is increasing over time" relative to subscribers, said Mark Evans, a professor of accounting at Indiana University who looked at the company's financial reports.

The question then becomes whether and to what degree a company is obligated in financial disclosures to detail particular events related to its business model—such as the membership pricing experiment Oesterle revealed in the press last October.

Company executives have on previous occasions discussed the changing revenue mix. Oesterle, as well as company executive and namesake Angie Hicks Bowman, told Wall Street analysts during a conference call last October that price testing has gone on for years.

"As many of you who followed the company over the years know, we are constantly testing pricing and merchandising," Oesterle told analysts.

"In fact, we've done so continuously since the very first days of the business. We have added free membership for new markets in 2005. We have added lower-priced monthly options and higher-priced lifetime options along the way."

Evans said executives wanting to keep details of pricing tests under wraps may have an "out" if they can demonstrate that doing so would impair the firm's competitive position.

Do consumers even care?

Perhaps the biggest risk the company faces is public perception that its business model has been tainted.

Disgruntled shareholders cite a review of ratings services by Consumer Reports last September. It suggested that service providers, upon receiving satisfactory reviews by consumers and by offering them discount coupons, can rotate to the first page of Angie's search results.

Consumer Reports concluded that allowing higher-rated companies to "buy their way to the top" skews search results.

The publication also referenced marketing materials that stress that buying ads gives a service provider even more member eyeballs.

Also raised in Korda's suit is a New York Times column in December that questioned whether Angie's had instituted a policy of "whitewashing" negative reviews on behalf of paying service providers. It quoted a consumer who said that once his dispute with a service provider was resolved with Angie's help, his negative review disappeared from the website.

If Angie's reputation for unbiased reviews is dashed, it loses the perception of trustworthiness that over the years has fed a dramatic growth in its popularity and subscriber base, the suit contends.

But consumers might not notice. Look at the Better Business Bureau model, says Tom Hirons, CEO of the Indianapolis advertising and PR agency Hirons & Co., who serves on the BBB's board.

Businesses that earn accreditation pay a fee. Yet BBB arguably is the most trusted name in business reviews, Hirons contends, adding that he has no reason to believe Angie's List faces a threat to its credibility.

Complicated business

One thing not in dispute is that Angie's List is an intensely metrics-driven business, one that can be as difficult to comprehend as a Harvard business study.

For one, it's intentionally not profitable. Analysts say Angie's could be counting profits already had it not allocated so much money to marketing and building out new markets.

Last year, Angie's spent more than $80 million on marketing costs, trying to establish a foothold in new markets and to grow them to profitable maturity. The idea is that as markets mature and sign up more members, the more those members participate and the more valuable the service becomes.

Service providers perceive that value and then become more willing to advertise. And as a market matures, less money is needed for marketing in a given market.

But nothing is set in stone, as the company constantly tweaks its fees and marketing spend. It tries to figure out how to gain the most members and advertisers at the lowest possible marketing cost.

In fact, conference calls with analysts can be unintelligible to the untrained ear.

"Our economic value analysis takes many things into consideration," Oesterle told analysts in October, "including marketing costs, speed of acquisition, renewal rates, subscription revenue, service-provider revenue and—increasingly—marketplace revenue.

"The depth and sophistication of our unit economics are distinct competitive weapons for us. We've used them well over the years," he said.

Sales productivity the real issue?

Analysts who follow Angie's List seem not to be overly concerned with the allegations brought by the shareholders.

In fact, it is concern over sales-force productivity that seems to come up most often. The company added fewer new service providers in the third quarter than expected. The 2,400 new ones added in the third quarter was a 26-percent decline from the same time in 2012 and fewer than estimated by Raymond James analyst Aaron Kessler.

In a report issued in January, Kessler said Angie's List executives assured him the slowdown in new service-provider adds reflected sales compensation changes—not turnover among service providers. Kessler upgraded his outlook, also citing positive consumer and service-provider surveys conducted by the research firm.

Among the findings were that, of those seeking service providers, 68 percent used Google, 38 percent chose Angie's List, 36 percent Yelp, and 9 percent HomeAdvisor.

"Given that Angie's List is a paid offering vs. Google and Yelp, which are free, we believe the data bodes well for Angie's List," Kessler wrote.

On the other hand, those Angie's competitors have been growing quickly. Last year, Angie's topped 2 million in paid members after nearly two decades in business.

Yelp doesn't have paid members, so an apples-to-apples comparison isn't possible. But Yelp claims to have added nearly 3-1/2 million reviews during one quarter last year. And between January and September, the number of unique visitors to its site grew from 100 million to 117 million.

This fast growth of competitors comes at a bad time, as Angie's is gunning to achieve the critical mass that would allow it to dominate the consumer reviews space.

In fact, some have likened Angie's to Classmates.com, where users had to subscribe to get the best connections with old friends.

Soon came Facebook, which didn't require a paying membership. Classmates "got close to being dominant but this subscription model of theirs proved far inferior to Facebook in the long run," Motley Fool columnist Scott Anderson wrote in a piece titled "Yelp is to Angie's List what Facebook was to Classmates.com."

Membership model

Despite Angie's List's claims that its paid reviews are of higher quality than those of free competitors, it's clear the growing millennial generation is averse to paying for services online. Shareholders concerned that Angie's might start slashing fees for membership might be onto something.

The investment firm Canaccord Genuity in a report on Angie's in December said it believes there's a potential in 2014 for Angie's to do a "reset regarding the company's attitudes toward its membership revenue stream.

"We wonder if we might exit [2014] with a fundamentally lower membership rate structure …. We believe Angie's subscription-based business will likely continue to grow within a fairly predictable band of outcomes and that the risk/reward profile of the stock in the short term tilts toward the positive side."

Angie's said during the third quarter that its membership base grew 10 percent, to 2.38 million members—compared with a 16-percent increase during the same quarter of 2012.•