The NBA season isn't supposed to start in earnest until after the Super Bowl. But the Indiana Pacers this season didn't wait until an NFL champion was crowned to go red hot—on and off the court.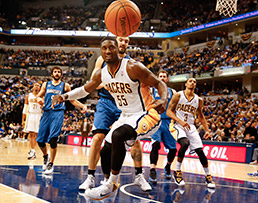 Home games are attracting an average 17,300 fans this season, filling even upper decks in Bankers Life Fieldhouse. (IBJ photo/Aaron P. Bernstein)
The blue and gold rocketed out of the gates to the NBA's best on-court record. Their sales staff, too, has lit up the scoreboard early and often.
Pacers officials are confident they'll sell out every home playoff game, and could have as many as 25 sellouts this season. The team hasn't sold out that many home games since the 2000-2001 season, the year after the Pacers roared to the NBA Finals.
So far, the team is averaging nearly 17,300 fans per home game. If that pace continues, it will be the highest attendance mark in 13 seasons.
Overall, attendance is up 19 percent this year—the second-biggest increase of 30 NBA teams. Only Sacramento is slightly higher. Ticket revenue is up more than 20 percent, according to Pacers officials.
Through 26 home games so far, the Pacers have as many sellouts, 16, as they had the last two seasons combined. Through 45 total games, TV ratings of games televised on Fox Sports Net are up 138 percent over last season. That's the highest regional TV ratings increase among NBA teams.
"This team is on fire and people in this and other markets are really being drawn to them," said Fox Sports Indiana General Manager Jack Donovan. "The really awesome part is, I think they're still on the rise. Just wait until we get toward the playoffs."
Team officials—and owner Herb Simon—are beginning to ask themselves if it's possible in the next year or two to sell out every home game. That has been done only once in franchise history—during the 1999-2000 season.
"This team is young," Donovan said. "It's got a promising future in front of it."
Broadcast experts think Pacers ratings on Fox Sports Indiana could be up more than 150 percent over last year by season's end. Already, about 50,000 central Indiana households on average are tuning in.
Exposure explosion
That exposure, team officials said, is leading to gains in other areas.
The team's Facebook following has grown from 375,000 in October to more than 1 million in January.
Merchandise sales are double what they were last year, Pacers officials said, with two days around Christmas ranking as two of the highest-volume sales since Bankers Life Fieldhouse opened in 1999.
That means merchandise for this young team is rivaling and in some cases outselling the vaunted team led by Reggie Miller and Rik Smits in the late 1990s and early 2000s, said Pacers sales boss Todd Taylor with a smile.

Taylor
When asked what Pacers items are selling this year, Taylor responded, "Everything. We're just selling everything across the board.
"The Monday before Christmas was like black Friday," he said. "Items were flying off the shelves."
Taylor said it's "incredible" the way the community has embraced "the entire team," not just one or a handful of star players.
Rivaling Reggie's Pacers
What's even more amazing, Taylor mused, is how the fan affinity for this team is approaching that of the vaunted 1999-2000 Pacers, arguably one of the greatest Pacers teams ever assembled. Remember, that's a team that was led by the boisterous and personable Miller along with the charming Smits and an eminently likable supporting cast. Add to that, Indiana native Larry Bird was the coach and Bankers Life Fieldhouse, then Conseco Fieldhouse, was brand new.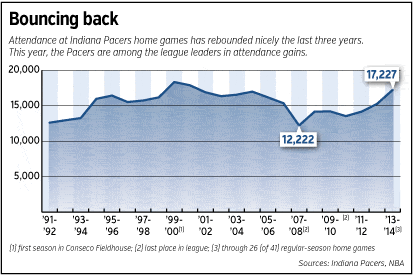 The 1999-2000 Pacers were achieving such popularity at a time before the Indianapolis Colts were an NFL power, noted David Morton, president of Indianapolis sports marketing firm Sunrise Sports Group.
"This is the first time the Pacers and Colts have really been up at the same time," Morton said. "The Pacers have had to make these gains while fighting for media attention and fan and sponsorship dollars with a very strong NFL franchise. That's a testament to the strength of the bond the Pacers have formed with the community."
The Pacers' saga is even more incredible considering that the team was last in the NBA in attendance just three years ago, and Bird, who had moved from coach to president of basketball operations, was taking myriad arrows, and not the type delivered by Cupid. Just six years ago, the Pacers were averaging a league-worst 12,222 in attendance and literally couldn't give tickets away.
Attendance gains are spawning new and expanded sponsorship deals. Sponsorship sales are up 30 percent this year and up more than 50 percent over two years ago, Taylor said. Suite rentals are up more than 10 percent this year, he added.

Though Taylor wouldn't comment on finance specifics, he said they're certainly getting better year-over-year.
"We're no different than any other business," he said. "The more customers, the better."
Despite the team's improved finances, Pacers officials continue to negotiate with the city's Capital Improvement Board for financial assistance to help operate the fieldhouse. In recent years, the Pacers have received about $10 million annually from CIB.
National attention
Even national commentators have noticed a change with the Pacers and their followers. The national talk was fueled by a recent appearance by Pacers star Paul George on the "Jimmy Kimmel Live" TV show.
"You can see something special's going on in Indianapolis," NBA TV analyst Charles Barkley told IBJ. "They're legitimate and I think that's starting to really resonate."
It's no coincidence that all this success coincides with the team's improvement on the court. Last year, the Pacers battled the eventual NBA champion Miami Heat in a seven-game series in the Eastern Conference finals. This year, Barkley said, the Pacers "have as good a chance as anyone to win it all."
Morton thinks the Pacers' gains go beyond their success on the court. He credits Jim Morris, who became president of Pacers Sports & Entertainment in 2008, and Taylor, who left the Texas Rangers front office to join the Pacers in 2011, for connecting the team and the community in a unique way.
"Jim Morris doesn't get as much credit as he deserves," Morton said. "I know a lot of people asked, 'What's he doing as team president?' I'll tell you what he's doing–what he's always done: building a spirit of collectiveness and a sense of engagement when it comes to marketing."
The Pacers' player marketing plan—which has been several years in the making—has been calculated and on target, Morton said. He especially credits fan zones within Bankers Life Fieldhouse sponsored by Pacers players Roy Hibbert, Paul George and George Hill for creating a sense of connectedness with the fan base.
"It's the community's team," Morton said. "They've woven that into the fabric of the team, and the team is being fueled by the community's support and that's unique among all professional sports franchises."
No resting
Next month, Taylor and his staff will start working on season-ticket renewals and using playoff tickets as a carrot to sell new season tickets. Taylor is confident the Pacers will add several sponsors yet this year—possibly car dealers and restaurants.
"I hope we can make an announcement around the time of the playoffs," he said.
Pacers sales bosses will also contemplate expanding variable ticket pricing—where games on certain nights and certain opponents cost more than others as opposed to a seat having one set price for all 41 home games.
Customer retention will be "a key focus" this off-season, Taylor said.
He expects an active off-season marketing campaign including TV, radio, print, billboard and social media.
"We have to remember the gains we've made were hard-fought," Taylor said. "When I first got here, it was about living to fight another day. Now we're thinking multiple years out."•
Please enable JavaScript to view this content.