There's a shakeout coming to the blood-glucose-monitor business.

U.S. sales plunged last year for Roche Diagnostics Corp. and its fellow makers of diabetes-care devices because of lower reimbursements from the federal Medicare program. And this year will be even worse.

In five years' time, two of the four largest companies will have sold or closed their diabetes businesses, according to two industry analysts.

Will Roche be one of them?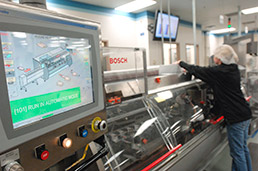 In 2013, Roche's North American sales of glucose monitors plummeted nearly 16 percent, to $478 million. (IBJ file photo)
It's a question whose answer will greatly affect the nearly 900 employees who work in Roche's diabetes care unit in Indianapolis and Fishers. That work force has been trimmed in recent years, but Roche is still a major contributor to the handsome wages in Indiana's medical-device sector, which average 56 percent higher than the state's average.

Roche put its diabetes care business up for sale last year, but couldn't find a buyer, Reuters reported. The same thing happened to Germany-based Bayer AG.

But while Roche's U.S. business has been struggling for years, the Switzerland-based company still boasts the largest market share globally—a size advantage that allows Roche to stay in the U.S. diabetes arena if it wants to.

Roche officials say they do.

"Roche is fully committed to its Diabetes Care business," Marc Gibeley, head of Roche's Indianapolis-based North American diabetes business, wrote in an email. "Despite the reimbursement challenges in the U.S., the diabetes business is important, and we expect to restore growth behind a robust innovation program in the coming years."

Roche can, indeed, innovate its way out of its diabetes conundrum, said Bruce Frank, who was a diabetes care executive for Roche in the 1990s and now does consulting for diabetes care businesses. Roche has built itself on superior R&D—either in-house or acquired—and now must do so again, he said.

"If they don't do it, the Indianapolis operation is going to slowly fade into the sunset," said Frank, who is president of Indianapolis-based Bruce R. Frank & Associates.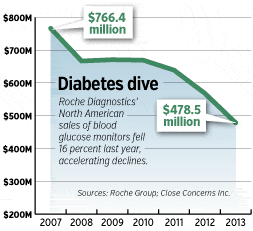 Recent sales are pointing in that direction.

In 2013, Roche's North American sales of glucose monitors plummeted nearly 16 percent from the previous year, to $478 million, according to data from San Francisco-based market research firm Close Concerns Inc. They declined 24 percent in the fourth quarter.

Roche's peers suffered similar declines, according to sales results they reported in January. LifeScan, the diabetes device unit of New Jersey-based Johnson & Johnson, saw its U.S. diabetes care sales decline 26 percent in the fourth quarter. Illinois-based Abbott Laboratories saw sales drop 14 percent.

Bayer, the other major player, has yet to report its fourth-quarter sales results.

Last year, the federal Medicare program for seniors instituted a competitive bidding process for diabetes testing supplies. The process affected only mail orders of things like the testing strips diabetics use in blood-glucose monitors—but the cuts were sharp.

Starting on July 1, Medicare began paying an average of only $10.41 for a box of 50 test strips via mail order. Before, Medicare's average rate was $33.51 for a box of test strips. That's a decline of 69 percent.

In 2014, when those Medicare cuts are in effect for the full year, Roche's glucose monitor sales will slip another 3 percent, according to a forecast by Close Concerns.

Test strips are the key money-maker for companies like Roche. They sell at retail for about 50 cents apiece. Roche's manufacturing plant in Indianapolis can pump out 3 billion strips per year, for use in Roche glucose monitors around the world.

Gibeley, the Roche chief, said Roche's global scale makes its cost of producing those strips lower than its competitors', meaning it can maintain profit margins, even in the face of lower payments from Medicare and private health insurers.

David Kliff, a diabetes analyst, thinks sales will keep declining the next few years, as private health insurers lower their prices by a similar amount as Medicare has. Eventually, the profit margins will get so low that it won't be worth making further investments to turn the business around.

"Once all the private payers start paying what the government is paying, these guys won't be able to afford to be in business," said Kliff, who publishes an industry newsletter called Diabetic Investor.

He predicts Bayer and Abbott—which have roughly half as much market share globally as Roche's 34 percent—will exit the market.

"What's so hard for people to accept is, how could a business which was a license to print money, go from one extreme to another in just a few years?" Kliff said. "But the end is coming."

Gibeley
However, not everyone has quite as dark a view of the industry as Kliff does.

Frank, the diabetes consultant, also thinks Bayer and Abbott will leave the business in the next few years—most likely by selling to one of the Asian firms that now make low-cost glucose monitors that are sold under a store brand name at Walmart and Walgreens.

The remaining companies will be in a chase to successfully commercialize two key innovations. The first is a more accurate blood-glucose monitor for hospital use, which could then be given to insulin users for at-home testing. The other is a continuous glucose monitor that would use implanted sensors instead of test strips.

Abbott executives, in a January conference call with investors, vowed that they will be part of that chase, too.

Kelly Close, president of the Close Concerns market research firm, predicts that Roche, LifeScan and Abbott will stay in the diabetes game. Unlike most analysts, she doesn't think private insurers will follow Medicare's price cuts—because they already have made significant cuts of their own.

That will allow sales of blood-glucose monitors to stabilize in 2015 and beyond, she said. But now it's up to companies and diabetes patients to give compelling reasons to health insurance programs to pay for the new glucose-monitoring tools.

"Patient choice is becoming a thing of the past," Close wrote in an email. "Of course, there is waste in the system, but to cut patient access to such necessary technology has gone overboard."•