Gov. Pence has proposed pre-kindergarten vouchers for low-income children that could be applied to public or private institutions. Do you support the idea?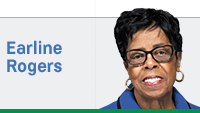 I commend the governor for recognizing the state's long overdue need to expand access to quality early-childhood education. In my years as a teacher, I found the difference between students arriving with a preschool education and those without to be profound.
I'm disappointed that the governor's measure would restrict access to early learning to only a select few.
For more than a decade, Senate Democrats have pushed to expand access to quality preschool, pointing to the lifelong benefits enjoyed by both students and the state. Academic research confirms that quality early-childhood education delivers benefits like higher graduation rates, higher wages and lower remediation and incarceration rates compared with those who do not.
Under the governor's original proposal and language that cleared the House of Representatives, middle-class families would be locked out from accessing state-funded early-learning options. For example, both a family of four earning $45,000 with two preschool-age children and a family of five earning $51,000 with three preschool-age children would not be eligible.
At a time Hoosier incomes are below the national average and the state's jobless rate is stuck above the national average, we should be diligent to help middle-class Hoosier families build successful futures for their children.
So let's be bold. Let's lay the framework for a universal program that incorporates the input of parents, teachers, local stakeholders and current providers. Let's ensure quality curriculum and accountability are cornerstones and put the tools in place for preschool providers to raise their standards.
Detractors point to the cost of quality and accessible preschool as prohibitive. But what about the future cost imposed on our children for growing up in one of only 10 states without a state-supported early-education program? Students attending quality early-learning programs earn nearly $160,000 more over their lifetimes, and quality programs return $7 to $12 in public benefits for every dollar invested.
Ask any recruiter; prospective employees want to locate in communities with quality schools. Employers themselves often talk of a well-educated work force meeting the demands of a modern economy.
In a state where only 23 percent of Hoosiers have bachelor's degrees or higher, early education is an integral part of developing tomorrow's high-tech labor force and attracting businesses.
Every Hoosier child deserves access to the benefits of a quality early-childhood education—not just those who meet narrow eligibility requirements. The governor is moving in the right direction; now let's join the 40 other states that have recognized the benefits of a publicly supported early-childhood education option and advance a proposal centered on universal access and quality standards.
Our children shouldn't have to wait any longer.•
__________
Rogers, a Democrat from Gary, is ranking minority member on the state Senate Education & Career Development Committee. Send comments to ibjedit@ibj.com.
Please enable JavaScript to view this content.