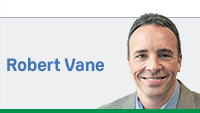 Perhaps the most intriguing question in what is shaping up to be a remarkable political year is the following: Will Greg Ballard seek a third term as mayor in 2015?
Even though I worked for him for two years in the Mayor's Office, I possess no inside knowledge of his plans. It should come as no surprise that it is my fervent hope he runs again. He would be a formidable opponent in what is sure to be a tough race.
There is not a more underrated politician in Indiana history than Ballard. In fact, his twin victories for the Mayor's Office are the most amazing political accomplishment in my lifetime (I was born six weeks after Richard Lugar won the Mayor's Office the first time).
Because of his steady, quiet leadership style, Ballard tends not to get the credit he deserves on many issues. While this is the opportunity cost of forsaking the limelight as part of the broader, laudable characteristic of sharing credit and delegating authority, it also makes it easy to overlook Ballard's many strengths.
One that doesn't get mentioned enough is Ballard's amazing ability to identify and hire superb talent.
The push that got me thinking in this direction was the publication of IBJ's latest Forty Under 40 list. As always, it is filled with a tremendous collection of people who are bright, accomplished and making a difference in all walks of life. Since Ballard took office in 2008, it has been dotted with people who have served in his administration.
Deron Kintner, Nick Weber, Paul Okeson, Michael Huber, Ryan Vaughn, John Cochran, David Wu, Adam Thies and Chris Cotterill all have received this honor and served in the Ballard administration. (Another honoree, Megan Robertson, was his re-election campaign manager in 2011).
Forgive me, fellow Ballardeers, if I missed someone.
Three chiefs of staff, three deputy mayors and three executive team leaders being chosen for this high honor demonstrates Ballard's eye for talent; serving for 23 years as an officer in the Marine Corps probably sharpened his judgment a bit, too.
Moving beyond Forty Under 40, we add leaders like Scott Newman, Kyle Walker, Olgen Williams, Greg Wilson, David Reynolds, David Sherman, Jason Kloth, Samantha Karn, Karega Rausch, Sarah Taylor, Troy Riggs, Amy Waggoner and Marc Lotter.
Believe me, the above list is far from complete.
Combining this team with Ballard's direction has resulted in some remarkable accomplishments the past six years.
Whether it is hundreds of millions of dollars in infrastructure spending, championing property tax caps, revitalizing City Market, fixing dilapidated pools in our urban core, expanding our charter schools system, modernizing our parking meters, adding hundreds of miles of bike lanes, championing new and exciting downtown development, or transforming the Mayor's Action Center, Ballard and his team have left a permanent mark on Indianapolis, its citizens and our neighborhoods.
Mayors Lugar, Hudnut, Goldsmith and Peterson also had their fair share of talented and terrific executive staff members. Names like Daniels, Morris, Krauss, Brooks, O'Connor and Harris come to mind.
Choosing good people and letting them do their jobs is one of the key traits of successful leadership, one that Ballard learned in the military and continued in elected public service.
Here's hoping he continues to mentor a new generation of leaders in a third term as our mayor.•
__________
Vane, a U.S. Army veteran, has worked for elected Republican officials including Indianapolis Mayor Greg Ballard, and currently owns the public relations firm Veteran Strategies. Send comments to [email protected].
Please enable JavaScript to view this content.