Politicos and hangers-on used to flock to Tim Durham's Geist mansion back when he was known for hanging out with Playboy bunnies and embracing an anything-goes lifestyle.
Today, as Durham chips away at the 50-year prison sentence he received for masterminding a $200 million Ponzi scheme, the home still boasts a spectacular waterfront view but has otherwise lost its luster.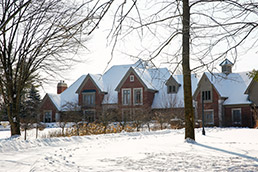 Durham's Geist home, priced at $5.5 million, has languished on the market. The lender is owed $4.5 million. (IBJ Photo/ Aaron P. Bernstein)
After languishing on the market nearly four years, and with no prospective buyer emerging willing to pay anything close to the $5.5 million asking price, the home is set to go up for bid at a Hamilton County sheriff's sale on March 6.
The sheriff's sale is the culmination of a foreclosure lawsuit that JPMorgan Chase & Co. filed against the disgraced businessman in 2010, months after Akron, Ohio-based Fair Finance Co. and the rest of Durham's business empire collapsed.
Lenders often jump into the fray at sheriff's sales, dangling bids up to the amount they're owed—$4.5 million in JPMorgan Chase's case—to prevent a bottom-fisher from swooping in and scoring a steal.
So it's possible the bank could end up with the title and then resume marketing efforts. Or perhaps someone who has been admiring the property from afar will drop millions and become the proud owner.
JPMorgan Chase's strategy is not clear, in part because an attorney representing the bank said he was not at liberty to comment in detail.
Regardless, JPMorgan Chase likely won't be able to avoid taking a big loss on its loan, a prominent real estate agent said.
"It is a difficult sale," said Greg Cooper of Prudential Indiana Realty Group, who is experienced with the high-end market. "Even though you have the water working for you, you have a lot of things working against you."
Indeed, the 10,700-square-foot home sounds good on paper. It boasts seven bedrooms, eight full bathrooms and multilevel decks overlooking what one listing described as a "resort-style pool."
But the five-acre property also has its quirks, including a 30-car garage—a great amenity for a car enthusiast like Durham but perhaps a turnoff for many mainstream buyers.
It didn't help that when Cooper showed the home to a prospective buyer, furniture was scattered in a haphazard fashion and people who "seemed to be squatting" were occupying the home. The occupants kept some rooms off limits from viewing.
The pool of buyers for residences above $1 million is limited, and they expect homes to be pristine and ready to sell, Cooper said.
It's not clear who was occupying the home when Cooper showed it, but one person who has lived there is attorney Gary Sallee, a friend and legal adviser to Durham. Sallee did not return a cell phone message.
Even if Durham's home were immaculate and updated with the latest furnishings, it still might look pricey. It is perhaps half the size of Reggie Miller's nearby Geist home, which was loaded with high-end furnishings when Cooper sold it for $4.5 million in late 2011.
Most Hoosiers would rather be able to say their home once was owned by a basketball legend than a convicted Ponzi schemer, but Cooper said the stain of scandal is not what's preventing a sale.
"There is a lot of space devoted to what Tim Durham wanted, but it is not necessarily mass appeal," he said.
Kite gains more than properties
Kite Realty Group, operating in the shadows of hometown colossus Simon Property Group, sometimes gets overlooked in Indianapolis. The shopping center owner has the same problem on the national stage, where far-larger retail real estate companies hog the spotlight—and the investment dollars.
That's one reason analysts like Kite's blockbuster deal, announced Feb. 10, to acquire Oak Brook, Ill.-based Inland Diversified Real Estate Trust for $1.2 billion in stock. The deal will swell Kite's portfolio of properties from 74 to 131, giving it a higher profile, greater operating efficiencies and more clout in negotiations with tenants.
"Importantly," Evercore Group analyst Benjamin Yang wrote in a report, Kite "will become harder to ignore in the investment community given its larger size."•
Please enable JavaScript to view this content.