Even as retail development continues to proliferate just outside Zionsville's borders, town officials say they remain committed to an 8-year-old zoning ordinance banning big-box stores.
The Boone County community is making an unprecedented push to attract commercial investment and has landed $60 million in projects in less than a year. Officials in the town of about 24,000, however, are confident they can achieve their goal of reducing the burden on residential taxpayers without opening the door to retail behemoths.
"Scale of development is very important," said Town Manager Ed Mitro. "We want Zionsville to grow, certainly, but we still want the community to have the same character."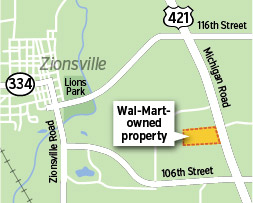 But not everyone thinks Zionsville's hard line makes sense. Some argue the town is needlessly leaving money on the table.
Target Corp. pays more than $200,000 in property taxes annually for its 14-acre site on the Carmel side of Michigan Road, for example, and Meijer has a similar-size store under construction on Whitestown Parkway, just west of town.
"If you embrace commercial [development] with a lot of howevers and asterisks, you're excluding quite a few likely users," said Ross Reller, director of land services at Colliers International's central Indiana office.
The town has been fending off proposals for a Walmart supercenter on the west side of Michigan Road since 2006. Last year, officials turned down a variance request that would have allowed the retail giant to build a 150,000-square-foot store—more than twice as large as allowed.
Adopted in 2006 after the first Walmart proposal failed, the big-box ordinance established size limits for retail development in certain zoning districts. Single users cannot exceed 60,000 square feet of space (about the size of an existing Marsh store on Michigan Road) and shopping centers are limited to 125,000 square feet (about the size of Boone Village) on Oak Street.
The restrictions apply along Michigan Road, where Walmart owns 23 acres straddling the Hamilton-Boone county line north of 106th Street. Officials say the idea is to provide a transition between the sprawling retail developments to the south and quaint Zionsville neighborhoods to the north.
"You've got to look at where you are in the community," said longtime Plan Commission member Allan Rachles. "We're not saying, 'Don't come build here.' Quite the opposite."
Rather, the emphasis is on attracting corporate users like FedEx, which is constructing a $40 million package-distribution center north of 96th Street, and Hat World, which last month said it will invest $19 million to build and equip a new headquarters in Zionsville.
Ramping up development without affecting Zionsville's small-town charm is easier said than done, said Ball State University economist Michael Hicks, director of the university's Center for Business and Economic Research.
"Zionsville is a really attractive place, trying to do what's probably impossible," he said, calling the town's strategy "schizophrenic." "It's a laudable goal, but very few are successful at it."
A developer planning a $90 million mixed-use project in Zionsville at the southwest corner of Michigan Road and Sycamore Street is not planning to test the town's appetite for cavernous stores.
Pittman Partners in August won approval from the Town Council for a rezoning that will clear the way for The Farm, which will include up to 150,000 square feet of retail, plus offices, multifamily housing and some estate homes.
The largest retail space on the preliminary site plan was a 65,000-square-foot anchor store earmarked for a specialty grocer. The big-box ordinance doesn't apply because of the property's zoning status, but developer Steve Pittman said big boxes aren't part of his vision.
"The days of putting in a big box and a sea of parking are over," he said. "I'm happy with what we got approved. I've been approached by some big users and said no. That's not what we're trying to do."
Instead, the goal is a "cool, neighborhood-infused" development with common areas and walking paths that draw pedestrians. He said he is working through the process of matching the right tenants with the right spaces.
Town staff worked with the Pittmans to finesse the project for about two years before they submitted a proposal, Rachles said. Officials "jawboned" with Walgreens for six months about plans for its Oak Street pharmacy before agreeing on a one-of-a-kind design that includes a brick façade, a covered porch and windows with shutters.
"We're starting to see others come forward … instead of throwing something at us and seeing if it will fly," Rachles said. "The town is getting quality development because we're taking the time to talk it through."
Big-box ordinances are increasingly common nationwide, said Stacy Mitchell, senior researcher for the Institute for Local Self-Reliance, a national not-for-profit that works to strengthen communities. Dozens of cities and towns have imposed size restrictions to control costs associated with increased traffic and other unintended consequences of no-holds-barred growth, she said.
"Setting limits on that kind of development is good for the community in the long term," Mitchell said.
Colliers' Reller disagrees, saying market demand should drive development. Retailers—and their customers—are looking for lucrative trade areas, municipal boundaries be darned. It makes no sense for Zionsville to impose size limitations on Walmart, he said, when there's a big-box Target just down the road.
"It's the same trade area, the same customer," he said. "Why can't Walmart offer the same merchandise in the same-size store? … It gets absurd very quickly."
A Walmart representative declined to comment on the retailer's plans for the site, but a lawsuit appealing the Plan Commission's 2008 decision is still pending in Boone Superior Court. Both sides participated in a day-long mediation session in mid-January, to no avail.
Economic development officials are focusing their attention on scoring more projects like the 300,000-square-foot FedEx facility and Hat World's $19 million headquarters, planned for 15.6 acres in Zionsville's new Creekside Corporate Park.
Both are bringing good-paying jobs, and even if the employees live elsewhere they're likely to spend time (and money) in Zionsville, patronizing its mom-and-pop businesses.
"Those two deals alone are huge, and they didn't upset the balance of what we have here," said Town Council President Jeff Papa.
And of course, rules are meant to be broken. The town will consider any development proposal that's brought forward, he said, but the bottom line is always the same: "Ultimately, it comes down to, 'Does it make sense for the town? Is there a net benefit?'"•
Please enable JavaScript to view this content.