Not everyone is convinced the state of Indiana yet knows how to run an effective preschool program.

Kenley
Sen. Luke Kenley scuttled a pilot program of state-funded preschool vouchers for low-income families on Feb. 19, instead sending it to a summer committee to investigate 10 questions he said will help make sure Indiana launches a worthwhile program.
"This is an effort to put this suggested program into a form where it can be successful and actually do what it's designed to do," Kenley, a Republican from Noblesville, said on the floor of the Indiana Senate when he submitted an amendment to House Bill 1004. The amended bill now goes to the full Senate.
Kenley's not the only one with doubts.
Researchers at think tanks in Washington, D.C.—both right-of-center and left-of-center—contend that neither the federal government nor any state government has yet figured out how to provide highly effective preschool programs on a broad scale with a reasonable price tag.
Marti Gough, center, works with preschoolers at the Day Nursery Ruth A. Lilly Center in Indianapolis. (IBJ photo/Aaron P. Bernstein)
And that's in spite of decades of trying.
"He's asking some very good questions," Grover Whitehurst, an education researcher at the left-leaning Brookings Institution in Washington, D.C., said of Kenley. "We know enough to deliver [preschool] programs that are likely to be helpful to really disadvantaged kids. But they're really different than the [state-funded] programs people are talking about."
Four of Kenley's questions are about funding. He wants to know if Indiana could divert some of the $295 million a year in federal dollars that are used for early childhood programs, such as Head Start, to pay for the state-run preschool voucher program that HB 1004 would have created.
He also wants to explore if Indiana's large businesses—which have enthusiastically supported a state-run preschool program—would take a larger role in its funding.
Further, Kenley wants to "hone down" who exactly needs state help to prepare their kids for school. In other words, he expects the income threshold for the state vouchers—which was 185 percent of the federal poverty limit—could capture more families than those who would truly benefit.
Last, Kenley wants to explore how to help parents do a better job on their own preparing their kids for school, or at least to find a way to get parents more involved in any program aimed at catching up low-income 4-year-olds.
"We don't think we'll solve this problem unless the family is committed to a better education for their children," Kenley said.
Kenley also objected to the attempt by Gov. Mike Pence and Republican leaders in the Indiana House of Representatives to pass the preschool program in a year in which Indiana is not writing a new budget. The Legislature writes two-year budgets every other year and won't do so again until 2015.
The preschool pilot program was not set to begin until mid-2015, giving lawmakers time to figure out how to fund it. But that didn't satisfy Kenley.

Behning
Rep. Bob Behning, the author of HB 1004, said a high-quality program can be created, based on the experiences of other states, by limiting it to low-income students, by establishing rigorous quality and accountability measurements, and by testing it out on a small scale before expanding it. But waiting longer, he said, just hurts kids.
"Unfortunately, the kids are victims in this," he said.
Wading through research
Pence's special assistant for education, Claire Fiddian-Green, put out a thorough review this month of preschool programs run in other states, acknowledging both the positive studies and the negative ones. Yet the administration still concluded that a preschool program targeted solely at low-income families would be a good bet for Indiana.
"Numerous studies have concluded that there are positive short- and long-term educational, social and economic outcomes for Pre-K programs, especially for children from low-income families," Fiddian-Green and her staff wrote in their report.
Long-range preschool studies have shown that participants in high-quality programs graduate high school at higher rates, commit fewer crimes, spend less time in jail, and earn more money.
A study in New York in the 1970s and 1980s found that these benefits actually saved governments $7 for every dollar spent on the preschool program directly. Another study in Chicago found as much as $11 in savings for every dollar spent on preschool.
"There are very few areas where the state could invest and generate that kind of return. The payback's huge," said Connie Bond Stuart, the regional president of PNC Bank, who has been a vocal proponent of state-funded preschool.
Nearly all preschool research begins with two small studies that followed their subjects for decades after they were in an intensive, multi-year program. The first study, known as the Perry Preschool Study, involved 58 low-income black children in Michigan in the mid-1960s. The second, called the Abecedarian Project, studied 57 low-income children in rural North Carolina in the 1970s.
Proponents also cite several meta-analyses—studies of hundreds of studies about preschool, that show positive and lasting gains from preschool for 4-year-olds.
But Brookings' Whitehurst, who was an assistant secretary of education under President George W. Bush, said the only "unimpeachable" evidence about preschool comes from randomized studies.
Large, random samples are crucial in research, because without them, any observed increase in kids' performance could be due to other factors than the preschool itself. For example, since no state requires preschool, parents who sign up are more likely to be more involved with their kids than those who don't sign up, and that could account for superior performance by kids in preschool.
There are only a handful of randomized studies of preschool: the Perry study, the Abecedarian Project, a 2012 study of 4-year-olds in the federal Head Start program, and a 2013 study of Tennessee's preschool program.
The Perry and Abecedarian studies show that early education can be highly effective. But those programs looked very different from broad, state-funded programs today. The Perry project provided two years of education—when its participants were both 3 and 4—and also included extensive work with parents to help them help their children learn.
The Abecedarian Project was year-round, assigned no more than six students per teacher, and lasted from the time its participants were infants until they were 5 years old.
No one disputes that replicating those programs would be beneficial, but Whitehurst contends that doing so would look very different from any state-funded program—including the proposed voucher system Indiana wants to create.
And he's not alone. In the past year, conservative think tanks such as the American Enterprise Institute and even The Economist magazine have questioned the effectiveness of focusing early childhood education on 4-year-olds.
Troubling findings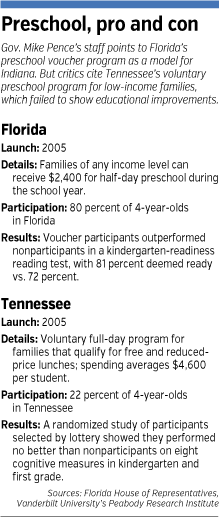 The only large, randomized studies of preschool are ones on Head Start and the Tennessee preschool program.
A randomized study of 4-year-olds in Head Start found that, by third grade, participants showed no statistically significant benefits on any of 47 measurements, compared with non-participants who lost out in lotteries conducted at Head Start centers with too few slots.
The Tennessee study is, if anything, even more problematic for preschool proponents. The preschool program provided $4,600 per student, on average—similar to the proposed funding in Indiana—to give preschool instruction to kids from families with incomes at 185 percent of the federal poverty limit.
When demand for the program exceeded capacity at 58 locations around Tennessee, lotteries were conducted to determine who would get in and who would not. So researchers studied the students who were part of the lottery—because parents of both those who got in and those who didn't were equally motivated to sign up for preschool.
But getting into the program didn't seem to provide a benefit. When participants and non-participants were tested in kindergarten and first grade, there were no statistically significant differences in their performance on eight cognitive measures, such as spelling and math.
In fact, the performance of the kids who got into preschool was slightly worse than those who did not on seven out of eight of the measures.
"The Tennessee results are devastating for anyone who believes that a statewide investment in pre-K for 4-year-olds is going to meaningfully reduce achievement gaps and produce better outcomes for students during their school years," Whitehurst said.
Fiddian-Green, Pence's education adviser, said she thinks Florida is a better model for Indiana to follow, because it uses vouchers and has a similar policy environment—with a third-grade reading test that can measure progress in early years, an A-F grading system for public schools, a vibrant system of charter schools, private school vouchers and merit pay for public schoolteachers.
"So much of it is the context of the policy environment and how it is implemented," Fiddian-Green said.
But Whitehurst, who was recently hired to conduct the first rigorous analysis of the Florida program, said using it as a model before its performance has been measured is unwise.
"We don't know if it works," he said, chuckling, "without evidence."•
Please enable JavaScript to view this content.