ExactTarget Inc. is evaluating downtown sites where it could build a headquarters tower as large as 500,000 square feet, real estate brokers familiar with the discussions told IBJ.
The move suggests the digital marketing company, which was acquired by Salesforce.com for $2.5 billion last year, is poised to continue rapidly ramping up its hometown presence.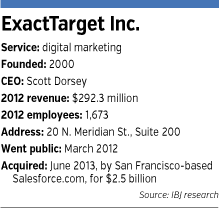 ExactTarget already employs about 1,000 people downtown spread across 215,000 square feet in three locations: the Guaranty Building on Monument Circle, the Century Building at Pennsylvania and Maryland streets, and the Gibson Building at Michigan Street and Capitol Avenue.
Constructing its own building could allow ExactTarget to consolidate offices, or to maintain existing outposts and accommodate continued growth. ExactTarget is searching now to fill 300 local job openings.
"We have no plans of moving out of those buildings," said Todd Richardson, ExactTarget's executive vice president of administration. "I can see down the road needing to pursue a fourth opportunity. Thankfully, there are options available in the downtown area."
The three leases have expiration dates ranging from 2016 to 2021, according to a filing ExactTarget made with the Securities and Exchange Commission in early 2013.
Real estate brokers are abuzz about the potential for a new downtown tower, stirred up by recent queries about possible sites by ExactTarget's outside broker, Jenna Barnett of Newmark Knight Frank Halakar.

Allen
Barnett didn't return phone calls seeking comment. Richardson downplayed Barnett's inquiries, saying part of her job is to continually evaluate real estate options, whether or not the company is actively searching.
"Our effective strategy to date is to go breathe life in some older buildings," he said. "Does it mean that we deviate from the strategy down the road? Time will tell."
Parking lots available
Two available parking lots could be at the top of ExactTarget's list, brokers said.
One, at the southwest corner of Maryland and Pennsylvania streets, was part of local developer J. Greg Allen's plans for a mixed-use development called Penn Centre.
Allen had planned to build apartments and two hotels on the site, but his ambitions were scuttled by the financial crisis.
A few years earlier, Simon Property Group Inc. had mulled building a 300,000-square-foot headquarters there but opted instead for a site at Washington Street and Capitol Avenue.
The other parking lot spans the southern part of the former Market Square Arena site. The city, which owns the property, hopes construction of Flaherty & Collins' $81 million apartment tower directly to the north helps spur a major project on the parcel.

Richardson
Allen, who still owns the property at Maryland and Pennsylvania streets, declined to comment on ExactTarget's interest but said his site is best suited for an office tower.
"We think 300,000 to 400,000 square feet and above is necessary to utilize its full potential," he said. "That's what we've been waiting for, and we think our time is just about here. We're feeling great about the market."
Cummins Inc., which also is searching for a downtown site to construct an office building, had expressed interest in the Allen property but seems to be eyeing the MSA parcel.
The Columbus-based manufacturer of diesel engines has about 70 downtown workers spread across 30,000 square feet in OneAmerica Tower and Capital Center North.
Cummins wants to consolidate those offices into a new building before existing leases expire over the next two years. The building could be as large as 70,000 square feet.
But Cummins' plans to vacate OneAmerica might have hit a snag. Its lease expires later this year, and Cummins is attempting to negotiate a short-term extension of two years to give the company enough time to construct the building. OneAmerica, though, wants to lock Cummins into a five-year commitment, brokers said.
If Cummins or ExactTarget builds on the MSA site, the office space likely would be part of a mixed-use project.
First-floor retail and apartments probably would make the most sense, brokers said. The city has made no secret of its desire to lure a large retailer such as Target downtown, and the parcel might represent its best hope.
The city is not in discussions with ExactTarget, said Deron Kintner, its deputy mayor for economic development. However, he said ExactTarget's expansion plans suggest the acquisition by Salesforce.com is boding well for the company and the city.
Staying downtown key
ExactTarget CEO Scott Dorsey said when the acquisition was announced last June that combining with the world's largest customer-relationship-management software company would accelerate ExactTarget's expansion.
Staying downtown rather than moving to a suburban location likely is key to ExactTarget's plans, said Sam Smith, chairman of Colliers International's Indiana region.
"They're big on culture and attracting that young, high-tech employee, and a lot of them might be renting downtown," he said. "They want to be where the action is."
Another location that might make sense for ExactTarget is Buckingham Cos.' CityWay development at Delaware and South streets, brokers said.
Buckingham is seeking a corporate presence for the property. It attempted to lure the headquarters of trucking insurer Baldwin & Lyons Inc. from downtown's Landmark Center, but the company last year opted instead for Carmel.•
Please enable JavaScript to view this content.