A prominent but half-empty headquarters building in Midtown owned by a major insurance carrier is on the block.
Columbus, Ohio-based State Auto Insurance is seeking to sell the low-slung, three-story building or, at the very least, sublease the half that's unoccupied. The property is listed for $9.1 million, or $47.92 per square foot.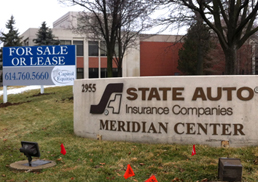 Local real estate brokers predict an uphill battle for State Auto as it tries to unload its Midtown campus. (IBJ Photo/Scott Olson)
The 190,000-square-foot building and its grounds at 2955 N. Meridian St. encompass an entire city block on the east side of the busy thoroughfare and just south of the Children's Museum of Indianapolis.
"We have been, for several years, evaluating our properties around the country," State Auto spokesman Kyle Anderson said. "As much as possible, we are no longer in the business of owning real estate."
The building was the home of Indianapolis-based Meridian Insurance Group until State Auto acquired the property-and-casualty insurer in June 2001. Meridian, founded in 1953, built the headquarters in 1960.
With $445 million in assets, Meridian Insurance was the city's fourth-largest property-and-casualty insurer before State Auto's acquisition. As of 2012, assets had fallen to $144.2 million, still high enough to rank the company eighth in the local market, according to IBJ's Book of Lists.
Local employment during the same time declined from 550 to about 300, IBJ statistics show.
State Auto listed the building in early February and plans to relocate if it succeeds in unloading it. But it's too early to know where State Auto might go, Anderson said.
"We have given some consideration of what's in the area, but we haven't made a determination yet because a decision's not needed at this point," he said.
State Auto notified local employees last fall about its decision to sell the building. Finding a buyer might be difficult, though, said Rich Forslund, an office broker at Summit Realty. He represented Evansville-based Vectren Corp. when it sold the 94,000-square-foot former headquarters of Indiana Energy Inc. to WFYI Public Media in 2008 for $8.5 million. The building, at 1630 N. Meridian St., had been vacant since 2000.
"Midtown's been pretty slow," he said.
 
Jon Owens of Cassidy Turley can attest to that.
He's been trying to lease the 10,000 square feet in the Fairbanks Mansion across the street from State Auto since 2007, when the 500 Festival left for 21 Virginia Ave. downtown.
The home, along with another on the property known as the Levey Mansion, is owned by Joe Brougher. He formerly owned International Medical Group, 2960 N. Meridian St. IMG and the homes are on the same property.
The Fairbanks Mansion was the residence of Charles W. Fairbanks after he served as vice president under President Theodore Roosevelt. It was built in 1912 and converted to office space in the 1950s.
Unlike the State Auto building, it's not configured for office space and still resembles a residence inside, Owens said. Its listing on the National Register of Historic Places complicates its uses.
"It's a very unique building, but it's just not traditional office space," he said. "Not everyone has an appreciation for that."
The Levey Mansion to the south is fully leased by the Sagamore Institute, an Indianapolis-based think tank.
 
Please enable JavaScript to view this content.