Category
Advancements in Health Care
Indigo BioSystems' ASCENT software
 In a time of skyrocketing health care costs and lower reimbursements, medical laboratories are hungry for cost savings. Put those cost savings together with improved accuracy and quicker turnaround times, and you've got a winner.
That's the promise of Indianapolis-based Indigo BioSystems and its ASCENT laboratory software, which is gaining a big following. Indigo now has 12 clients using ASCENT, including the three largest diagnostic lab companies in the country.
Randy Julian, the former Eli Lilly and Co. scientist who founded Indigo BioSystems in 2004, said ASCENT hits a sweet spot, not just for labs but for patients.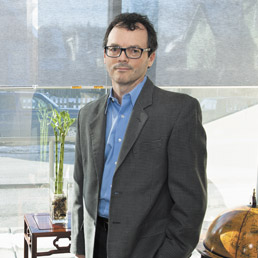 Randy Julian (IBJ Photo/Eric Learned)
"Patients care about accuracy," Julian said. In the laboratory setting, "we've eliminated human error as a reason for a misdiagnosis."
ASCENT takes a process commonly used in drug discovery research and speeds it up for use in diagnostic labs.
"It took a couple of years to figure out how to take the human element out of the process," Julian said. The result was a software platform that automates the conversion of raw data into actionable information for health care providers, improving accuracy but also saving time and money.
With Medicare reducing reimbursements for lab testing and private insurers following suit, labs that can't make the numbers work are more likely to outsource their work. That means more shipping of samples and more opportunity for mix-ups and errors.
An early adopter of the ASCENT software was Indianapolis-based AIT Laboratories. Shortly after AIT began using the software back in 2011, company officials said it was a "game changer" for how the company manages data in terms of efficiency and quality.
"We liked the testing so much that we decided to pick up the product," said Jason Lichti, a laboratory business analyst at AIT.
Typically, after a test runs on lab instruments, the results have to be reviewed by a technician, then reviewed again by someone else. With ASCENT, those steps are eliminated and accuracy is improved, because the software can catch things people can't.
Lichti said ASCENT has halved AIT's turnaround time in returning results to health care providers.
For all ASCENT's potential to save labs time and money, accuracy was the biggest selling point for the U.S. Centers for Disease Control & Prevention, which began using ASCENT in 2012 for the large population studies it conducts. The results of those studies play a big role in guiding public health policy.
"We've given them the most accurate numbers possible for things like trans fats in blood," Julian said. Those results can play a big role in deciding, for example, whether trans fats simply need to be disclosed on product labeling or whether they need to be banned altogether.•
Please enable JavaScript to view this content.