Winner – Non-physician
Chad Priest, RN, MSN, JD, Assistant Dean for Operations and Community Partnerships, Indiana University School of Nursing
 Chad Priest is only 38, but he brings what seems like decades of experience to his passion for public health.
His new job, as an assistant dean at the Indiana University School of Nursing, is the latest stop for Priest, who is also a lawyer, a nurse and a veteran of the U.S. Air Force.
He's a tireless champion for exploding the silos inside and outside of health care that he says are detrimental to keeping the public healthy. As he's fond of saying, the U.S. health care system is great when you're sick, but it's lousy at keeping people well.
Priest's approach to preventive care is more complicated than telling people to get an annual wellness screening. He's more focused on creating unlikely, yet logical, collaborations—work that led to Priest's winning the Health Care Heroes award in the Non-Physician category.
In 2005, while he was practicing law at Faegre Baker Daniels, Priest joined with contacts at IU to form the Indiana Health Advocacy Coalition, which got doctors and lawyers to work together in the exam room.
Who can benefit from such arrangements? Priest uses the example of children who repeatedly come to neighborhood health clinics or the ER with chronic asthma. Doctors in those settings are all too likely to "treat 'em and street 'em," using the medical tools they have at their disposal to deal with the symptoms. But what the child might really need is a lawyer to deal with the cause of the asthma, which for poor kids especially, is often rental housing with mold or rodent feces.
"We don't take seriously enough the social determinants of health," Priest said. "This is the stuff that makes us sick."
Thanks to Priest's initiative, there is now a network of so-called Medical-Legal Partnerships that have doctors and lawyers working together to solve such problems throughout central Indiana.
It's that kind of collaborative thinking that was also behind the Managed Emergency Surge for Healthcare, now known as the MESH Coalition, which was founded in 2009 with Priest as its CEO.
MESH, in many ways, is simply about communication. It brings together the region's health care systems, law enforcement, and organizations inside and outside government to make sure central Indiana's emergency preparedness system is built to work efficiently and effectively in a crisis. Or to avert one by, for example, using social media to anticipate disease outbreaks.
Among the many things MESH does is provide training and education to increase the likelihood that good clinical decisions are made in an austere environment, such as during a manmade or natural disaster.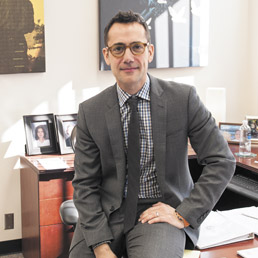 Chad Priest (IBJ Photo/Eric Learned)
Thomas Mattice, director of the Richard L. Roudebush Veterans Affairs Medical Center, saw firsthand what Priest and MESH are capable of when a bomb scare forced a partial evacuation of the VA hospital.
"Almost immediately upon hearing of the situation, Chad appeared here with several [MESH] staff members, offering to help in any way they could. Their knowledge base and technical skills, communication and coordination capabilities, readiness and ability to rapidly deploy additional resources as needed, and after-action feedback, all contributed greatly to our successfully maneuvering through that critical incident," Mattice wrote in support of Priest's nomination as a Health Care Hero.
Susan McRoberts, regional vice president and chief nursing officer at Franciscan St. Francis Health, is another believer. "In central Indiana, competition among hospital systems is fierce, but Chad has been able to bring us all to the table to work together … to better serve the entire community," she said.
Priest drew upon his own experiences to help steer MESH. As an Air Force nurse working at Andrews Air Force Base, Priest was a responder at the Pentagon on 9/11 and worked alongside hundreds of others who were on the scene to deal with the crisis. The terrorist attacks on that day happened just as Priest was starting night law school classes at George Washington University.
It wasn't his first stint in Washington, D.C. After graduating from Broad Ripple High School, Priest left Indianapolis to study at American University and scored an internship on Capitol Hill working for Maryland Sen. Barbara Mikulski. He was assigned to work on legislation involving mammography machines and "I realized I was 100 percent ill-equipped to work on this." So to learn about health care he went to night school at George Washington to become an EMT.
That's when he decided health care was his passion. He left Washington to study nursing at IU, where he joined the Air Force ROTC. Upon graduating from IU, he was immediately shipped to Andrews to be a nurse.
It was after law school that he and his wife and first child moved to Indianapolis, where he squeezed in a master's degree in nursing while practicing health care law.
Marion Broome, dean of the IU School of Nursing, is among those who've seen what Priest is capable of. "I have known Chad for nearly a decade, and have had the opportunity to witness firsthand his extraordinary contributions to health care, and the health of our communities, in central Indiana and beyond."•
Please enable JavaScript to view this content.