The latest plan to redevelop Pan Am Plaza calls for two hotels, residential units and restaurants spread across two towers as tall as 20 stories each, sources familiar with the details told IBJ.
Indianapolis-based Kite Realty Group Trust bought the site on South Capitol Avenue in 2008, after the city chose a proposal anchored by JW Marriott over a proposal by Browning Development Inc. to construct a 44-story hotel on Pan Am Plaza.
Kite has considered several developments for the site, but its latest plans seem to represent the company's most serious run at redevelopment, as the city gets closer to learning whether it will host another Super Bowl.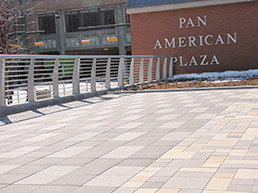 Kite purchased the site in 2008 from Indiana Sports Corp. (IBJ photo/Cory Schouten)
Kite's plans call for a hotel tower, where two separate brands could offer up to 700 rooms. A second tower would feature residential units with ground-level retail or office space. Both towers would be less than 20 stories to complement the nearby Hyatt Regency Indianapolis to the north, which is 16 floors.
The hotel component would be modeled after L.A. Live, a 54-story, 1,001-room, two-hotel tower, but on a smaller scale. The skyscraper directly north of the Staples Center contains an 879-room JW Marriott and a 123-room Ritz-Carlton, as well as 224 condominiums.
Kite has shared architectural renderings with a select audience but declined to make them available to IBJ.
In an email, company President Tom McGowan said Kite continues to assess the redevelopment of Pan Am Plaza.
"However, we feel it would be premature to share any of our potential plans for the project at this point," he wrote.

Eble
City and local convention officials believe the property is best suited for a hotel, which could help Indianapolis' chances of landing another Super Bowl. After hosting the big game in 2012, the city has been selected as one of three finalists for 2018 and will make its case at the May owners' meeting in Atlanta alongside Minneapolis and New Orleans.
"There have been many discussions for that site," said Mark Eble, Midwest regional vice president for San Francisco-based PKF Hospitality Research. "It's one of, if not the best, remaining hotel sites downtown."
The Kite tower would feature a convention-type hotel at the base topped by a more expensive brand with fewer rooms. The concept of stacking hotels in one building is relatively new, said Eble, noting that "you can probably count them on one hand with fingers left over."
City officials said they are unfamiliar with Kite's proposal and have not been approached for any type of financial assistance.
"Whenever it's developed, a hotel is certainly logical," said Deron Kintner, deputy mayor for economic development. "Would I expect the city to help? Probably."
Leonard Hoops, CEO of the city's tourism marketing arm, Visit Indy, said he is familiar with the plans but needs to learn more before endorsing the project.
"It will require further study to determine the right size to see if it benefits the community as a whole," he said.
More meeting space
To gain Visit Indy's support, any hotel project built on Pan Am Plaza would need to include flexible meeting space that could be accessed via a walkway above Capitol Avenue from the Indiana Convention Center's new addition.
The 275,000-square-foot expansion that opened in 2011 provides plenty of additional exhibit space to help land large groups such as the National Rifle Association. The city is expecting 70,000 visitors for the group's April convention.
But what the convention center's new addition lacks is the type of meeting space that's available in the older part of the center to the north.
Space in the range of 30,000 square feet—about the size of the convention center's Sagamore Ballroom—would be ideal, Hoops said.
"It would be a better fit, as part of the concept, if there were flexible meeting space that could be accessed from the south addition," he said.
Who would finance and operate the meeting space would need to be hashed out between Kite and the city's Capital Improvement Board, which manages the convention center, in addition to Lucas Oil Stadium, Bankers Life Fieldhouse and Victory Field.

Dora
"Another ballroom presents the question of who owns it and who controls it," Eble said. "That's often a challenge between convention centers and hotels. It's not in any way a deal stopper; it just has to be sorted out."
Convention and tourism officials are confident the city can absorb another hotel without harming existing hoteliers. Even after the 1,005-room JW Marriott opened, occupancy at downtown hotels climbed from 68.5 percent in 2012 to 70.3 percent last year, according to Smith Travel Research.
Meanwhile, the amount of hotel room-nights booked by Visit Indy remained above 700,000 last year. That's a 10-percent drop from 2012, when visitors inflated the number by flocking to the city to take in Super Bowl festivities. Visit Indy's goal this year is to book 750,000 room nights.
"Clearly, the city has shown the ability to generate new demand to match new supply, and then some," Eble said. "They've absorbed the JW without any indigestion."
Not a done deal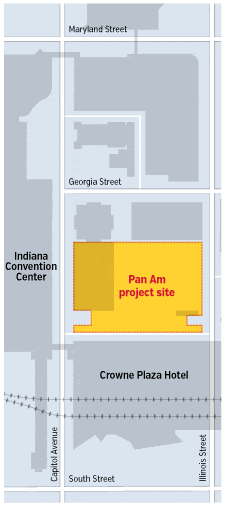 But there are skeptics, including locally based General Hotels Corp., which operates the 271-room Crowne Plaza Hotel just south of Pan Am Plaza. The company late last year completed a $9 million renovation to the hotel that's part of the historic Union Station.
General Hotels Corp. CEO Jim Dora Jr. said he might support another hotel, even though it would be steps away from the Crowne Plaza, if it's not tied to city financing.
"I understand the city assistance with the JW to get a signature hotel," he said. "But at this point, I'm not in favor of any city-funded hotel development. Beyond that, my argument is that we don't need another larger hotel because we don't consistently have the means to fill it."
Any plans to develop Pan Am Plaza would need to be approved by the company that owns the parking garage beneath it, New York-based Dali Associates LP.
Dali Associates signed a development agreement with Kite in late 2011 that obligates the developer to notify the parking garage owner of its intentions for the site and seek its approval.
The company has yet to receive any plans for the plaza from Kite, said Armand Lasky, principal of New York-based Northeastern Security Development Corp., a partner in Dali.
"Kite has our cooperation every which way possible to develop the land above us," he said. "If Kite has something in the offing, I'd be delighted to see it."•
Please enable JavaScript to view this content.