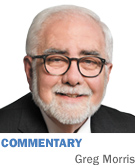 Another Indiana primary election is on our doorstep. I wonder how many of us will exercise our right to vote? I'll go further; how many of us will fulfill our civic duty and obligation to be a part of the process by voting?
We can come up with a lot of reasons to avoid voting. Will you say you just don't have time? You've got too many work and personal obligations. Besides, this is just a primary—an election where you can only vote for one party and you consider yourself a member of neither.
Maybe you haven't taken the time to research who's running for office and you don't want to arrive at the ballot box uninformed. Maybe you don't know where to vote.
What difference does voting make, anyway? The whole world's upside down and you're disgusted with all of it. You've got more important things to worry about.
The last Indiana Civic Health Index report was completed in 2011. In that report, looking at the year 2010, Indiana ranked 48th out of 50 states among eligible voters in general-election voter turnout, with a rate six percentage points lower than the national average. We can do much better.
Here are some relevant Indiana and local voter turnout statistics, calculated from the IN.gov website. The Indianapolis-Carmel MSA is represented by the 10 counties shown below and the MSA stats are an aggregate of those counties.
2010 primary (midterm)
Indiana   21%
Indianapolis-Carmel MSA   20%
(Boone, 24%; Brown, 33%; Hamilton, 26%; Hancock, 26%; Hendricks, 21%; Johnson, 22%; Marion, 15%; Morgan, 25%; Putnam, 26%; Shelby, 22%)
2012 primary (presidential election year)
Indiana   22%
Indianapolis-Carmel MSA   23%
(Boone, 37%; Brown, 29%; Hamilton, 25%;, Hancock, 27%; Hendricks, 22%; Johnson, 25%; Marion, 21%; Morgan, 28%; Putnam, 25%; Shelby 26%)
You would expect more people to vote in a presidential election year than a midterm election year, but the difference is not that great. Midterm election years are important. They have national, state and local implications. And the primary matters. In several counties, the primary is the election. Many times, there's no strong opposition from the weaker party in the general election.
For comparison purposes, in the last midterm general election in 2010, Indiana voter turnout was 41 percent and the Indianapolis-Carmel MSA turnout was 40 percent. In the 2012 presidential election, Indiana voter turnout was 58 percent and the Indianapolis-Carmel MSA turnout was 60 percent. The national voter turnout in the 2012 general election was 57.5 percent.
You haven't been bombarded by millions of dollars of television advertising this go-around, but this primary election is important. Make time to look at the ballot in your voting district online and do a little research on the candidates. Then you won't be walking in cold. There are several easy ways to do this. Here are two:
• Google your county website and go to the elections page. It's easy to verify if you're registered to vote, see where you vote, and who's on the ballot for what offices. All it takes is a street address and ZIP code in most cases. If you find you're not registered, get it done now for the general election in November. It's easy to register.
• You can go to www.indianavoters.com and easily navigate this user-friendly and all-encompassing website. The state of Indiana maintains this uniform electronic database that contains voter registration records for all of Indiana's 92 counties.
If you're already registered, there's still plenty of time to get online and learn more about the candidates in your district. Then you'll be able to walk into your polling place on May 6 and feel confident about your choices. You'll have fulfilled your civic duty and done your part to make a positive difference in your community, in Indiana and in Washington, D.C. That's a good thing.
So thanks for making the time to vote.
Looking ahead, the last day to register to vote in November is Oct. 6. The general election is Nov. 4. You'll be hearing a lot more about the importance of the midterm elections between now and November. Before you know it, it'll be time to vote again.•
__________
Morris is publisher of IBJ. His column appears every other week. To comment on this column, send e-mail to gmorris@ibj.com.
Please enable JavaScript to view this content.