When you think about Ansel Adams, the images likely to come to mind are his breathtaking Yosemite Park landscape photographs, where incredible depth of field and stark black and white give nature a timeless majesty.
Of course, these are the essential images that anchor the Eiteljorg Museum of American Indians and Western Art's new show, "Ansel Adams," (running through Aug. 3). It's difficult to imagine an Adams show without them, and they'd be enough to satisfy anyone with a love of photography, nature or both. But his Yosemite photographs are just a part of what's revealed here.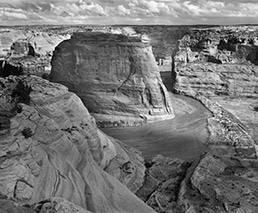 Above, Canyon de Chelly National Monument, Arizona, 1942 (Photograph by Ansel Adams. Collection Center for Creative Photography. ©The Ansel Adams Publishing Rights Trust )
Among the work that might surprise neophytes is "Grass and Pool: the Sierra Nevada, California, c. 1935," which shows grass blades up close in shallow water. Buddhist grave markers are shot with a rainbow in the background (an image saved from hokiness by Adams' mastery of grays). And there are people, too. Fellow photographic legend Alfred Stieglitz is shot with a painting by his once-partner Georgia O'Keefe. And, most powerfully for me, Adams captured a portrait of three "Trailer Camp Children," the youngest staring at the camera, the middle filled with feral energy, and the
third seemingly dazed with exhaustion.
To be sure, the exhibition isn't designed to be revelatory. Composed primarily from a collection of images Adams called The Museum Set, it showcases the photographs the artist himself thought best represent his career. Included in the mix are early work, sometimes paired with later prints of the same images. "Monolith, the Face of Half Dome," for instance, is offered in its 1927 version and its 1980 printing.
These, and the surprises mentioned above, give Adams' more iconic work even more power—highlighting his uncanny precision—a tool used when appropriate but far from the only one in his remarkable esthetic toolbox.•
This column appears weekly. Send information on upcoming arts and entertainment events to lharry@ibj.com.
Please enable JavaScript to view this content.