I have this thing about Shakespeare plays, and that thing is this: I won't read them until I see them. That policy has kept me ignorant of many of his works, but it has drastically increased my pleasure when I eventually have the opportunity to see them.
Such was the case with both "The Comedy of Errors" and "The Winter's Tale," each staged in Indy in modest but creative productions.
One of Shakespeare's earliest plays, "Errors" is also one of his most raucous. Its central conceit is that two sets of twins are separated as infants, one from each set settling in Syracuse and the other mismatched pair in Ephesus. The two duos, of course, come together, but not before lots of near misses and misunderstandings.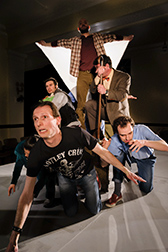 Eclectic Pond's "Comedy of Errors" adapts a DIY esthetic. (Photo courtesy of Eclectic Pond)
Eclectic Pond's production (running through March 15 at the Irvington Lodge) lives up to that company's mission of "imaginative accessible classic theater." Presented on a square, middle-of-the-room platform, its actors pitch in to play a ship, doors, tables, chairs and more, lending an air of playfulness to the proceedings. Sometimes that playfulness borders on the cutesy (think of the acting out of the parables in a too-eager-to-please production of "Godspell"), but it certainly helps that Director Ben Asaykwee seems aware of every seat in the house. If actors are representing a wall and blocking your view for a few moments, rest assured that soon the whole "set" will shift to another perspective.
The DIY esthetic makes scene changes wonderfully instantaneous. In the process, though, it also sacrifices any sense of place. The cast ranges from forgettable (but, mercifully, not amateur) to the solidly engaged.
While Asaykwee seems to trust his cast to keep up the antic—sometimes frantic—energy, he's less trusting of Shakespeare. Not every phrase requires a bit of physical business to make it work.
What the production misses is the play's heart. It seems to want to prove how clever it is without embracing its humanity. Antipholus of Syracuse, after all, has been searching for his brother "like a drop of water/that in the ocean seeks another drop." When the two reunite, there should be some emotional pull. Instead, we get more shtick.
And while nobody expects a play to find twins or even actors who resemble each other to play the siblings, would it have killed anyone to at least have the two sets dressed identically? A little help for the uninitiated, please.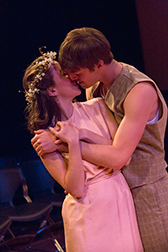 In "The Winter's Tale," young lovers help unite generations. (Photo courtesy of Zach Rosing)
Considered one of Shakespeare's "problem plays"—meaning it doesn't fall neatly into the tragedy/comedy/history labeling system—"The Winter's Tale" was given a rare local production courtesy of IndyShakes and Wisdom Tooth Productions at the IndyFringe Building (through March 1).
With a minimal set, contemporary costuming, and a small core of actors, some of the grandeur and gravitas is lost at the start. King Leontes' gathering that opens the play may well be a Geist garden party for all the weight it seems to carry.
But soon the King's power becomes clear. Barely do we have time to appreciate the peace and love that his jealousy destroys. He's Othello without an Iago in his ear, accusing his queen of cavorting with his best friend. His mistaken mind-set gets maximized when his former pal escapes with the man Leontes ordered to kill him. So stubborn is Leontes that he won't even listen to the intervention of the all-knowing Apollo.
Bad move. Horror ensues.
And, as you may have heard, a character exits "pursued by a bear."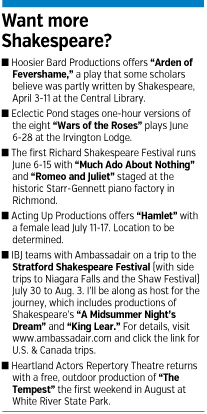 Intermission arrives and, with it, the feeling Shakespeare has dug himself a hole too deep to get out of.
But then the tone shifts, as if "Othello" had gotten a shot of "As You Like It." We get comic action courtesy of a creative thief, a spring festival complete with country line dancing (switching out Shakespeare's lyrics for "King of the Road" and "Save a Horse (Ride a Cowboy)" yield mixed results), and we are bathed in a sense of hope as two young lovers come together.
The production shortchanges the fun of disguise in the second act, favoring a cheap eyeglass-removing visual gag. And the lack of signs of aging diminish some of the impact in a play that is very focused on time and the turning of the years.
But Director Richard Roberts and company cleanly and engagingly deliver the play without gimmickry or excessive winking at its artifice. By performing it in the round, it focuses on character and words. The last transformative scene doesn't quite meet its magical, cathartic potential, but Roberts crafted a final, silent moment that inventively and beautifully solves a key problem in this problem play.
After a long, long wait, I not only have seen "The Winter's Tale" but, thanks to a modest but fine production, have become a fan. I look forward to seeing it again.•
__________
This column appears weekly. Send information on upcoming arts and entertainment events to lharry@ibj.com.
Please enable JavaScript to view this content.