If you can't broadcast an Indianapolis Colts game or a Super Bowl, the Oscars might just be the next best thing in a country enraptured by celebrities and pop culture.
WRTV-TV Channel 6 garnered 21.1 percent of households with televisions for its March 2 telecast of The Oscars. It was the most-watched program on local affiliates from 8:30 p.m. to midnight.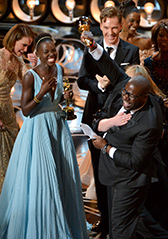 WRTV's viewers saw the cast of "12 Years a Slave" celebrate its Oscar win for best picture. (AP Photo)
This year's show was hosted by Ellen DeGeneres, who kept things on a classier plane than the 2013 host, Seth MacFarlane, who was criticized for a suggestive song and dance.
This year's show garnered 7 percent more eyeballs for WRTV than last year's show.
The strong viewership carried into WRTV's late-night newscast, which delivered a 14 percent increase in viewers.
 
Please enable JavaScript to view this content.