Are Hoosiers becoming more politically conservative or liberal?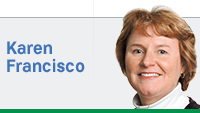 "The editorial was typical of The Journal Gazette's ultra-liberal, atheistic, secular, humanistic rhetoric," a letter-writer complains.
"You need to quit channeling Fox News," writes another.
Are Hoosiers becoming more politically conservative? Yes. Are Hoosiers becoming more politically liberal? Absolutely.
If letters to the editor and social media feedback are any indication, Hoosiers are following the rest of the nation to the far reaches of the political spectrum. In handling letters for this newspaper and another for parts of the past three decades, I'm struck by the increasingly partisan stands our readers take.
Some issues lend themselves to a heated tone, of course. The letters cited above both were on the topic of the Affordable Care Act. Each letter writer was convinced The Journal Gazette's news coverage or commentary on the federal health care law was biased.
Journalists like to believe we are doing our jobs if we've angered people on both sides of an issue, but not every issue used to prompt furious response. Today, comment on the weather is as likely to launch an angry debate over climate change.
Yes, we still receive a welcome number of letters from readers who can address an issue with civility. The best are those that acknowledge other views and assuredly express their own. Some even serve to change a few minds.
More common, however, are letters and opinion articles that seek to vilify anyone with an opposing view. A fair number of letters resort to name-calling and some letter writers complain that they've even been contacted directly by an angry reader.
Where does it come from? Talk radio and the hyper-partisan tone of 24-hour news television surely deserve a good share of the blame. Social media platforms have hastened the rush to extremes. When expressing a view on Facebook takes no more than choosing "Like" or if debate is reduced to 140-character conversations on Twitter, much of the nuance inevitably is lost.
Political interest groups on the left and right contribute to the incivility. Letters to the editor sometimes are forwarded or copied directly from talking points included in partisan fundraising appeals.
Elected officials, who increasingly frame political debate in black-and-white terms instead of the shades of gray it deserves, shoulder some blame. When was the last time you read a political survey question that didn't reveal the officeholder's position on the issue?
Indiana's push to conservative and liberal extremes also has been exacerbated by our political leaders' obsession with social issues. Abortion, same-sex marriage and religion all inevitably spark passionate views.
While it seems that all Hoosiers are becoming more conservative or more liberal, there's a very real chance that more are actually tuning out of the conversation.
The most strident voices seem to belong to older Hoosiers. There's a danger that the angry debate will push millennial and GenX voters away from the polls.
There's also a chance that it will inspire a third way—a return to civility and polite debate.•
__________
Francisco is editorial page editor of The Journal Gazette in Fort Wayne. Send comments to [email protected].
Please enable JavaScript to view this content.