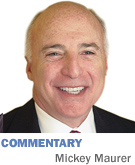 Psst … You want to know a secret?
An experiential leadership program in Indianapolis offers an opportunity to run pit-stops at the Indianapolis Motor Speedway—real car, real driver, real thing. In another session, usually held at the Fort Knox Urban Combat Training Center, one can participate in an anti-terrorist combat training mission set in a Middle East village complete with exploding cars, tanks and helicopters. And those are only two of 10 sessions held during the course of the year.
This extraordinary curriculum presented by the Randall L. Tobias Center for Leadership Excellence at Indiana University is called "Hoosier Fellows." Its mission is to develop participants into the best leaders they can be within their own organizations. The experiential learning techniques aim to encourage participants to confront leadership dilemmas in a range of environments that are very different than their own. The Tobias Center is engaged in a number of activities, but Hoosier Fellows, under the supervision of Executive Director Carol A. Madison, is its cornerstone program.
Hoosier Fellows is not to be confused with more visible leadership programs sponsored by United Way of Central Indiana and the Lacy family, both excellent but directed at different populations. The United Way's program, Leadership United, targets young, emerging leaders. The Lacy family's SKL leadership program is directed toward relatively young citizens who have demonstrated leadership capacity and achievement. Both raise awareness of community issues and build a sense of community trusteeship through seminars, tours, reading and interaction with experts and decision makers.
The primary mission of Hoosier Fellows is to enhance high- potential leaders' skills through a study of leadership with the Tobias Center. Although each of the experiences throughout the year is distinct, common threads run through all of the sessions. Among them: the importance of being true to core values and ethics, how to better communicate and engage employees, how to develop and grow employees as leaders, how to avoid or dismantle organizational silos, and how to be the most effective leader and team.
The participants are motivated to probe deeply within themselves on issues that are critical to good leadership. Hopefully they will understand some new leadership principles and recognize the applicability to their own organizations.
For example, Madison and Director Phil Cockrun lead a session that explores excerpts from the movie "Shackelton" about the 1914 British trans-arctic voyage of Sir Ernest Shackelton and the leadership qualities he embodied. He led much differently than others of his era. Unlike other explorers who lost their crew, Shackelton brought everyone of his crew safely home, most of whom signed on with him on his next voyage.
Hoosier Fellows provides coaching during the year and thereafter with an extensive network of alumni and other leaders and leadership scholars. The Hoosier Fellows finish the year learning and practicing how to articulate and convey their vision and most importantly why an organization needs to live its vision daily.
Hoosier Fellows, now in its ninth year, is not a total secret. The alumni list boasts some extraordinary leaders who undoubtedly are doing a better job by virtue of their experience. Central Indiana organizations that have benefitted include Herff Jones Inc., Eli Lilly and Co., Duke Realty, IU Health, Butler University, Noble of Indiana, One America, Merrill Lynch, WellPoint, ExactTarget, Federal Express and the NCAA.
The Hoosier Fellows participants are chosen from a pool of seasoned leaders of all sectors of the community by a committee at the Tobias Center. Applications are being accepted over the next few months for the 2015 class, for which 15-18 participants will be chosen. I heartily suggest that those eligible among you should apply. Moreover, please think about the qualified men and women with whom you are associated and encourage them to submit applications. I promise an extraordinary experience. Contact Carol Madison at 801 W. Michigan St., 46202, telephone: (317) 274-4871, or write her at caamadis@iupui.edu.•
__________
Maurer is a shareholder in IBJ Corp., which owns Indianapolis Business Journal. His column appears every other week. To comment on this column, send e-mail to mmaurer@ibj.com.
 
Please enable JavaScript to view this content.