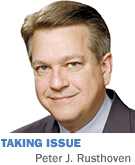 On March 5, Joe Donnelly joined six other Senate Democrats and all Republicans, including Dan Coats, in rejecting President Obama's nomination of Debo Adegbile to head the Justice Department's Civil Rights Division. Hoosier senators did the right thing.
Adegbile's was the first defeat of an Obama nominee since Democrats, led by Nevada's Harry Reid, unilaterally changed Senate rules so that only 50 votes, not 60, were needed to shut off debate on a nomination. Obama brought that defeat on himself, selecting a divisive, controversial candidate opposed by law enforcement officials nationwide.
The controversy involves Mumia Abu-Jamal, sentenced to death for the 1981 killing of Philadelphia policeman Daniel Faulkner. Abu-Jamal, a one-time Black Panther, bragged of the crime before witnesses, saying "I shot the motherf***er and I hope the motherf***er dies." He and his supporters then decided, however, to turn the trial and decades of subsequent appeals into political theater, featuring Abu-Jamal as a victim of a racist justice system.
In 2008, Abu-Jamal's death sentence was overturned based on faulty jury instructions.
Adegbile entered the story in 2009, when the NAACP Legal Defense Fund—of which he was director of litigation and acting president—chose to lead the Abu-Jamal cause, fighting re-imposition of the death penalty and challenging the conviction itself.
In our system, of course, even the most despicable are entitled to representation. I have no quarrel with (and often admire) members of my profession who provide it. But the Adegbile-led Legal Defense Fund went well beyond providing legal counsel. It aggressively pushed the narrative that the conviction and sentence of confessed cop-killer Abu-Jamal were due to racism.
As Sen. Pat Toomey, R-Pa., and Philadelphia District Attorney R. Seth Williams (an African-American Democrat) pointed out in The Wall Street Journal, "Under Adegbile's leadership and through rallies, protests and a media campaign, the Legal Defense Fund actively fanned the racial firestorm."
Toomey and Williams cite, for example, the fund's opening press release, proclaiming Abu-Jamal "a symbol of the racial injustices of the death penalty." Then there's the 2011 rally where Adegbile's co-counsel said the fund had "no question" Abu-Jamal's conviction "has everything to do with race."
Throughout, Abu-Jamal was portrayed as a target of a "racist police conspiracy." Small wonder the Fraternal Order of Police and other national police organizations vigorously opposed Adegbile's confirmation.
The president called Adegbile's rejection "a travesty based on wildly unfair character attacks." No, Mr. President. He was rejected based on his record.
As Donnelly noted, Adegbile "is an accomplished civil rights litigator," but "strong opposition to his nomination from many in the law enforcement community would undermine his ability to work with state and local law enforcement to carry out the critical mission of the Civil Rights Division." That's putting it mildly.
The Adegbile nomination is the latest instance of the president's apparent instinct for the divisive on matters of race. Earlier examples include his suggestions of racial profiling when local police arrested a black Harvard professor, and his numerous comments about the Trayvon Martin case.
Each situation offered an opportunity for thoughtful statements, all the more powerful coming from the nation's first black president, that could defuse racial tensions and divisiveness. Each time, Obama took the opposite course.
He did so again in choosing an extraordinarily divisive Civil Rights Division nominee, then attributing the nomination's defeat to "wildly unfair character attacks." It's very disappointing, and so very sad for the country.•
__________
Rusthoven, an Indianapolis attorney and graduate of Harvard College and Harvard Law School, was associate counsel to President Reagan. Send comments on this column to ibjedit@ibj.com.
Please enable JavaScript to view this content.